A group of Brazilian legislatures, known as the 'ruralistas', are working to change important aspects of the Brazil's landmark 1965 forestry code, undermining forest protection in the Amazon and the Mata Atlantica (also known as the Atlantic Forest) and perhaps heralding a new era of booming deforestation.
The ruralistas, linked to big agribusiness and landowners, are taking aim at the part of the forestry code that requires landowners in the Amazon to retain 80 percent of their land area as legal reserves, arguing that the law threatens agricultural development.
In addition, the legislatures are proposing changes to the code's 'Areas of Permanent Preservation' (APPs), which identifies where native forests must be protected, including along riverbanks, on steep slopes, and hilltops. The ruralistas want the APPs to be regulated by states rather than federally, allowing states to cut them by half if they so choose. World Wildlife Fund-Brasil (WWF) argues that if these changes pass they could spread deforestation at a rate not seen since the 1980s.
| | |
| --- | --- |
| | Legal forest reserve in Mato Grosso, Brazil. An unintended consequence of the proposed change to the forest code could be to create financial incentives for farmers and ranchers to keep forests standing. For example if a state were to now require that 50% of land must be forested under the code, anything in excess might qualify for additional carbon payments, above and beyond any compensation that might come from maintaining APPs. Presently there is little financial incentive for maintaining APPs because the risk of prosecution is low. As a consequence, the 80 percent rule is widely ignored. Photo by: Rhett A. Butler. |
"Discussions should have been based on science, not on oblique and distorted arguments," said Carlos Alberto de Mattos Scaramuzza, Conservation Director of WWF-Brasil, in a WWF article. "The scientific community has been very little consulted in the preparation of this document."
However the ruralistas argue that environmental NGOs are in league with foreign governments to undermine Brazilian sovereignty.
"Embarrassed by the evidence of their petty ambitions, the rich nations use the long arm of their NGOs, who disembark in Brazil as bearers of good news in defense of nature, but cannot hide the cause they are really espousing: the interests of the nations where they have their headquarters, and from where they receive their abundant funding," writes Brazilian communist party deputy Aldo Rebelo in a statement on the necessity of the changes. However, the conspiracy of foreign governments working to undercut Brazilian sovereignty in the Amazon has been largely discredited both in Brazil and abroad.
To date the Forestry Code, which is arguably the most forest-friendly law in the world, is supposed to have left over 100 million hectares protected. But the code is often flouted and rarely enforced: illegal deforestation has cut into the amount supposed to be protected by over 40 percent. Yet while, the Forestry Code has not been adequately enforced it is still pointed to as one of the major tools behind Brazil's decreasing deforestation rate.
The ruralistas also propose amnesty for any landowner that illegally cleared protected land, which according to WWF-Brasil includes 43 million hectares of cleared forest equaling 14.6 billion tons of greenhouse gas emissions.
A vote on the changes is expected next week. If passed, the changes in the forestry law could undermine Brazil's chances of keeping its deforestation and greenhouse gas emissions goals. Brazil's government has ambitiously pledged to reduce deforestation by 70 percent from 1996-2005 levels by 2018, and thereby reducing greenhouse gas emissions by nearly 5 billion tones.
WWF-Brasil further argues that Brazilian farmers and ranchers have no need of cutting down more forest to increase agriculture production. The organization points to a report by the University of Sao Paulo (USP/ESALQ) which showed that APPs only affected agricultural production by 1.5 percent. Environmental organizations argue that studies have shown that Brazilian farmers and ranchers can significantly raise output by working to increase yields rather than cutting more forest.
"The bill, if approved would be a serious backward move for forest policy and forest protection," Sergio Abranches, co-creator of Brazilian environmental news website O-Eco, told mongbay.com. "All in all, I think the bill will not get a final vote this year. After the elections [in October] my feeling is that we'll have a more objective and science-based discussion on how to update the Forestry Code and how to reconcile forest conservation and agricultural production."
Fuel was added to the political fire last week when a report was released by US group Avoided Deforestation Partners (ADP) and the National Farmers Union claimed that US farmers could see revenue booms in the billions ($141-$221 billion between 2012-2030) if deforestation was slowed and eventually halted in countries like Brazil due to higher commodity prices. Seeing evidence of foreign meddling, the ruralistas have used this report to rally to change the forest law. However, the ADP and National Farmers Union have since released a second report that claims Brazilian farmers could also see billions of dollars of new revenue from higher commodity prices and carbon payments to keep forests standing.
But higher commodity prices may worsen poverty and hunger worldwide. Rapid spikes in prices could aggravate food crises like those seen in 2006 where millions of people faced desperate hunger. The UN currently estimates that one billion people in the world do not receive enough food, although world agriculture currently produces enough to feed everyone.
Related articles
Ending deforestation could boost Brazilian agriculture
(06/26/2010) Ending Amazon deforestation could boost the fortunes of the Brazilian agricultural sector by $145-306 billion, estimates a new analysis issued by Avoided Deforestation Partners, a group pushing for U.S. climate legislation that includes a strong role for forest conservation. The analysis, which follows on the heels of a report that forecast large gains for U.S. farmers from progress in gradually stopping overseas deforestation by 2030, estimates that existing Brazilian farmers could see around $100 billion from higher commodity prices and improved access to markets. Meanwhile landholders in the Brazilian Amazon—including ranchers and farmers—could see $50-202 billion from carbon payments for forest protection.
U.S. farms and forests report draws ire in Brazil; cutting down the Amazon does not mean lower food prices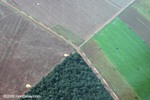 (06/24/2010) Not surprisingly, a US report released last week which argued that saving forests abroad will help US agricultural producers by reducing international competition has raised hackles in tropical forest counties. The report, commissioned by Avoided Deforestation Partners, a US group pushing for including tropical forest conservation in US climate policy, and the National Farmers Union, a lobbying firm, has threatened to erode support for stopping deforestation in places like Brazil. However, two rebuttals have been issued, one from international environmental organizations and the other from Brazilian NGOs, that counter findings in the US report and urge unity in stopping deforestation, not for the economic betterment of US producers, but for everyone.
Amazon logging industry declines
(06/17/2010) The global economic crisis and increased environmental law enforcement have taken a toll on the Amazon logging industry in Brazil, reports a major new assessment conducted by Imazon and the Brazilian Forest Service.