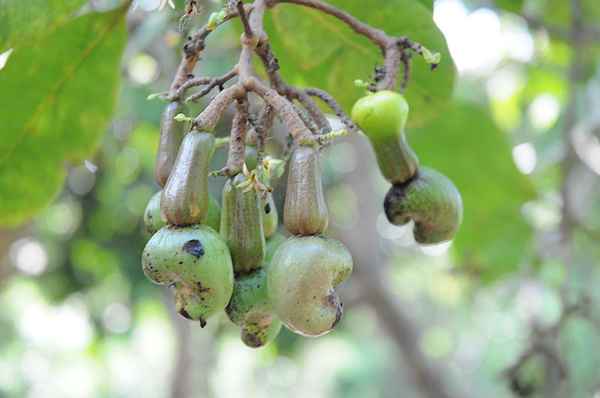 Cashew nuts grow in the Mamirauá Sustainable Development Reserve in the Brazilian Amazon. Photo by: P.J. Stephenson.
Forests could help alleviate global hunger, according to a new report released Wednesday during the United Nations Forum on Forests in New York.
It's a bold claim, and the report, published by the International Union of Forest Research Organizations (IUFRO), doesn't shy away from the enormity of the problem it seeks to address. Some 805 million people — one in nine citizens of Earth — are undernourished, primarily in Africa and Asia. At the same time, between 1.2 and 1.5 billion people worldwide depend on forests for all or most of their diet and livelihood, according to the report.
This suggests that if countries with big forest-dependent populations adopt national policies and land-use strategies that support the planting of multi-functional trees to provide food, timber, fuel wood, medicine, and a host of environmental services, they could do much to ensure access to safe, nutritious food for all. However, the report does not quantify forests' current or potential contribution to food security.
Even as the benefits of forest-based food production are becoming better known, the limitations of conventional agriculture in alleviating global hunger for a growing human population are becoming clear. The report cites research from the UN Food and Agriculture Organization showing that conventional agriculture tends to result in an unbalanced diet lacking nutritional diversity, exposes the poor to volatile food prices, and has long-term ecological consequences.
But forests and tree-based farming systems such as agroforestry can complement agricultural production to ensure greater food security and better nutrition for some of the world's most vulnerable communities, Stepha McMullin, a social scientist with the World Agroforestry Centre in Nairobi, Kenya, and one of the report's authors, said in a statement emailed to mongabay.com.
If you're familiar with shade-grown coffee, then you have an idea of what agroforestry is all about. By planting fruit trees and other useful species, selectively weeding and otherwise managing the forests as intensively as any farmer might tend their fields and rotate their crops, people all over the world have created gardens that resemble natural forests in many ways, including providing suitable habitat for a diverse array of flora and fauna.
| | |
| --- | --- |
| | A mosaic landscape composed of forest and agriculture in Cat Ba, Vietnam. Photo by: Terry Sunderland. |
One forest garden — or "tembawang," as it's called locally — in West Kalimantan, an Indonesian province on the island of Borneo, harbors trees from 44 different species, 30 of which produce something edible, per the report. Some forest gardens include trees and other plants grown for fuel wood or their ability to attract game.
McMullin pointed to the direct benefits of forest and tree-based systems, including the fact that they provide a number of highly nutritious edible tree crops that help diversify diets, like fruits, leafy vegetables, nuts, seeds and edible oils. These provisions, as well as the wild meat, fish and insects that are also important forest food sources, help fill seasonal food and nutritional gaps, McMullin said.
"Due to the higher resilience of trees compared to annual crops, tree foods play an important role in periods of drought and help overcome hunger due to food shortages, especially when staple crops fail or before they are ready for harvest," she said.
Forests and tree-based systems also benefit people indirectly, according to McMullin, such as by providing a source of income so people can purchase food. 
For instance, in the Sahel region of Africa, the report states that by planting trees, "poor farmers have turned millions of acres of what had become semi-desert by the 1980s into more productive land." Trees now account for 80 percent of average household incomes in the region, largely through shea-nut production. Shea trees (Vitellaria paradoxa) growing in what the report refers to as "shea parklands" are selected for desirable traits, and culled trees can be used for fuel or construction. People also raise livestock and grow staple crops within the parklands.
| | |
| --- | --- |
| | A cocoa tree grows in a Cameroonian forest. Photo by: Terry Sunderland. |
Of course, forests provide environmental services essential to conventional crop production, too, such as supporting bees and other pollinators.
According to McMullin and her co-authors, agroforestry, as defined by tree cover of greater than 10 percent on agricultural land, is found on more that 43 percent of all agricultural land in the world. It is particularly prominent in Central America, South America, and Southeast Asia, where more than half of all farmland is considered agroforest.
Ultimately, lack of community control over forests and, of course, deforestation could limit the abilities of forests to enhance food security. Forest management in most countries is fragmented across different governmental agencies and administrative jurisdictions.
"The complex, overlapping and interconnecting processes which link tree products and services to food security and nutrition are currently not adequately represented in forestry, agriculture, food or nutrition-related strategies at global and national levels," the report's authors write. This contributes to cropland and forests being disproportionately subject to degradation, which limits their productivity.
Climate change is also a threat, not just to the productivity of agroforests but to conventional agricultural operations, as well.
"Large‐scale crop production is highly vulnerable to extreme weather events, which may occur more frequently under climate change. Science shows that tree‐based farming can adapt far better to such calamities," Christoph Wildburger, the coordinator of IUFRO's Global Forest Expert Panels initiative, which brought together the various researchers who wrote the report, said in a press release.
"We know that forests already play a key role in mitigating the effects of climate change. This report makes it very clear that they also play a key role in alleviating hunger and improving nutrition," he said.
Citations: