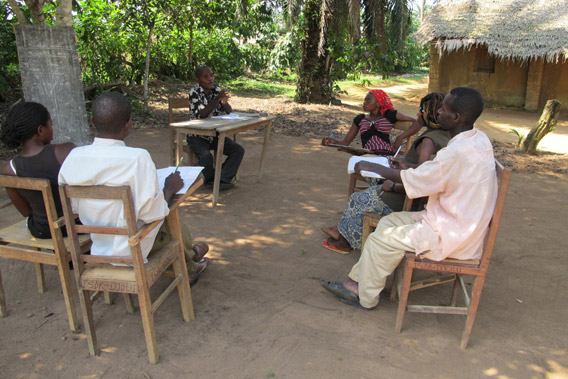 Professor Baboko teaching a geography class at the Djolu Technical College of Rural Development. Photo courtesy of: Ingrid Schulze.
This summer, the Democratic Republic of Congo (DRC) is expected to approve a new higher education strategy which the country has developed with the World Bank and other international donors. The shape of this educational reform initiative will be critical to Congo's future in many ways. It could finally offer Congo's long-suffering people a route into the 21st century. It will also help determine the future of the DRC's forests.
Nearly half of the Congo Basin's remaining rainforest is in the DRC—yet the critical role of Congolese experts in forestry, agricultural science, wildlife management and other rural sciences in protecting this forest is not widely recognized.
As one Congolese graduate student observed, the DRC has a "void" in agricultural and forestry research. Due to years of war and decades of economic crisis and mismanagement, most of Congo's colleges and universities are severely underfunded and in disrepair. The country is short of experts who can investigate the ecology and economic potential of Congo's forests and their biota, and provide an objective basis for setting priorities for protection and use of forest resources. While universities in Kinshasa and Kisangani do have some internationally funded programs to increase the number of biologists and other specialists, the number of graduates is nowhere near what is needed. Foreign scientists and consultants are not a substitute for Congolese experts.
Moreover, competent rural science graduates who can advise local farmers, communities and administrators on forestry, sustainable agriculture, wildlife management and rural development issues are also desperately needed. The DRC's national agricultural extension service, which should be integral to this process, has been broken for decades. A 1990 USAID report described it as underfunded, without the means to provide farmers with proven crop varieties and advice on agricultural practices, and tasked more with imposing particular crops on farmers and collecting taxes than helping them. There is little evidence that this has changed significantly since the end of the Congo war in 2003.
The state of Congo's forests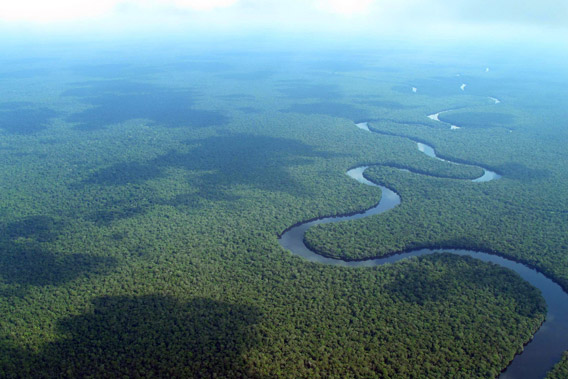 Aerial view of Congo Basin rainforest in Equateur Province, DR Congo. Photo courtesy of: Ingrid Schulze.
The Democratic Republic of Congo's rainforests provide ecological benefits to all of humanity. About 40 million rural Congolese rely on the forest for their livelihoods through farming, fishing, hunting and exploitation of forest resources for fuel, building materials, medicines and income. The forest provides ecosystem services on continental and global scales, including regulation of the Congo River's water resources and helping stabilize the world's climate through its immense carbon storage capacity. The DRC also has very high levels of plant, fish and other biological diversity, including Africa's highest levels of mammal and bird diversity.
Despite its spectacular natural riches, the DRC is one of the world's poorest countries, with a 2011 per capita GDP of $300. Levels of poverty among rainforest residents, such as the people of Equateur Province, are especially acute. Most are subsistence farmers with little access to health care, family planning, paid employment or education beyond primary school. The only form of wealth most of Congo's rural residents have is their natural capital: their forest, lands and wildlife.
| | |
| --- | --- |
| | Village in Djolu Territory, DR Congo. Photo courtesy of: Ingrid Schulze. |
Yet the DRC's forests and wildlife have been increasingly stressed in the past two decades by war, unsustainable bushmeat hunting, slash-and-burn agriculture, logging, and high population growth rates. Impacts on wildlife have been particularly severe, with negative consequences for both people and ecosystems.
Forest "defaunation" is a serious issue all across Central Africa, according to the Congo Basin Forest Partnership's (CBFP) State of the Forest 2008 report. The DRC's wildlife is particularly depleted, in part because soldiers and internally displaced people lived off the land during and after the Congo War, which officially ended in 2003. Many large mammals (e.g., elephants, great apes and leopards) are rare or locally extinct in many parts of Congo. The loss of keystone species like forest elephants—"gardeners of the forest" which disperse big seeds of hardwood trees over long distances—may simplify forest structure in ways that ultimately reduce the forest's ability to provide ecosystem services such as carbon storage.
At the same time, loss of wildlife protein is potentially catastrophic for rural people who depend on Congo's forests, as people have lost sources of animal protein and essential nutrients such as iron and zinc. Efforts to replace or augment bushmeat with farmed fish, chicken, domesticated native species, or other protein sources have been severely impeded, among other things, by a lack of funds and the absence of an effective agricultural extension service. Other obstacles to finding alternatives to bushmeat include the costs and problems of raising livestock in a rainforest climate, the difficulty of domesticating wildlife, and lack of awareness of, or access to, plant-based sources of protein and other nutrients.
The role of rural higher education in protecting Congo's forests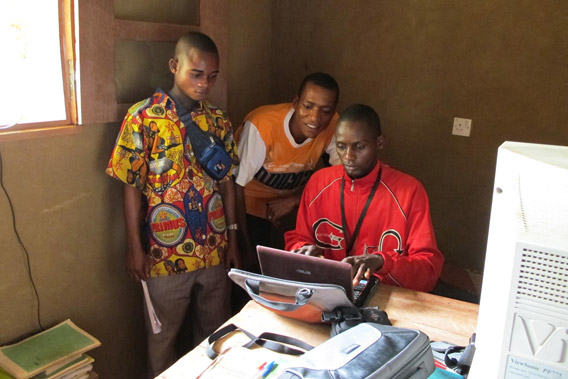 ISDR-Djolu computer technician working with students. Photo courtesy of: Ingrid Schulze.
The home territory of Albert Lotana Lokasola, a Congolese biologist recently elected to the DRC Parliament, exemplifies these quandaries. Elected to represent Djolu Territory, a remote rainforest region in Equateur Province, Lokasola says "Congo is in a race to develop its natural resources sustainably. Resource conservation is like a marathon strategy, while eating on a daily basis is like a sprint. Both strategies are necessary. People need to eat today; at the same time, they must be able to manage their natural resources for future generations."
Djolu Territory is in the high biodiversity rainforest of the CBFP-designated Maringa-Lopori-Wamba (MLW) landscape. Spread across parts of Tshuapa, Mongala and Equateur Districts of Equateur Province, 90 percent of the MLW region is forested. The region has three forest reserves: the Luo Scientific Reserve, the Kokolopori Bonobo Reserve, and the Lomako Yokokala Faunal Reserve. A number of international conservation organizations work in the landscape in collaboration with local Congolese nongovernmental organizations such as Lokasola's NGO, Vie Sauvage.
Djolu Technical College of Rural Development (ISDR-Djolu): was established in 2003 by Vie Sauvage with support from the Bonobo Conservation Initiative, a small international conservation organization, as part of an agreement to establish the Kokolopori Bonobo Reserve 50 miles away.

The college currently has about 50 students and offers two majors: Environment and Sustainable Development, and Rural Techniques. It has two mud-brick buildings, several instructors who live in Djolu and others who travel by motorcycle from universities in Kisangani to teach during university breaks. ISDR has a 10 hectare concession for the future campus and for agricultural experiments, but few agricultural tools. It has no vehicles, no telephone service, no running water, and no mail service. Electric power is provided by a small diesel generator. The library is a tiny mud-brick room with four laptops donated by American organizations and 70 or so books and documents, mainly copies of monographs from Kisangani universities. It also has a single-user Internet connection, that is, when funding is available to pay the steep Internet access fees and petrol for the generator.

Djolu Technical College's budget is tiny: $22,000/year, including capital costs, nearly 20% of which is spent on transportation of instructors from Kisangani universities 300 miles away. The college has no endowment, and thus far has depended on small grants from American donors to survive, a hand-to-mouth existence which is not a viable model for an institute of higher education.

Despite these hardships, ISDR-Djolu produced 25 graduates between 2007 and 2011. Each one has written a thesis on some aspect of rural development, and nearly all have found employment in the region, with regional government, local schools, or with Vie Sauvage or other NGOs.
Yet the MLW region has only one small, poorly funded rural sciences college: the Institut Supérieur de Developpement Rurale-Djolu (ISDR-Djolu or Djolu Technical College). The college is the only such institution in Tshuapa District, a jurisdiction that is larger than the American state of Virginia and that is home to 1.5 million people.
Djolu Technical College's founders and faculty are well aware that local expertise in rural sciences is crucial for wildlife and forest conservation in the region, but thus far the college's means have been extremely limited. For example, effective agricultural extension must be a fundamental part of any conservation strategy in the MLW landscape. Malnutrition is pervasive in the region, and as Rachel Kyte, World Bank vice president for sustainable development, said at the Durban, South Africa, climate conference in December, "Forests cannot be sustained if people are hungry."
Furthermore, foreign consultants and organizations are not a substitute for local expertise. Lokasola likens the process of developing Congo's rural areas in a sustainable manner to a war that must be won, and "like any war, one cannot win using only mercenaries. While mercenaries may have more skills and are well paid, they lack an intuitive understanding of the local environment and the commitment that transforms individuals into local heroes." Only competent and dedicated experts who understand local issues and concerns, and who are present year in and year out, have the credibility to change entrenched attitudes and practices, and build trust with local communities by showing that they are there to help, not exploit, people. Albert Lokasola is an example of the difference one committed individual can make.
Successful models of rural higher education in undeveloped regions exist. For example, the American system of land grant colleges was created in 1862 to bring higher education to rural areas of the United States. The purpose was to bring practical professional skills in "agriculture and mechanic arts" to all social classes throughout the country. First established in the middle of the American Civil War, these land grant colleges became extraordinarily successful public institutions that helped build the future of the United States.
While local expertise in rural sciences is essential for successful conservation in the DRC, international cooperation and funding for rural higher education are just as crucial. Congo's national budget is tiny: $7 billion in 2012, less than twice the annual budget of Harvard University. Given the DRC's long history of exploitation and the contribution of its vast forests to the world's climate and biodiversity, international contributions to higher education in Congo are, to paraphrase Nelson Mandela, "not a matter of charity, but of justice."
Rural higher education supported by international donors must be part of Congo's forthcoming higher education strategy. Otherwise, it is difficult to see how the DRC will be able to sustain its forests for future generations.
For more information about Djolu Technical College, see http://vimeo.com/35818865.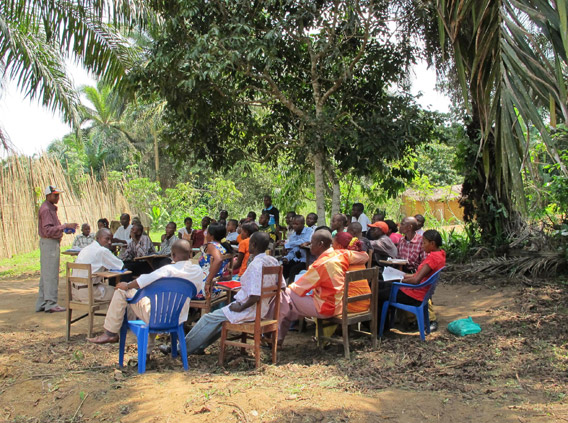 Professor Kadange addresses Djolu students. Photo courtesy of: Ingrid Schulze.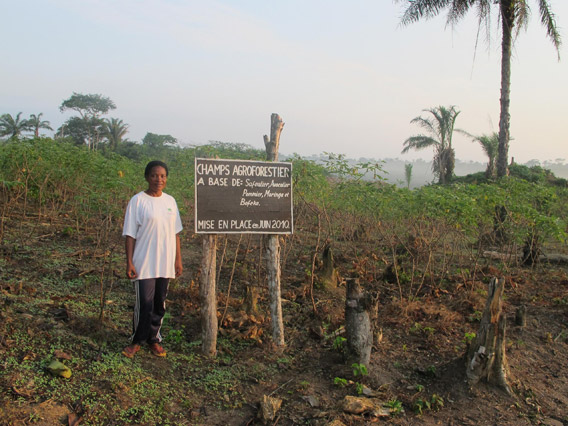 Agroforestry project. Photo courtesy of: Ingrid Schulze.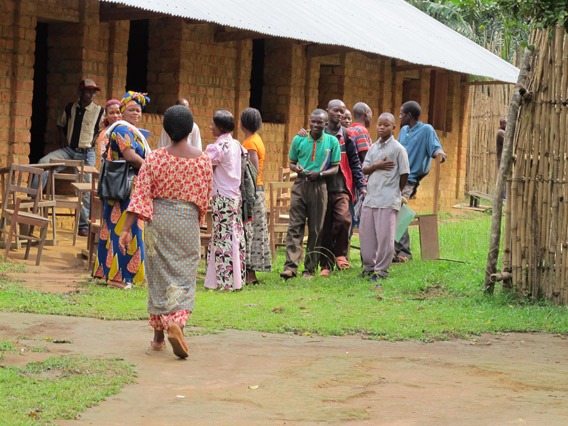 Djolu students waiting for their sustainable agriculture class to begin. Photo courtesy of: Ingrid Schulze.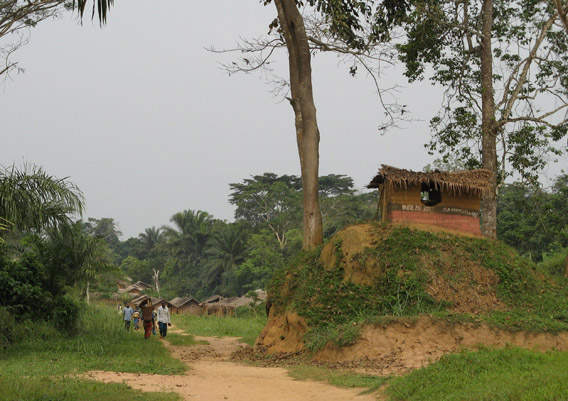 Village in the Kokolopori Bonobo Reserve. Shelter on right houses a talking drum, still used for long distance communication. Photo courtesy of: Ingrid Schulze.
Related articles
Over 700 people killed defending forest and land rights in past ten years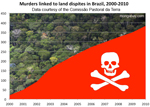 (06/19/2012) On May 24th, 2011, forest activist José Cláudio Ribeiro da Silva and his wife, Maria do Espírito Santo da Silva, were gunned down in an ambush in the Brazilian state of Pará. A longtime activist, José Cláudio Ribeiro da Silva had made a name for himself for openly criticizing illegal logging in the state which is rife with deforestation. The killers even cut off the ears of the da Silvas, a common practice of assassins in Brazil to prove to their employers that they had committed the deed. Less than a year before he was murdered, da Silva warned in a TEDx Talk, "I could get a bullet in my head at any moment…because I denounce the loggers and charcoal producers."
Deforestation increases in the Congo rainforest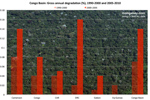 (03/20/2012) Deforestation in the Congo Basin has increased sharply since the 1990s, reports an extensive new assessment of forests in the six-nation region. Released by the Central African Forests Commission (COMIFAC) and members of the Congo Basin Forest Partnership, The State of the Forest finds that the region's annual gross deforestation rate doubled from 0.13 percent to 0.26 percent between the 1990s and the 2000-2005 period. Gross degradation caused by logging, fire, and other impacts increased from 0.07 percent to 0.14 percent on an annual basis. Despite the jump, rates in the Congo Basin remain well below those in Latin America and Southeast Asia, but the region is seen as a prime target for future agroindustrial expansion.
Oil exploration approved in Africa's oldest park, Virunga National Park
(03/19/2012) Permits for controversial oil exploration in Virunga National Park have been released after request by NGO Global Witness. Oil company, SOCO International, has confirmed it has received two permits to undertake preliminary exploration, including seismic tests, in the UNESCO World Heritage Site. Located in the Democratic Republic of Congo (DRC), Virunga is famous for its population of the Critically Endangered mountain gorillas (Gorilla beringei beringei).
Republic of the Congo expands park to protect fearless chimps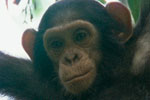 (02/16/2012) The Republic of the Congo has expanded its Nouabalé-Ndoki National Park by 37,295 hectares (144 square miles) to include a dense swamp forest, home to a population of chimpanzees (Pan troglodytes) that show no fear of humans. Known as the Goualougo Triangle, the swamp forest is also home to forest elephants (Loxodonta cyclotis) and western lowland gorillas (Gorilla gorilla gorilla). The expansion of the park to include the Goualougo Triangle makes good on a government commitment from 2001.
Community mapping of African rainforests could show way forward for preservation, REDD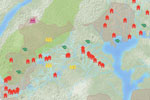 (12/01/2011) A new initiative to place community mapping of central African rainforests online could prove key to local rights in the region, says the UK-based NGO Rainforest Foundation. Working with forest communities in five African countries, Rainforest Foundation has helped create digital maps of local forests, including use areas, parks, and threats such as logging and mining. The website, MappingForRights.org, includes interactive maps, photos, and video.
Forest elephant populations cut in half in protected area
(11/14/2011) Warfare and poaching have decimated forest elephant populations across their range with even elephants in remote protected areas cut down finds a new study in PLoS ONE. Surveying forest elephant populations in the Okapi Faunal Reserve in the Democratic Republic of Congo, researchers have found that the population has fallen by half—from 6,439 to 3,288—over the past decade in the park.
Unsung heroes: the life of a wildlife ranger in the Congo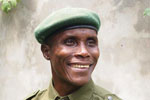 (11/01/2011) The effort to save wildlife from destruction worldwide has many heroes. Some receive accolades for their work, but others live in obscurity, doing good—sometimes even dangerous—work everyday with little recognition. These are not scientists or big-name conservationists, but wildlife rangers, NGO staff members, and low level officials. One of these conservation heroes is Bunda Bokitsi, chief guard of the Etate Patrol Post for Salonga National Park in the Democratic Republic of the Congo. In a nation known for a prolonged civil war, desperate poverty, and corruption—as well as an astounding natural heritage—Bunda Bokitsi works everyday to secure Salonga National Park from poachers, bushmeat hunters, and trappers.