A new study—the first of its kind—has completed an annual accounting of the oceans' intake of carbon over the past 250 years, and the news is troubling. According to the study, published in Nature, the oceans' ability to sequester carbon is struggling to keep-up with mankind's ever-growing emissions. Since 2000 researchers estimate that while every year the oceans continue to sequester more anthropogenic carbon emission, the overall proportion of carbon taken in by the oceans is declining.
The globe's oceans are massive carbon sinks: more than a quarter of carbon emissions from humans have been sequestered by the ocean, according to the study.
Beginning with the year 1768, researchers found that carbon intake remained steady until the 1950s when rising anthropogenic carbon emissions forced the oceans to take in more carbon. By 2000 the oceans began to lose the race: the overall percentage of carbon sequestered by the ocean began to decline. In 2008, the oceans sequestered a record 2.3 billion tons of CO2 from the burning of fossil-fuels, yet the percentage of overall emissions had dropped 10 percent since 2000.
| | |
| --- | --- |
| | The Great Blue Hole off the coast of Belize. Photo by: Rhett A. Butler. |
"The more carbon dioxide you put in, the more acidic the ocean becomes, reducing its ability to hold CO2," the study's lead author, Samar Khatiwala, explained to the Earth Institute at Columbia University. Khatiwala is an oceanographer at Columbia University's Lamont-Doherty Earth Observatory. "Because of this chemical effect, over time, the ocean is expected to become a less efficient sink of manmade carbon. The surprise is that we may already be seeing evidence for this, perhaps compounded by the ocean's slow circulation in the face of accelerating emissions."
Prior to this study, scientists have been forced to depend on complex modeling to estimate the oceans' capacity to sequester carbon. Khatiwala and his colleagues employed complex equations with data from water temperatures, salinity, and manmade chlorofluorocarbons to reconstruct the oceans' annual carbon intake.
Their reconstruction found that the Southern Ocean, which surrounds Antarctica, plays an especially important role in sequestering carbon. According to the study, this cold sea sequesters 40 percent of the oceans' carbon.
"We've suspected for some time that the Southern Ocean plays a critical role in soaking up fossil fuel CO2," said Khatiwala. "But our study is the first to quantify the importance of this region with actual data."
As opposed to warmer seas, the Southern Ocean's cold and dense water better facilitates carbon intake.
The role of the oceans in the carbon cycle has been little discussed in matters of policy, but environmentalists are working to change this. Just this week the IUCN released a new report on coastal carbon sinks at a climate change summit in Granada, Spain.
| | |
| --- | --- |
| | Smokestack in China. Photo by: Rhett A. Butler. |
"While there have been a lot of discussions about major carbon sinks on land such as forests, we have not heard much about the missing sinks of carbon in the oceans. The marine world not only regulates our climate, supplies essential goods and services, but also helps us tackle climate change," Carl Gustaf Lundin said, Head of IUCN Global Marine Programme. "Decision-makers at national and international level will have to look at policies and financing mechanisms for protection and management of our oceans, and this report is the best starting point."
The IUCN report points out the importance of mangrove forests, seagrasses, and salt marshes in sequestering carbon in their soils. Scientists suspect that these ecosystems, which are highly threatened, also play a vital role in funneling carbon from the atmosphere into the oceans. However, Khatiwala warns that in a world where every year brings a new emissions record, humanity cannot simply depend on natural carbon sinks to fix their dirty work.
"What our ocean study […] suggests is that we cannot count on these sinks operating in the future as they have in the past, and keep on subsidizing our ever-growing appetite for fossil fuels," Khatiwala said.
Related articles
Record year for CO2 emissions, even with economic slowdown
(11/17/2009) 8.7 billion tons of carbon dioxide was emitted into the earth's atmosphere in 2008, a growth of 2 percent despite the economic crisis. This averages out to each person contributing a record high of 1.3 tons of carbon, according to a report in the journal Nature Science. While the global recession slowed the growth of fossil fuel emissions for the first time this decade, it did not lower emissions altogether.
Coastal habitats may sequester 50 times more carbon than tropical forests by area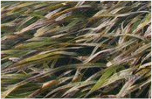 (11/16/2009) Highly endangered coastal habitats are incredibly effective in sequestering carbon and locking it away in soil, according to a new paper in a report by the IUCN. The paper attests that coastal habitats—such as mangroves, sea grasses, and salt marhses—sequester as much as 50 times the amount of carbon in their soil per hectare as tropical forest. "The key difference between these coastal habitats and forests is that mangroves, seagrasses and the plants in salt marshes are extremely efficient at burying carbon in the sediment below them where it can stay for centuries or even millennia."
New report: boreal forests contain more carbon than tropical forest per hectare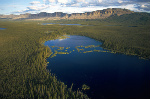 (11/12/2009) A new report states that boreal forests store nearly twice as much carbon as tropical forests per hectare: a fact which researchers say should make the conservation of boreal forests as important as tropical in climate change negotiations. The report from the Canadian Boreal Initiative and the Boreal Songbird Initiative, entitled "The Carbon the World Forgot", estimates that the boreal forest—which survives in massive swathes across Alaska, Canada, Northern Europe, and Russia—stores 22 percent of all carbon on the earth's land surface. According to the study the boreal contains 703 gigatons of carbon, while the world's tropical forests contain 375 gigatons.
US subsidies of oil and coal more than double the subsidies of renewable energy
(09/21/2009) During the fiscal years of 2002-2008 the United States handed out subsidies to fossil fuel industries to a tune of 72 billion dollars, while renewable energy subsidies, during the same period, reached 29 billion dollars.
Amazon stores 10 billion tons of carbon in 'dead wood'
(08/12/2009) Old growth forests in the Amazon store nearly 10 billion tons of carbon in dead trees and branches, a total greater than global annual emissions from fossil fuel combustion, according to scientists who have conducted the first pan-Amazon analysis of "necromass."
Temperate forests store more carbon than tropical forests, finds study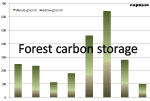 (07/17/2009) Temperate forests trump rainforests when it comes to storing carbon, reports a new assessment of global forest carbon stocks published July 14th in Proceedings of the National Academy of Sciences (PNAS). The findings have important implications for efforts to mitigate climate change by protecting forests. Sampling and reviewing published data from nearly 100 forest sites around the world, Heather Keith, Brendan G. Mackey, and David B. Lindenmayer of Australian National University found that Australia's temperate Eucalyptus forests are champions of carbon storage, sequestering up to 2,844 metric tons of carbon per hectare, a figure that far exceeds previous estimates. These forests, located in the Central Highlands of Victoria in southeastern Australia, are dominated by giant Mountain Ash (Eucalyptus regnans) trees, which can reach a height of 320 feet and live for more than 350 years. They are also favored by the timber industry. Mountain Ash forests have been widely logged across Australia, with only limited old-growth stands remaining.
Canada and Britain abandon conventional coal
(04/29/2009) In an effort to curb climate change, both Britain and Canada have announced plans to stop building new conventional coal power plants, a move long-advocated by environmentalists. Both nations have turned their sights to the possibility of clean coal, a controversial and still unproven method that has divided environmentalists, scientists, and policy makers.
Tropical storms affect carbon sinks by knocking down forests
(04/27/2009) Studying nearly a hundred and fifty years of tropical storm landfalls in the United States, researchers have discovered that the storm systems have a sizeable impact on forest carbon sinks due to the large-scale destruction of trees.
Global warming could turn forests from sink to source of carbon emissions
(04/16/2009) Rising temperatures could reverse the role forests play in mitigating climate change, turning them into net sources of greenhouse gases, reports a new assessment by the International Union of Forest Research Organizations (IUFRO). The report, titled "Adaptation of Forests and People to Climate Change – A Global Assessment" and authored by 35 forestry scientists, examined the potential impacts of climate change across the world's major forest types as well as the capacity of forest biomes to adapt to climate shifts. Among the conclusions: a 2.5-degree-C rise in temperatures would eliminate the net carbon sequestering function of global forests. Presently forests worldwide capture about a quarter of carbon emissions.
Drought threatens the Amazon rainforest as a carbon sink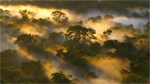 (03/05/2009) Drought in the Amazon is imperiling the rainforest ecosystem and global climate, reports new research published in Science. Analyzing the impact of the severe Amazon drought of 2005, a team of 68 researchers across 13 countries found evidence that rainfall-starved tropical forests lose massive amounts of carbon due to reduced plant growth and dying trees. The 2005 drought — triggered by warming in the tropical North Atlantic rather than el Niño — resulted in a net flux of 5 billion tons of carbon dioxide (CO2) into the atmosphere — more than the combined annual emissions of Japan and Europe — relative to normal years when the Amazon is a net sink for 2 billion tons of CO2.