Paying for the ecological services provided by the Amazon rainforest could be the key to saving it, reports a new analysis from WWF.
The study, Keeping the Amazon forests standing: a matter of values, tallied the economic value of various ecosystem services afforded by Earth's largest rainforest. It found that standing forest is worth, at minimum, $426 per hectare per year for production of non-timber forest products (honey, fiber, mushrooms, medicinal plants, etc), erosion prevention, fire prevention, pollination, carbon storage, existence value, and recreational and ecotourism use. Accounting for maintenance of biodiversity, the spiritual and cultural aspects of the forest, disease protection, provision of water, and production of timber through reduced impact logging techniques (not necessarily sustainable production) boosts the value even higher.
While these values compare favorably to other forms of land use in the region — soy farming ($300-600 per hectare) and cattle ranching ($51-148 per ha) — there are presently no mechanisms to compensate Amazon countries, save for the emerging REDD mechanism for forest carbon. REDD or "Reduced Emissions from Deforestation and forest Degradation" would enable industrialized countries to pay for forest conservation in tropical countries as a means to reduce global greenhouse gas emissions. Deforestation presently accounts for roughly 20 percent of anthropogenic emissions.
The report says that forest carbon could be worth $70-100 per hectare per year based on damage avoided due to CO2 avoided and the value of carbon stored in intact forest.
Pita Verweij, Marieke Schouten, Pieter van Beukering, Jorge Triana, Kim van der Leeuw and Sebastiaan Hess. Keeping the Amazon forests standing: a matter of values. WWF-Netherlands 2009


Related articles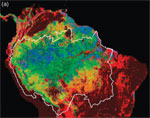 Is the Amazon more valuable for carbon offsets than cattle or soy?
(10/17/2007)
After a steep drop in deforestation rates since 2004, widespread fires in the Brazilian Amazon (September and October 2007) suggest that forest clearing may increase this year. All told, since 2000 Brazil has lost more than 60,000 square miles (150,000 square kilometers) of rainforest — an area larger than the state of Georgia or the country of Bangladesh. Most of this destruction has been driven by clearing for cattle pasture and agriculture, often in association with infrastructure development and improvements. Higher commodity prices, especially for beef and soy, have further spurred forest conversion in the region.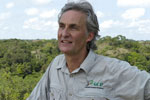 Markets could save rainforests: an interview with Andrew Mitchell
(08/17/2008)
Markets may soon value rainforests as living entities rather than for just the commodities produced when they are cut down, said a tropical forest researcher speaking in June at a conservation biology conference in the South American country of Suriname. Andrew Mitchell, founder and director of the London-based Global Canopy Program (GCP), said he is encouraged by signs that investors are beginning to look at the value of services afforded by healthy forests.
Investors seek profit from conserving rainforest biodiversity
(08/13/2008)
An investment firm has launched the first tropical biodiversity credits scheme. New Forests, a Sydney, Australia-based company, has established the Malua Wildlife Habitat Conservation Bank in Malaysia as an attempt to monetize rainforest conservation. The "Malua BioBank" will use an investment from a private equity fund to restore and protect 34,000 hectares (80,000 acres) of formerly logged forest that serves as a buffer between biologically-rich forest reserve and a sea of oil palm plantations. The conservation effort will generate "Biodiversity Conservation Certificates", the sales of which will endow a perpetual conservation trust and produce a return on investment for the Sabah Government and the private equity fund.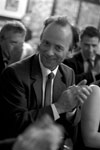 Investing to save rainforests
(04/02/2008)
Last week London-based Canopy Capital, a private equity firm, announced a historic deal to preserve the rainforest of Iwokrama, a 371,000-hectare reserve in the South American country of Guyana. In exchange for funding a "significant" part of Iwokrama's $1.2 million research and conservation program on an ongoing basis, Canopy Capital secured the right to develop value for environmental services provided by the reserve. Essentially the financial firm has bet that the services generated by a living rainforest — including rainfall generation, climate regulation, biodiversity maintenance and carbon storage — will eventually be valuable in international markets. Hylton Murray-Philipson, director of Canopy Capital, says the agreement — which returns 80 percent of the proceeds to the people of Guyana — could set the stage for an era where forest conservation is driven by the pursuit of profit rather than overt altruistic concerns.
Private equity firm buys rights to ecosystem services of Guyana rainforest
(03/27/2008)
A private equity firm has purchased the rights to environmental services generated by 371,000 hectare rainforest reserve in Guyana. Terms of the deal were not disclosed, but the agreement is precedent-setting in that a financial firm is betting that the services generated by a living rainforest — including rainfall generation, climate regulation, biodiversity maintenance and water storage — will eventually see compensation in international markets.