Made up of ten islands off the coast of northern Mozambique, this coastal marine reserve in the Primeiras and Segundas Archipelago will cover more than 4020 square miles. Photo by: Caroline Simmonds/WWF-US.
Last week, the East African nation of Mozambique announced it was protecting 10,411 square kilometers (4,020 square miles) of coastal marine waters, making the new Marine Protected Area (MPA) the biggest on the continent. The protected area, dubbed the Primeiras and Segundas Archipelago ("First" and "Second" islands), includes ten islands as well as mangrove forests, rich coral reefs, and seagrass ecosystems.
"The declaration of Primeiras and Segundas is an incredible achievement for both marine conservation and the people who depend on these resources. Mozambique's coast feeds hundreds of thousands of people. The stunning reefs, islands, and marine life will now be protected. We won a victory today with the declaration of Primeiras and Segundas—a great triumph for protecting the world's marine environment," Caroline Simmonds, Deputy Director for WWF-US's Coastal East Africa Program, said in a statement. WWF has worked in the region for years toward better management and protection.
The new protected area has been heavily fished by both commercial fisheries and artisanal fisheries with all targets considered overexploited. The Mozambique government said the new protections would safeguard fish nesting areas. In addition the area is home to important breeding grounds for marine turtles, dugongs, and seabirds.
The government is still working on a management plan for the region which will include regulated tourism.

The new marine reserve will help Mozambican communities and government manage both terrestrial and marine resources in this area for a sustainable future. Photo by: Marcia Marsh/WWF-US.

The Primeiras and Segundas archipelago is home to five of the world's seven marine turtle species. Photo by: Jason Rubens/WWF.

Located in between Nampula and Zambezia Provinces, this new coastal marine reserve is a key breeding site for dugong. Photo courtesy of WWF.

Green turtle. WWF and CARE are working together with ocean community guards in this area to rescue green turtles and build awareness. Photo by: Martin Harvey/WWF.
Related articles
Above the ocean: saving the world's most threatened birds
(11/01/2012) A life on the ocean is a perilous one for any bird. They must expend energy staying aloft for thousands of miles and learn to be marathon swimmers; they must seek food beneath treacherous waves and brave the world's most extreme climates; they must navigate the perils both of an unforgiving sea and far-flung islands. Yet seabirds, which includes 346 global species that depend on marine ecosystems, have evolved numerous strategies and complex life histories to deal with the challenges of the sea successfully, and they have been doing so since the dinosaur's last stand. Today, despite such a track record, no other bird family is more threatened; yet it's not the wild, unpredictable sea that endangers them, but pervasive human impacts.
Great Barrier Reef loses half its coral in less than 30 years
(10/01/2012) The Great Barrier Reef has lost half of its coral cover in the last 27 years, according to a new study released today in the Proceedings of the National Academy of Sciences (PNAS). Based on over 2,000 surveys from 1985 to this year the study links the alarming loss to three impacts: tropical cyclone damage, outbreaks crown-of-thorns starfish that devour corals, and coral bleaching.
Penguins face a slippery future
(09/26/2012) Penguins have spent years fooling us. With their image seemingly every where we turn—entertaining us in animated films, awing us in documentaries, and winking at us in commercials—they have made most of us believe they are doing just fine; the penguin's charming demeanor has lulled us into complacency about their fate. But penguin populations are facing historic declines even as their popularity in human society rises. Overfishing is decimating some of their prey species, climate change is shifting their resources and imperiling their habitat, meanwhile pollution, such as oil spills, are putting even healthy colonies at risk. Now, a young organization, the Global Penguin Society (GPS), is working to save all of the world's 18 penguin species by working with scientists, governments, and local communities.
World failing to meet promises on the oceans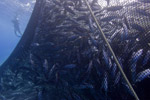 (06/14/2012) Despite a slew of past pledges and agreements, the world's governments have made little to no progress on improving management and conservation in the oceans, according to a new paper in Science. The paper is released just as the world leaders are descending on Rio de Janeiro for Rio+20, or the UN Summit on Sustainable Development, where one of the most watched issues is expected to be ocean policy, in part because the summit is expected to make little headway on other global environmental issues such as climate change and deforestation. But the new Science paper warns that past pledges on marine conservation have moved too slowly or stagnated entirely.
Australia sets aside 40 percent of its waters for protection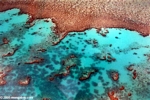 (06/14/2012) In an announcement to coincide with the beginnings of the UN's Rio+20 Summit on Sustainable Development, Australia has announced ambitious plans to protect 3.1 million square kilometers (1.19 million square miles) of its ocean, including the Coral Sea. If enacted, the proposition will increase Australia's marine protected areas from 27 to 60, covering about 40 percent of Australia's waters.