Classified as Critically Endangered by the IUCN Red List, listed among the Top 25 Most Endangered primates in the world, and rated number 71 on the EDGE's list of world's most endangered and unique mammals, the yellow-tailed woolly monkey needed some good news—and this week it got it. The conservation organization, Neotropical Primate Conservation (NPC), has announced the discovery of an unknown population of the yellow-tailed woolly monkey (Oreonax flavicauda), buttressing hopes that the species will survive in the long-term.
Native to the cloud forests of north-eastern Peru, the yellow-tailed woolly monkey was thought extinct until it was rediscovered in 1974. The new population has been found in an area where the monkey has not been recorded for decades. The global population of the yellow-tailed woolly monkey has been estimated at less than 250 individuals.
| | |
| --- | --- |
| | Habitat loss, such as deforestation pictured here, is one of the main causes behind the yellow-tailed woolly monkey's decline. Photo courtesy of NPC. |
"With such a small wild population, these new areas give new hope for the species' survival. There are already initiatives underway for the protection of the yellow-tailed woolly monkeys, which we hope will now include protection of these new populations," Sam Shanee, the co-founder of NPC, said in a press release. NPC is one of the only conservation organizations working with this gravely imperiled species.
The monkey's survival is threatened by deforestation, encroaching agriculture, and bushmeat hunting. The area is also known for cocaine smugglers and communist rebels, increasing the difficulty of research and conservation efforts.
Despite such difficulties, NPC works closely with local people to help save the species from extinction.
"Local communities are enthusiastic about cooperating and even initiating conservation work. They make us very optimistic for the future of this very special monkey," says Noga Shanee, another co-found of NPC. The organization has also established a reforestation project in the area.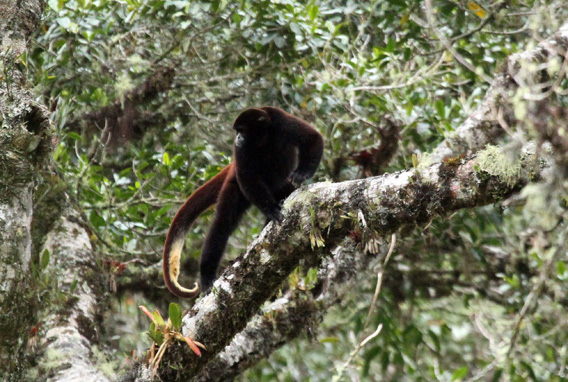 An adult yellow-tailed woolly monkey flashes the yellow of its tail for which it is named. Photo by: Shachar Alterman.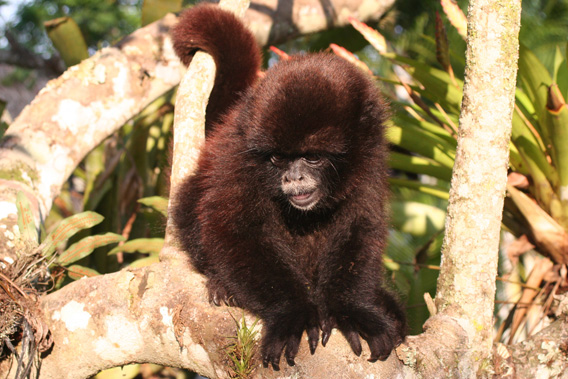 Hope for the future? A juvenile yellow-tailed woolly monkey. Photo by: Noga Shanee.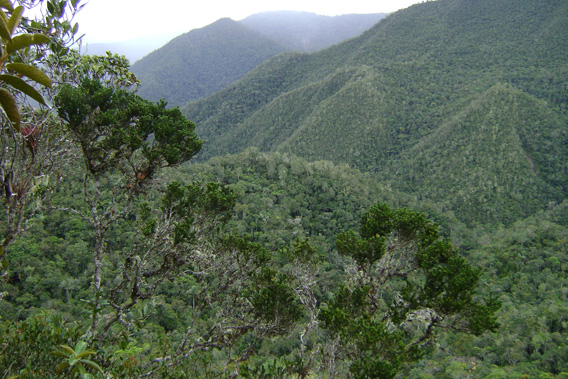 Yellow-tailed woolly monkey habitat: the Andean forests of north-eastern Peru. Photo by: Sam Shanee.
Related articles
Picture: new monkey discovered in Myanmar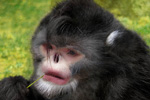 (10/26/2010) Hunters' reports have led scientists to discover a new species of monkey in the northern forests of Myanmar. Discovered by biologists from the Myanmar Biodiversity and Nature Conservation Association with support from primatologists with Fauna & Flora International (FFI) and the People Resources and Biodiversity Foundation, the strange looking primate is a member of the snub-nosed monkey family, adding a fifth member to this unmistakably odd-looking group of Asian primates. However, the species survives in only a small single population, threatened by Chinese logging and hunting.
Stunning monkey discovered in the Colombian Amazon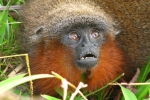 (08/11/2010) While the Amazon is being whittled away on all sides by logging, agriculture, roads, cattle ranching, mining, oil and gas exploration, today's announcement of a new monkey species proves that the world's greatest tropical rainforest still has many surprises to reveal. Scientists with the National University of Colombia and support from Conservation International (CI) have announced the discovery of a new monkey in the journal Primate Conservation on the Colombian border with Peru and Ecuador. The new species is a titi monkey, dubbed the Caquetá titi ( Callicebus caquetensis). However, the announcement comes with deep concern as researchers say it is likely the new species is already Critically Endangered due to a small population living in an area undergoing rapid deforestation for agriculture.
When it comes to Yellow Fever, conserving howler monkeys saves lives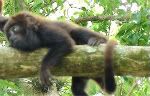 (03/29/2010) Abundant and diverse wildlife help people in many ways: for example bees pollinate plants, birds and mammals disperse seeds, bats control pest populations, and both plants and animals have produced life-saving medicines and technological advances. But how could howler monkeys save people from a Yellow Fever outbreak? A new study in the open-access journal Tropical Conservation Science explores the link between howler monkeys, mosquitoes, and humans during a recent yellow fever outbreak in the state of Rio Grande do Sul, Brazil.