Bolivia lost 50,000 sq km of forest during an unusually destructive fire season in 2019. Researchers say policies enacted in July 2019 that encouraged agricultural expansion contributed to the fires.
In November 2019, Evo Morales resigned from presidency after a fraught and contested election. The coronavirus pandemic has delayed a planned repeat of the election process in 2020. Meanwhile, the Bolivian government under interim president Jeanine Áñez is trying to deal with the aftermath of the fires and policies set under the Morales administration.
Conservationists say some progress has been made under the Áñez government on the environmental front, but caution much more needs to happen to stem the harmful impacts of Morales' legacy.
After enduring a fraught election process that resulted in the resignation of president Evo Morales in November 2019, Bolivia will once again be holding a general election in 2020. Meanwhile, the government headed by interim president Jeanine Áñez is left dealing with the fallouts of both the political crisis as well as an unprecedented fire season that consumed some 50,000 sq km (19,300 sq mi) across the country between July and October.
Conservationists are urging the new government to roll back Morales' policies that opened up more areas to agriculture, policies that have been directly implicated in the heavy season in 2019. Social advocates say Bolivia must also deal with the complaints of indigenous peoples against large industrial projects planned within their territories.
There are signs that these entreaties are being heard. In January, Minister of the Environment and Water María Pinckert said the Áñez government will not proceed with a hydroelectric project; in February, Minister of Hydrocarbons Victor Hugo Zamora ordered a stop to oil exploration and exploitation in Tariquía Flora and Fauna National Reserve. The Áñez government also put a hold on drilling in the San Telmo Norte and Astillero areas after local protests broke out.
But activists say much more remains to be done.
Government in flux
In 2020, Bolivia enters an election year once again. After Evo Morales resigned from the presidency in 2019 following a contested re-election and waves of protest, Bolivians are expected to return to the polls sometime this year.
In November 2019, interim president Jeanine Áñez signed a law that annulled the elections of October 20 last year and ordered the appointment of new Supreme Electoral Tribunal members, who will be in charge of convening the new process. Exactly when the general election will take place has yet to be determined as Bolivia, like the rest of the world, is waiting out the coronavirus pandemic.
Researchers say environmental matters must be prioritized in the upcoming electoral process.
"Those who participate in these elections are obliged to consider environmental issues as a matter of the first order," says Marco Gandarillas, a researcher at the Bolivian NGO Center for Documentation and Information (CEDIB). "You can't ignore it. You have to do a review and come up with a more effective plan to protect ecosystems."
Natalia Calderón, executive director of the Friends of Nature Foundation, says environmental issues are not given the priority they deserve during the election cycle.
"2020 will be challenging because once again we enter an electoral process," Calderón said. "However, the environmental agenda is not a priority for candidates or voters. We hope there will be more efforts to include it in the electoral agenda."
Dealing with the aftermath 
In 2019, Bolivia was scarred by the destruction of millions of hectares of forest, particularly in the Chiquitanía and Chaco regions of the country. The Áñez government has announced a reforestation plan for the Chiquitanía. However, this has been met with concern from some conservationists.
"One must think beyond reforestation … It is not only about wood but about carbon capture and its importance for the provision of water," said Ivan Arnold, executive director of Nativa Foundation. He added that it will take decades for affected ecosystems to recover.
Pablo Villegas, head researcher at CEDIB, is concerned a meeting between Minister María Pinckert and businesspeople from the Chiquitanía influenced the reforestation plan.
"There has been a project to grow eucalyptus forests [in Chiquitanía]," Villegas said. "We worry that the Minister of the Environment and Water will reactivate that old project."
Pablo Solón, director of the Solón Foundation and former Bolivian ambassador to the UN, says measures must be taken to prevent forest fires from happening in 2020.
"This government has to repeal laws and incendiary rules that have been approved by Evo Morales," Solón said, "as well as suspend activities that have a strong impact on deforestation, including exporting meat to China and producing soy."
Solón says the export of meat to China should be reviewed and reconsidered, taking into account that the first shipment was announced while the forests were burning in Bolivia.
Economy vs. environment
Miguel Ángel Crespo, director of nonprofit environmental group Probioma, agrees with Solón that the new government must repeal what he says are anti-environmental regulations left by Morales' management.
"The current government is doing what Evo Morales didn't, it's freeing exports; however, that leaves leeway for the expansion of the agricultural frontier," Crespo said.
In July 2019, the Morales government issued a supreme decree authorizing the expansion of the agricultural frontier in Beni and Santa Cruz departments, and allowed controlled burning for agricultural purposes.
The decree was issued shortly before the eruption of fires that swept through millions of hectares of Bolivian forest last year, prompting critics to blame it for contributing to the country's fire crisis.
According to Natalia Calderón of the Friends of Nature Foundation, Bolivia's environmental organizations such as the National Protected Areas Service (Sernap) and the Forest and Land Authority (ABT) must have their powers restored, and the environmental impacts of policies should be more carefully considered.
"The Bolivian development model has to analyze how to economically grow without increasing agricultural growth," Calderón said. "We can't implement policies that will cause more deforestation."
Calderón believes that 2020 will not be another catastrophic fire year, "however, we can't forget that events like those of last year occur every three to five years." She says the fires of 2010 were quickly forgotten and no actions were taken in the years that followed.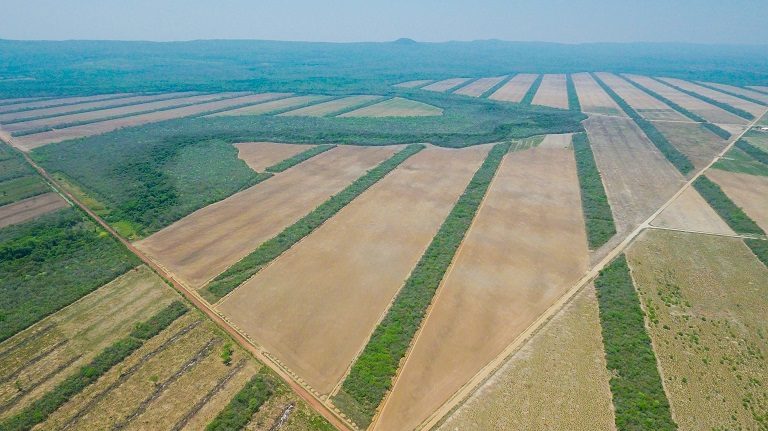 Calderón warns that deforestation in Bolivia is on the rise. According to satellite data from the University of Maryland, loss of primary forest in Bolivia reached a 16-year high in 2017, with preliminary data from 2019 indicating last year likely set a lofty new record, Around two-thirds of deforestation in Bolivia is due to industrial agriculture, according to a 2018 study published in Science.
Vincent Vos, a researcher with the Centro de Investigación y Promoción del Campesinado, refers to Beni's Land Use Plan (PLUS) as a total disaster. "PLUS allows grasslands to appear as territories suitable for agriculture and land negotiation," Vos said. "They do not consider the presence of indigenous territories and protected natural areas."
In a resolution issued in early January, the International Rights of Nature Tribunal asked the Bolivian government to revoke the legal provisions that allow and encourage burning and deforestation. It also demands the government stop agricultural activities, especially those that are carried out without an environmental impact assessment such as the export of meat to China and the production of ethanol and biodiesel.
Indigenous territories under threat
"Indigenous peoples are on permanent alert because the transitional government continues the previous government's projects," said Alex Villca, an indigenous leader and member of the indigenous rights group Contiocap. "We believe that the economic model based on extractive activities will continue in the following government."
Villca lamented how a road now cuts Isiboro Sécure National Park and Indigenous Territory (Tipnis) in two; he says two dozen other projects, including two hydroelectric dams, stand to affect indigenous territories and protected areas.
Villca is critical of the decisions of the former Morales government and some of those adopted so far by the transitory government of Áñez, which he says are "leading the collapse of indigenous communities and forcing them to leave their ancestral territories, in addition to polluting their water resources."
There is also concern about the regulations that modify the land use plan in Beni, which allows the agricultural frontier to be expanded by up to 10 million hectares (24.7 million acres). This decision, promulgated by the region's Legislative Assembly under the Morales government, would allow agricultural activities in protected areas and has attracted criticism among indigenous communities.
Ruth Alipaz, an indigenous leader from Contiocap, expects little will change under the new government.
"The political will of the new government is necessary; however, that will not be easy because the economic matrix would have to change," Alipaz said. "We believe that the economy must be reactivated with activities such as tourism. We can't continue to implement actions that violate the rights of indigenous peoples."
Alipaz said the concerns of indigenous communities have been heard by the United Nations through its Universal Periodic Review of member states' human rights records.
"We are not uncompromising, but we cannot condone development of something that kills," Alipaz said. "Indigenous peoples have not given up despite threats against environmental defenders."
This article was first published by Mongabay Latam on January 15, 2020.
Banner image: Fires burn near Robore, Bolivia on November 4, 2019. Image captured by Landsat 8.
Feedback: Use this form to send a message to the editor of this post. If you want to post a public comment, you can do that at the bottom of the page.