Southern elephant seals battle for mating rights. Photo by: G. Harris/WCS.
Conservationists are celebrating the announcement that UNESCO has dubbed Argentina's Península Valdés a biosphere reserve under the Man and Biosphere Program (MBA). A hatchet-shaped peninsula that juts out into the Southern Atlantic Ocean, the world's newest biosphere reserve is home to a hugely-diverse collection of both terrestrial and marine wildlife.
"Southern right whales that swim within meters of shore, schools of dusky dolphins, huge colonies of Magellanic penguins, rookeries of South American sea lions that bustle with activity, orcas that beach themselves to capture pups and southern elephant seals that huddle in thousands on lonely sandy beaches," said Senior Conservation, William Conway, with the Wildlife Conservation Society (WCS). "This is the wildlife that makes Península Valdés on the coast of Patagonia so special, one of the world's great natural wonders."
In fact, the peninsula houses the world's largest breeding colony of southern elephant seals (Mirounga leonina) in South America and is home to 4,000 southern right whales (Eubalaena australis), about one third of the total breeding population. On land, the reserve supports abundant populations guanacos (Lama guanicoe), the rabbit-like Patagonian mara (Dolichotis patagonum), and Darwin's rhea (Rhea pennata), the latter two which are listed as Near Threatened.
Its designation as a biosphere reserve means that the Península Valdés reserve becomes a part of a global network to test new sustainable management ideas in order to better-harmonize environmental protection with human needs and economies. Moreover, the designation adds Punta Ninfas, just to the south of the peninsula, to the protected area. Home to southern elephant seals, South American sea lions (Otaria flavescens), imperial cormorants (Phalacrocorax atriceps), and Magellanic penguins (Spheniscus magellanicus)—considered Near Threatened—this point is currently imperiled by urbanization and a proliferation of off-road vehicles, according to the WCS.
The President and CEO of WCS, Cristián Samper, says the Península Valdés has "greater concentrations of wildlife than any other area on the entire coast of Patagonia," and that the park's designation as a biosphere reserve "is the culmination of years of hard work by many great partners."

Southern right whales are abundant off of Península Valdés. Photo by: G. Harris/WCS.

Magellanic penguins colonies on the Península Valdés. Photo by: G. Harris/WCS.

Elephant seals lounging. Photo by: G. Harris/WCS.

South American seals. Photo by: Reinhard Jahn, Mannheim/Creative Commons 2.0.

Google Earth image of Península Valdés and Punta Ninfas to the south. Photo courtesy of Google Earth.

Map showing the reserve's various zones: core areas, buffer zones, transition areas. Map courtesy of WCS.
Related articles
Sowing the seeds to save the Patagonian Sea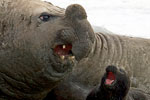 (09/07/2011) With wild waters and shores, the Patagonia Sea is home to a great menagerie of marine animals: from penguins to elephants seals, albatrosses to squid, and sea lions to southern right whales. The sea lies at crossroads between more northern latitudes and the cold bitter water of the Southern Ocean, which surround Antarctica. However the region is also a heavy fishing ground, putting pressure on a number of species and imperiling the very ecosystem that supplies the industry. Conservation efforts, spearheaded by marine conservationist Claudio Campagna and colleagues with the Wildlife Conservation Society (WCS), are in the early stages. Campagna, who often writes about the importance of language in the fight for preservation, has pushed to rename the area to focus on its stunning wildlife.
Rockhopper penguins benefit from new park in Argentina

(03/31/2010) Southern rockhopper penguins (Eudyptes chrysocome) are easily distinguished by the spiked plumes on their head, their neon-yellow eyebrows, and red eyes. But these wild-looking penguins are also endangered: the IUCN Red List classifies them as Vulnerable to extinction due to pollution and drowning by fishing nets.
Argentina bans fishing, trawling in eco-rich area
(10/09/2008) The government of Argentina has banned commercial fishing along Burdwood Bank, an 1,800 square kilometer (694 square mile) submerged island off its southern coast, according to the Wildlife Conservation Society (WCS).