View Larger Map
The tar sands as seen from Google Earth near Fort McMurray, Alberta.
Purchasing a full page ad in the Canadian paper the Globe and Mail, a group of African leaders and NGOs is calling on Canada to return to the fold on climate change. Canada has recently all-but-confirmed that after the ongoing 17th UN Summit on Climate Change in Durban, South Africa, it will withdraw entirely from the Kyoto Treaty. The country has missed its targets by a long-shot, in part due to the exploitation of its tar sands for oil, and is increasingly viewed at climate conferences as intractable and obstructive. In the eyes of those concerned about climate change, Canada has gone from hero to villain. Yet notable African activists, including Archbishop Desmond Tutu, are pushing back.
"Canada, you were once considered a leader on global issues like human rights and environmental protection. Today you're home to polluting tar sands oil, speeding the dangerous effects of climate change," the ad in the Globe and Mail reads. "For us in Africa, climate change is a life and death issue. By dramatically increasing Canada's global warming pollution, tar sands mining and drilling makes the problem worse, and exposes millions of Africans to more devastating drought and famine today and in the years to come."
Tar sands trouble
As the ad points out, Canada's exploitation of the tar sands has moved from a largely Canadian issue to a global one. Massive protests in the US, including civil disobedience that led to the arrest of 1,252 people, effectively stalled a pipeline that would have brought tar sands' oil from Canada down to Texas refineries—and a global market. Now, the EU is currently mulling action that would officially deem tar sands' oil more environmentally destructive than conventional oil, essentially making sale of tar sands' oil in the EU improbable.
| | |
| --- | --- |
| | 12,000 protestors create human chain around White House to protest tar sands pipeline. Photo by: Emma Cassidy. |
Extracting oil from the tar sands is both energy and water intensive. The oil—which exists in the form of bitumen and is mixed with clay, water, and sand—must be extracted from the ground with hot water and upgraded by using a high energy process. To make a single barrel of oil requires two tons of tar sands and three barrels of water. It also releases more greenhouse gases: the EPA estimates that carbon emissions from tar sands is 82 percent more intensive than conventional oil. Other sources have found lower rates, but all agree that more carbon is released from the tar sands than other oil reservoirs.
Canada's exploitation of the tar sands has stalled its ability to reduce its greenhouse gas emissions. Instead of reducing emissions by 6 percent relative to 1990 levels as promised, the nation's emissions have risen 17 percent. Still, extraction from tar sands, dubbed by the industry as 'oilsands', is vociferously supported by Canada's conservative government under Stephen Harper, and many believe the tar sands is the number one reason why Canada has turned its back on climate change mitigation.
Meanwhile Africa has suffered a number of debilitating droughts over recent decades. A long drought in East Africa led to famine this year, killing tens-of-thousands of people and putting 12 million at risk of food insecurity. Scientists predict that climate change will worsen agricultural production and water security on the continent.
"It's time to draw the line," the ad concludes. "We call on Canada to change course and be a leader in clean energy and to support international action to reduce global warming pollution."
Released by a new initiative dubbed Draw the Line—supported by Environmental Defense Canada, Equiterre, Greenpeace Canada, Natural Resources Defense Council, Nobel Women's Initiative, and the Sierra Club—the full-page ad is just the most recent expression of frustration at Canada's climate turnabout.
Canada sets "bad example"
Through its national news organization, China also took umbrage against the news that Canada was planning to pull out of Kyoto, calling the country a "bad example".
"While delegations from every country attend the Durban climate conference to discuss a second commitment period for the Kyoto Protocol, one can imagine the damage done by this 'rumor'," Xinhua said. "Some are angry and some are depressed, but whatever the expression made by each delegation, they are united in their criticism of Canada."
| | |
| --- | --- |
| | A part of the ad in the Globe and Mail. |
Canada's position has not been helped by its head negotiator, Environment Minister Peter Kent, who has made several statements that have drawn ire, such as referring to funds for poor and vulnerable nations—who currently face the worst of climate change impacts but have contributed the least emissions—as "guilt payments". He says such countries should "stop 'wielding the historical guilty card' and asking for a free pass on emissions reductions just because in the past, industrialized countries had more emissions than the rest of the world."
So far, Kent has refused to confirm or deny the report that Canada is withdrawing from the Kyoto treaty, but has called signing up to Kyoto in the first place one of Canada's "biggest blunders."
At each UN Climate Summit, the Climate Action Network (CAN) delivers daily ironic awards, dubbed the "Fossil of the Day Awards," to those nations that most obstruct progress on combating climate change. In the first three days, Canada has taken home 4 out of 7 fossils.
Not alone
Canada, however, is not alone in being signaled out as a bad actor at negotiations, the U.S. is also facing wide criticism for obstructionism.
Two years ago the U.S. was regarded as the key player on climate change with the recent election of Barack Obama, who promised to do what his predecessor, George W. Bush, would not: embrace real action and international agreement on climate change.
"Now is the time to confront [climate change[ once and for all. Delay is no longer an option. Denial is no longer an acceptable response. The stakes are too high. The consequences, too serious," Obama said two weeks after winning the US election in 2008.
But today, according to an open letter from 16 NGOs to the Obama Administration, "America risks being viewed not as a global leader on climate change but as a major obstacle to progress."
The letter urged the U.S. to drop its "stringent preconditions," and negotiate openly with other countries. The U.S. has refused to discuss extending the Kyoto Treaty and has pushed for pursuing a treaty that wouldn't go into effect until 2020. In addition the U.S. is raising some objections to the design of a Green Fund designed to provide significant monies to poor and vulnerable nations, though the fund has already been approved by nearly every other nation.
"This is a critical meeting, and we are rapidly running out of time to avert the worst impacts of climate change," the NGO's letter to the Obama administration concludes.
Still the harshest criticisms remain for Canada alone: for once it is outshining its neighbor to the south.
From bad to worse
Despite the U.S. position that waiting until 2020 for a treaty is reasonable, recent research argues if nations are to keep their pledge to keep global temperatures from rising above 2 degrees Celsius, emissions must peak this decade and fall rapidly thereafter. The International Energy Agency (IEA) recently announced that the world had five years to slash emissions or face dangerous climate change.
| | |
| --- | --- |
| | Young boy in the Turkana tribe. Living in northern Kenya the tribe is buffeted by drought and food scarcity. Scientists say this will only worsen with climate change. Photo by: Rhett A. Butler. |
"As each year passes without clear signals to drive investment in clean energy, the 'lock-in' of high-carbon infrastructure is making it harder and more expensive to meet our energy security and climate goals," Fatih Birol, IEA Chief Economist, said last month.
Meanwhile, the UN has reported that concentration of greenhouse gases have hit a new high in the atmosphere, and emissions levels for last year beat worse-case-scenarios. Temperatures this year are likely be the 10th warmest on record and the warmest ever recorded for a La Nina year.
The effects of this heat are being felt far-and-wide. This year saw the Arctic's sea ice hit its lowest volume on record and have its second lowest extent. Ice shelves in the Canadian Arctic have halved in the last six years. Also with wider recognition of the impacts of climate change on severe weather, this year was also notable for an unusually large amount of extreme weather events. In addition to drought and famine in East Africa, 2011 saw massive floods in Asia and the Americas with a record-breaking deluge in Thailand, dubbed its worst natural disaster in history; a wide-variety of extreme weather events in the U.S., including an extended drought and heatwave in Texas; killer landslides in Central and South America; as well as a below-average year for tropical cyclones.
Although few observers expect a breakthrough at Durban, with so much at stake some are beginning to say that a miracle breakthrough of one kind or another is absolutely essential. Richard Black at the BBC characterizes nations as having three different views: those that want to continue the Kyoto treaty, those interested in jump-starting a new binding agreement, and those wanting a bit of both, but he writes that "the US and Canada want neither." Simply put, while most of the world wants to move forward on combating climate change—and are debating how best to do that—it may be that the Canada and U.S. are simply unwilling to act.
The question then becomes do the rest move ahead without them?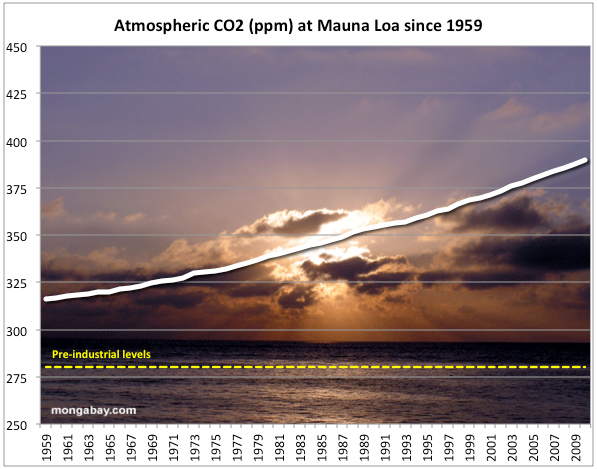 Related articles
Another record breaker: 2011 warmest La Niña year ever
(11/30/2011) As officials meet at the 17th UN Climate Summit in Durban, South Africa, the world continues to heat up. The UN World Meteorological Organization (WMO) has announced that they expect 2011 to be the warmest La Niña year since record keeping began in 1850. The opposite of El Nino, a La Niña event causes general cooling in global temperatures.
For poor, climate change "a matter of life and death"
(11/29/2011) In opening the 17th UN Climate Summit in Durban, South Africa yesterday, Jacob Zuma, president of the host country said that delegates must remember what is at stake.
Greenhouse gases hit new record in atmosphere as officials head to UN climate summit
(11/28/2011) The concentration of greenhouse gases in the atmosphere hit a new record in 2010, according to the UN's World Meteorological Organization (WMO), which found that warming from greenhouse gases rose 29 percent from 1990 to 2010. The announcement was made just a few days prior to officials meet at the 17th Climate Conference in Durban, South Africa, where expectations are low for a strong, binding agreement with a number of wealthy nations stating they expect no new agreement to take affect until 2020.
Arctic sea ice melt 'unprecedented' in past 1,450 years
(11/24/2011) Recent arctic sea ice loss is 'unprecedented' over the past 1,450 years, concludes a reconstruction of ice records published in the journal Nature.
IEA warns: five years to slash emissions or face dangerous climate change
(11/13/2011) Not known for alarmism and sometimes criticized for being too optimistic, the International Energy Agency (IEA) has warned that without bold action in the next five years the world will lock itself into high-emissions energy sources that will push climate change beyond the 2 degrees Celsius considered relatively 'safe' by many scientists and officials.
Obama Administration bows to pressure, delays tar sands pipeline
(11/10/2011) In what can only be described as a major victory for green activists, the Obama Administration has announced it will delay a decision on TransCanada's controversial Keystone XL pipeline for 12-18 months. Notably, putting the decision off until after the last election. The delay comes less than a week after about 12,000 people encircled the White House in opposition to the Keystone XL pipeline, which they argue threatens one of the most important water supplies in America's heartland and will worsen climate change.
12,000 surround White House to protest tar sands pipeline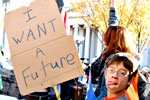 (11/07/2011) One year to the day before the 2012 US election, up to 12,000 activists encircled the White House to protest the Keystone XL pipeline, a proposed 1,700 mile pipeline that would carry oil from Canada's infamous tar sands to the US and other foreign markets. Critics of the TransCanada pipeline have warned of potential spills in America's heartland as well as the climate impacts of allowing more tar sands oil, which has a higher carbon footprint than conventional sources, into the US and other markets. The issue has galvanized climate and environmental activists in the US with the massive rally on Sunday preceded by civil disobedience actions in late summer that lead to the arrests of 1,253 people.
Last year's greenhouse gas emissions topple worst-case scenario
(11/06/2011) Global greenhouse gas emissions last year exceeded worst-case scenario predictions from just four years before, according to the US Department of Energy (DOE). A rise of 6 percent (564 million additional tons) over 2009 levels was largely driven by three nations: the US, India, and China. Emissions from burning coal jumped 8 percent overall. The new data, supported by a similar report from International Energy Agency (IEA), make it even more difficult for nations to make good on a previous pledge to hold back the world from warming over 2 degrees Celsius.
Climate change already worsening weird, deadly, and expensive weather
(11/02/2011) Unprecedented flooding in Thailand, torrential rains pummeling El Salvador, long-term and beyond-extreme drought in Texas, killer snowstorm in the eastern US—and that's just the last month or so. Extreme weather worldwide appears to be both increasing in frequency and intensity, and a new report from the Intergovernmental Panel on Climate Change (IPCC) connects the dots between wilder weather patterns and global climate change.
11 challenges facing 7 billion super-consumers
(10/31/2011) Perhaps the most disconcerting thing about Halloween this year is not the ghouls and goblins taking to the streets, but a baby born somewhere in the world. It's not the baby's or the parent's fault, of course, but this child will become a part of an artificial, but still important, milestone: according to the UN, the Earth's seventh billionth person will be born today. That's seven billion people who require, in the very least, freshwater, food, shelter, medicine, and education. In some parts of the world, they will also have a car, an iPod, a suburban house and yard, pets, computers, a lawn-mower, a microwave, and perhaps a swimming pool. Though rarely addressed directly in policy (and more often than not avoided in polite conversations), the issue of overpopulation is central to environmentally sustainability and human welfare.
Killer Russian heatwave product of climate change
(10/26/2011) Last year's Russian heatwave and drought resulted in vast wildfires and a morality rate that was 56,000 people higher than the same period in 2009. Now, researchers have published a paper in the Proceedings of the National Academy of Sciences (PNAS) that finds the heatwave would very likely have never happened if not for climate change. The study flies in the face of previous research by the National Oceanic and Atmospheric Administration (NOAA) that concluded the heatwave was simply due to natural variation and not a warming world.
Sober up: world running out of time to keep planet from over-heating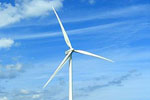 (10/24/2011) If governments are to keep the pledge they made in Copenhagen to limit global warming within the 'safe range' of two degrees Celsius, they are running out of time, according to two sobering papers from Nature. One of the studies finds that if the world is to have a 66 percent chance of staying below a rise of two degrees Celsius, greenhouse gas emissions would need to peak in less than a decade and fall quickly thereafter. The other study predicts that pats of Europe, Asia, North Africa and Canada could see a rise beyond two degrees Celsius within just twenty years.
California finalizes cap-and-trade program
(10/24/2011) Bucking long-stalled efforts in the US to combat global climate change, California has approved final rules for a cap-and-trade program set to go into effect in 2013. The program will require large polluters in California to reduce emissions or to 'trade' emissions on the carbon market with another company or initiative that is sequestering carbon. The rules even allow companies outside the state to participate, creating clean energy incentives across the US.