The first ever assessment of mangrove species by the IUCN Red List found 11 out of 70 mangrove species threatened with extinction, including two which were listed as Critically Endangered. Threats include coastal development, logging, agriculture, and climate change.
Species were evaluated by mangrove specialists and the Global Marine Species Assessment Unit (GMSA), a joint venture between the IUCN and Conservation International.
"The potential loss of these species is a symptom of widespread destruction and exploitation of mangrove forests," says Beth Polidoro, Research Associate of the GMSA at Old Dominion University and lead author of the study appearing in PLoS ONE. "Mangroves form one of the most important tropical habitats that support many species, and their loss can affect marine and terrestrial biodiversity much more widely."
| | |
| --- | --- |
| | Mangroves at Baie D'Ambodi-Vahibe, Madagascar. Photo: © CI/ photo by Sterling Zumbrunn. |
Present in tropical and subtropical regions, mangroves grow where salt water meets the land. Although depleted in many parts of the world, mangrove forests provide vital ecosystem functions. The forests serve as nurseries for a variety of fish and other marine species and act as buffers against erosion. They also have the ability to store large amounts of carbon from the atmosphere. Finally, recent studies have shown that mangroves save both property and lives in the face of fierce tropical storms. During the devastating 2004 tsunami in Southeast Asia, regions with mangroves suffered less damage than those without. In all it is estimated that mangroves provide at least 1.6 billion US dollars in ecosystem services annually, yet despite their importance society is failing to stem the massive loss of mangrove forests worldwide.
"The loss of mangroves will have devastating economic and environmental consequences," explains Greg Stone, senior vice president of marine programs at Conservation International. "These ecosystems are not only a vital component in efforts to fight climate change, but they also protect some of the world's most vulnerable people from extreme weather and provide them with a source of food and income."
Southeast Asia is home to both of the Critically Endangered species located by the study: Sonneratia griffithii and Bruguiera hainesii. Researchers have estimated that in the past 60 years Southeast Asia has lost 80 percent of its mangrove ecosystems, putting species like Sonneratia griffithii and Bruguiera hainesii at grave risk: to date only 250 mature Bruguiera hainesii survive.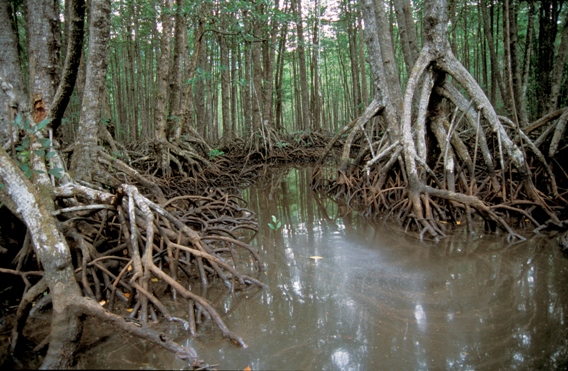 Mangroves, Phillippines. Photo: © CI/ photo by Haroldo Castro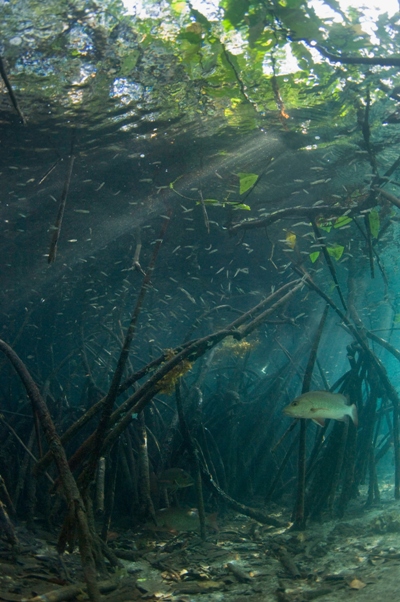 Underwater image of mangrove in Raja Ampat, Indonesia. Photo: © CI/ photo by Sterling Zumbrunn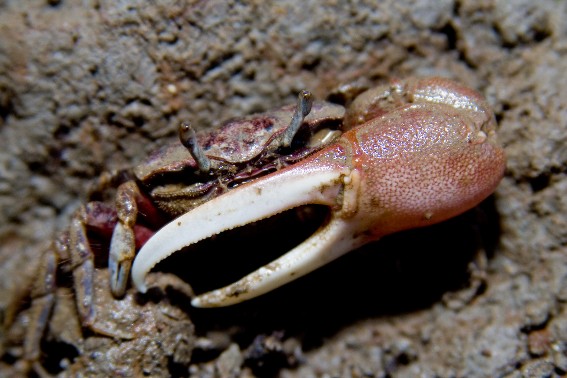 A fiddler crab scavenges in the mangroves near Santa Marta, Colombia. Photo: © Robin Moore
Related articles
Half of Indonesia's mangroves gone in less than thirty years
(03/23/2010) The Jakarta Post reports that, according to the local NGO People's Coalition for Justice in Fisheries (Kiara), Indonesia's has lost 2.2 million hectares of mangroves in less than thirty years, going from covering 4.2 million hectares in 1982 to just 2 million hectares today.
Commercial fish smoking is the "most pervasive" threat to mangrove forests in West Africa
(12/06/2009) An improved system for commercial fish smoking could reduce destruction of mangrove forests and generate human health benefits, report researchers writing in Tropical Conservation Science, an open-access journal published by mongabay.com.
Coastal habitats may sequester 50 times more carbon than tropical forests by area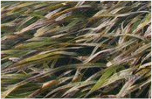 (11/16/2009) Highly endangered coastal habitats are incredibly effective in sequestering carbon and locking it away in soil, according to a new paper in a report by the IUCN. The paper attests that coastal habitats—such as mangroves, sea grasses, and salt marhses—sequester as much as 50 times the amount of carbon in their soil per hectare as tropical forest. "The key difference between these coastal habitats and forests is that mangroves, seagrasses and the plants in salt marshes are extremely efficient at burying carbon in the sediment below them where it can stay for centuries or even millennia."
Protection of land crabs critical to the conservation of coastal tropical forests
(07/13/2009) The impact of land crabs on the near-ocean forests in which they live has long been overlooked, with emphasis placed instead on water levels, salinity, and other abiotic influences. However, a new research synthesis published in Biological Reviews shows that land crab influence is among the most important factors affecting tropical forest growth along coasts, on islands, and in mangroves.
Mangroves save lives by softening cyclone's blow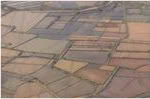 (04/15/2009) In 1999 a super cyclone struck the eastern coast of India, leaving 10,000 people dead. At the time the Orissa cyclone, named after the Indian state which it battered, was the deadliest storm in India in over a quarter century. However, according to a new study published in The Proceedings of the National Academy of Sciences the death toll would have been significantly higher if the mangrove forests buffeting the Indian villagers from the sea had not softened the cyclone's blow.
Coral reefs and mangroves worth $395-559 M per year in Belize
(11/14/2008) Services provided by coral reefs and mangroves in Belize are worth US$395 million to US$559 million per year, or 30 to 45 percent of the Central American country's GDP — according to a new report released by the World Resources Institute and the World Wildlife Fund (WWF).
Mangrove destruction for fish trade may undermine fishermen in West Africa
(09/15/2008) The harvesting of mangrove forests in West Africa for the smoked fish trade threatens to undermine the primary source of income for the very fishermen who supply fish to the market, reports a study published Monday in the open-access journal Tropical Conservation Science.
Mangrove species flourishes in the United Arab Emirates after a century of local extinction
(08/20/2008) A long-absent mangrove species is flowering again in the United Arab Emirates a hundred years since its disappearance. Seeds of the rhizophora mucronata were brought from Pakistan and planted along the coast. The project was a joint venture between the United Arab Emirate's (UAE) Department of President's Affairs and the Environment Agency-Abu Dhabi.
How to replant a mangrove forest: local, low-cost initiatives prove most successful
(07/23/2008) Mangrove replanting and rehabilitation has become a widespread and important environmental initiative worldwide. Mangrove forests play key ecological roles, including sustaining fish populations and other wildlife, preventing erosion along coastlines, and acting as an overall carbon sink. Furthermore, mangroves have received attention lately for their role in providing an effective buffer against typhoons. In light of the many replanting initiatives now occurring, researchers J.H. Primavera and J.M.A. Esteban conducted a study of the overall effectiveness of different mangrove rehabilitation schemes. Their findings show that small, local, and generally cheaper initiatives have a higher success rate over large costly government and international programs.
Mangroves are key to healthy fisheries, finds study
(07/21/2008) Mangroves serve as a critical nursery for young marine life and therefore play an important role in the health of fisheries and the economic well-being of fishermen, report researchers writing in the early online edition of the Proceedings of the National Academy of Sciences.