Road flooded in Rondonia state, Brazil. Photo by: © GREENPEACE / Lunae Parracho.
Environmentalists and scientists raised howls of protest when the Santo Antônio and Jirau Dams were proposed for the Western Amazon in Brazil, claiming among other issues that the dams would raise water levels on the Madeira River, potentially leading to catastrophic flooding. It turns out they may have been right: last week a federal Brazilian court ordered a new environmental impact study on the dams given suspicion that they have worsened recent flooding in Brazil and across the border in Bolivia.
Madeira River's water level hit its highest point ever recorded in recent weeks, swamping villages, cutting roadways, drowning thousands cattle, and flooding ecosystems. To date, the disaster has left over 20,000 people homeless, cut off the entire state of Acre from the outside, and will likely cost hundreds of millions of dollars.
Critics of the dams say that the record flooding is likely the result of two causes: the dams and climate change.
"The disaster has revealed the failure of dam builders to both accurately assess the cumulative impacts of a large dam cascade and integrate climate change into hydrological models," Zachary Hurwitz, Public Policy Coordinator for International Rivers wrote in a recent blog.

Inundated forest due to flooding. Photo by: © GREENPEACE / Lunae Parracho.
Hurwitz contends that Brazil and the companies based their dam assessments on past water levels, but global warming has changed the rules leading to more extreme precipitation events and, at other times, prolonged drought, increasing both the ecologic and economic risks of megadams.
"That should teach dam builders a lesson: past trends no longer reliably predict future ones—a concept called non-stationarity," Hurwitz writes.
The 3,750-megawatt Jiaru Dam, which is in the final stage of construction, is run be Energia Sustentável do Brasil, while Eletrobras and Cia Energética de Minas Gerais operate the San Antônio Dam, which began running in 2012. The judge ordered both companies to provide food and shelter to 11,000 displaced people in Brazil's Rondonia state, but did not go so far as to order the dams shut down until they could prove they played no role in the flooding.
Still, Brazil has ordered San Antônio Dam to shut down temporarily in light of flooding, worsening Brazil's power outage crisis. Meanwhile, flood waters have submerged Jiaru's building site, putting construction on hold. Critics say that this proves that Brazil's dependence on big hydropower projects for the bulk of its energy is misguided.
The disaster has also spread over the border. Bolivia's President, Evo Morales, has ordered an investigation into whether or not the dams worsened flooding in his country, which reportedly killed 90 people and 290,000 cattle. To date, the cost to Bolivia is estimated to be over $111 million. A report released in 2008 by International Waters warned that the construction of the Santo Antônio and Jirau Dams would likely result in extensive flooding across Bolivia.
NASA images acquired by the Moderate Resolution Imaging Spectroradiometer (MODIS) reveal a sharp contrast in Bolivia. The top image, acquired by the Terra satellite on March 28, 2013, shows "typical" conditions. The bottom image, acquired by NASA's Aqua satellite on February 17, 2014, shows a flooded landscape. False-color images below make it easier to distinguish between flood water and background vegetation.
Prior to their construction, the dams were opposed by many for the expected impacts on migrating fish, indigenous people, and flooding 520 square kilometers (200 square miles) of rainforest for the initial reservoirs.
The dams were are also a part of the bi-national effort to vastly increase soy production in the region, even as soy has become one of the largest drivers of Amazon deforestation as well as loss of other tropical habitats.
"[The dams] are a part of the projected inland waterway that will carry soy etc from the Madeira region thorough the Pantanal to the Paraguay River," Louise Emmons, a biologist working in Bolivia with Smithsonian. told mongabay.com. "This will cause the conversion of massive areas of poor-soil Brazilian-shield cerrado and Pantanal habitat in Bolivia to agroindustry and erect a huge a barrier to fauna, such as the maned wolves I study, and split Brazilian and Bolivian populations. It will also drain and destroy the Pantanal."

Soy fields cutting into the Amazon rainforest. Photo by: Rhett A. Butler.
The dams made news again when engineers discovered the first living penis snake (Atretochoana eiselti) ever seen, while draining the Madeira River. Photos of the species—which is the world's biggest caecilian, a type of legless amphibians—made international news. Almost nothing is known about the species, including whether or not it's endangered.
But the Santo Antônio and Jirau Dams are just the beginning. Amazonian countries have over 150 massive hydrologic projects planned for the region, many already under construction even as environmentalists, scientists, indigenous groups, and locals protest.
The companies have 90 days to start new environmental impact statements.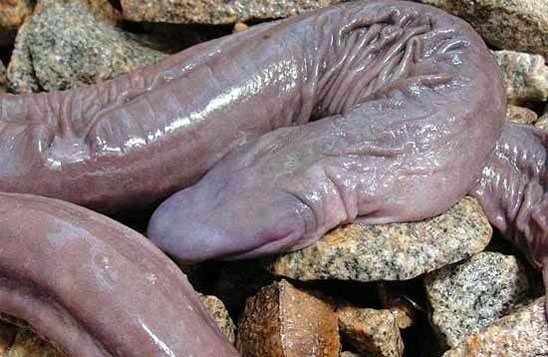 The only living penis snakes (Atretochoana eiselti) were discovered while draining the Madeira River. No one knows how many may survive. Photo by: Rhett A. Butler.
Related articles
Africa to build world's largest dam, but who will benefit?
(12/17/2013) The Congo River traverses the continent of Africa, ending its journey in the Democratic Republic of Congo (DRC) where it spills 1.5 million cubic feet per second into the Atlantic Ocean. Now, plans are underway to harness this tremendous force of water in what promises to be the world's largest hydropower scheme, The Grand Inga.
Gold mine near controversial Belo Monte dam suspended
(11/22/2013) A gold mining project proposed near the Belo Monte dam site in the Amazon rainforest has been suspended by a Brazilian court, reports Reuters.
Murum dam blockaders may be suffering human rights violations warns NGOs
(11/12/2013) A coalition of nearly 30 organizations has sent a letter to top authorities in Sarawak and Malaysia warning them of possible human right violations against a group of indigenous Penan who are blocking roads to the construction site for Murum Dam. Over 100 indigenous people have been blocking a road for over a month as they demand more compensation and land after being forced to move from their traditional lands to make way for the 900 megawatt dam.
8 tribesmen arrested in Borneo dam protest
(11/07/2013) Malaysian authorities arrested eight indigenous protestors on Thursday in a crackdown on a long-running demonstration against a dam the tribesmen say will flood their homeland in Malaysian Borneo.
Indigenous groups expel workers, blockade another dam in Sarawak
(11/05/2013) Hundreds of tribal people in Sarawak have started blockading a second big hydroelectric dam project being built by a government, which critics accuse of nepotism and corruption. Late last month around 200 native Kenyah, Kayan and Penan people chased away workers and set up a blockade on a road leading to the site of the proposed 1200 megawatt Baram dam.
New corruption allegations in Sarawak energy project
(11/04/2013) An infrastructure company with ties to Sarawak's chief minister has just landed a $196 million contract to build transmission lines, sparking new complaints about cronyism and corruption in the Malaysian Borneo state.
(10/29/2013) Construction on Belo Monte, Brazil's largest dam, was again halted by a federal court due to concerns over its license, reports Amazon Watch, an NGO that is mobilizing opposition to the project.
Has Brazil turned against its progressive environmental policies?
(09/30/2013) Last year, Brazil rolled back crucial parts of its landmark Forestry Code, potentially opening vast tracts of forest for destruction; it is also moving ahead on a number of Amazon dams, including the infamous Belo Monte, despite international condemnation and conflict with indigenous people. Meanwhile, a new law under consideration proposes allowing large-scale mining in protected areas. Given this a new paper in mongabay.com's open access journal Tropical Conservation Science argues that Brazil has thrown off its once admired mantle of environmental legislation, imperiling hundreds of thousands of species in the most biodiverse country on Earth.
Borneo tribesmen block road as controversial rainforest dam impoundment begins
(09/27/2013) Indigenous leaders have set up roadblocks in Malaysian Borneo to protest Sarawak's newest dam, report environmental activists who oppose the project.
Judge halts construction of Amazon dam on Brazil's Teles Pires river
(09/19/2013) A federal judge in Brazil has ordered the suspension of construction activities on the Teles Pires due to shortcomings in the environmental licensing process, including the project's impacts on three local tribes, reports International Rivers.
Indigenous peoples resume occupation of Brazil's Belo Monte dam site
(09/19/2013) 150 indigenous protesters have once again occupied the Belo Monte dam site in an effort to block the controversial project, reports Amazon Watch, an NGO that is helping lead the fight against the dam.
Hydro projects a front for logging in Vietnam
(09/18/2013) Small hydroelectric projects in forested areas in Vietnam may be a front for logging operations in the country's national parks, reports Vietnam Net.