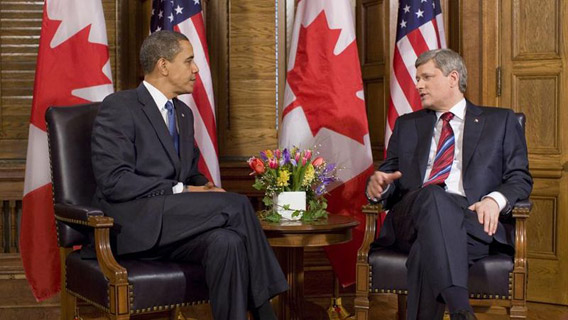 U.S. President Barack Obama (left) meets with Canadian Prime Minister (right) Stephen Harper in 2009. WWF criticizes both nations for watering down negotiations at the Rio+20 Summit. Photo by: Pete Souza.
Having sent a delegation to the United Nation's Rio+20 Summit on Sustainable Development, the World Wide Fund for Nature (WWF), the world's biggest conservation group, has recently declared their Heroes and Villains of Rio+20—so far. The NGO has strong words for the negotiating position of the U.S. and the major oil exporting countries (OPEC), but saves its harshest criticisms for Canada.
"Canada has blocked progress so far in every realm at Rio +20. […] This is a negotiation, and yet it's not clear anyone from Canada has any mandate to move in any way on any issue. Canada appears disinterested in measures to safeguard the environment," WWF writes.
This is not a huge surprise since Canada has recently proven intractable at climate change negotiations, pulled out of the Kyoto Treaty, and slashed environmental protections at home. Critics contend that the Stephen Harper administration has placed the expansion of nation's tar sands above all other domestic and international issues.
At Rio+20 WWF says Canada is refusing to acknowledge differing responsibilities between industrial and poor countries and blocking any new funding sources.
"Canada appears disinterested in measures to safeguard the environment," WWF says, adding, "So, why are they here?"
Next in line for Rio+20 villains, WWF points to the major oil exporting countries, or OPEC, for opposing the phasing out of fossil fuel subsidies. The issue has captured twitter today: the hashtag #endfossilfuelsubsidies was the second most "tweeted" issue on the site this morning worldwide.
WWF also has harsh words for the U.S. which it says "has largely played a spoiler role in this process calling for a weak and non-committal outcome."
In particular, WWF says the U.S. needs to stop blocking progress on ocean governance, such as new protections for the high seas.
Best of the Bunch
The group that receives the most praise at the summit is the "African Group." According to WWF, these nations "are progressive on forest protection and are calling for Zero Net Deforestation." In addition, this group of countries have proven key in pushing for an economy that takes nature into account.
They praise the EU for past work on environmental issues, but urge the EU "to be brave on new sources of finance, such as Financial Transaction Taxes (FTTs) and the removal of agricultural and fossil fuel subsidies."
According to WWF, the host country, Brazil, has the greatest opportunity to push for more ambition at the summit, but to date has not done so.
Brazil has "pushed out a compromise text that compromises our future. Brazil President Dilma Roussef needs to step in immediately and give this process a boost, or 20 years from now, we'll remember Brazil as the country where the world gathered and failed to secure a sustainable world," WWF writes.
The conservation group also calls for more leadership from Mexico, India, and China.
Related articles
Experts: ignoring climate change at Rio+20 makes other goals "meaningless"
(06/18/2012) The Climate Change Task Force (CCTF)—made up of 30 climate scientists, other experts and world leaders—warned today that sidelining climate change at the Rio+20 Summit on Sustainable Development threatened progress on the conference's other goals, which includes combating poverty and building economies that value nature. "I am very concerned and worried because the draft final document of the Rio+20 conference does not give proper attention to climate change," says former Russian President Mikhail Gorbachev in a press statement.
WWF: only Brazil can save Rio+20 summit
(06/16/2012) WWF is calling upon Brazil 'to play politics as well as they play football' to ensure the Rio+20 summit produces a meaningful outcome.
In Rio, 5 big companies to launch initiative to boost demand for REDD+ carbon credits
(06/16/2012) Five large corporations have launched an effort to boost demand for carbon credits from 'high quality' Reducing Emissions from Deforestation and Degradation (REDD+) projects in tropical countries.
World failing to meet promises on the oceans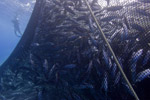 (06/14/2012) Despite a slew of past pledges and agreements, the world's governments have made little to no progress on improving management and conservation in the oceans, according to a new paper in Science. The paper is released just as the world leaders are descending on Rio de Janeiro for Rio+20, or the UN Summit on Sustainable Development, where one of the most watched issues is expected to be ocean policy, in part because the summit is expected to make little headway on other global environmental issues such as climate change and deforestation. But the new Science paper warns that past pledges on marine conservation have moved too slowly or stagnated entirely.
Scientists: if we don't act now we're screwed
(06/07/2012) Scientists warn that the Earth may be reaching a planetary tipping point due to a unsustainable human pressures, while the UN releases a new report that finds global society has made significant progress on only four environmental issues out of ninety in the last twenty years. Climate change, overpopulation, overconsumption, and ecosystem destruction could lead to a tipping point that causes planetary collapse, according to a new paper in Nature by 22 scientists. The collapse may lead to a new planetary state that scientists say will be far harsher for human well-being, let alone survival.
Scientists to Rio+20: save biodiversity to save ourselves
(06/06/2012) World leaders need to do much more to protect the Earth's millions of species for the services they provide, according to a new scientific consensus statement in Nature based on over 1,000 research papers. Written by 17 top ecologists, the statement points out that despite growing knowledge of the importance of biodiversity for human well-being and survival, species continue to vanish at alarming rates. The statement comes just weeks before the UN'S Rio+20 Summit on Sustainable Development, which is supposed to chart a path for a less impoverished and more equitable world including an emphasis on greater environmental protections, but which has been marred by a lack of ambition.