This month, momentous events will occur on the global scene that will set the tone for whether 2012 will be a hopeful year or one in which dislocations and disconnects are further exacerbated by political failings. The EU will decide on its fiscal and monetary union that hinges on Greece's recent June election, which backed the political party that wants to stay in the Euro zone, but insists on adjustments to the earlier-negotiated economic rescue package. In fact, this week the G-20 economic powers meet in Mexico to discuss extra measures to avoid financial contagion. With a strange sense of coincidence, these critical European and, indeed, global economic developments coincide with this week's United Nations Earth Summit 2012, which takes place in Rio de Janeiro as it did twenty years ago when it launched the auspices for climate change actions and negotiations.
The Earth Summit 2012, also referred to as Rio + 20, is not generating much hope this time around with a backdrop of increasingly dire warnings as to the ecological stability of the planet. For the first time in human history, a few locales in 2012 measured 400 parts per million (PPM) greenhouse gas-equivalence in the atmosphere, illustrating that the international community has not succeeded in abating the greenhouse gas emissions trajectory, even while serious ecological changes, such as glacial melting and oceans rising, have accelerated. In fact, the decisions surrounding the European economic union, the state of Greece, and the direction for Earth's natural system as enunciated by Rio + 20 are all matched with real concerns of cascading calamities.
It is a dizzying juncture of events and worries, yet the linkages between European economic remedies and climate change have not been made and are, in fact, auspicious.
| | |
| --- | --- |
| | Building a road for the Civilian Conservation Corps in the U.S. in 1933. Photo courtesy of: Franklin D. Roosevelt Library and Museum. |
A large-scale southern European ecosystem restoration program, like the Civilian Conservation Corp (CCC) that employed over 2 million people in the United States during the Great Depression, would substantially alleviate unemployment stresses, create breathing room for implementing tough fiscal and monetary policies, and, at the same time, act as an effective climate change response. Ecosystem restoration projects remove carbon from the atmosphere and restore it to trees, soils, watersheds, coastal areas, and rangelands and agricultural systems. In addition to climate change mitigation, ecosystem restoration creates key co-benefits—such as cleaner, more available water, flood prevention, pollination for agriculture, fertile soils, and enhanced fisheries and biodiversity—that are of great benefit to communities.
The southern European nations of Portugal, Spain, Italy and Greece all suffer from high unemployment and are grappling with severe financial and monetary adjustments. A CCC-type program in these countries could enable young people to have transitional employment, help to pay the bills for their families (as the CCC in the 1930s mandated its participants to do so), and think about ways to build a clean and competitive future. The participants might also derive great personal satisfaction from physical work that enriches their countries' ecologies. These ventures could also serve as paradigms for other countries.
The big question is where would the money—surely in the billions of dollars—come from? Governments have little money to spend and central banks and international financial institutions are focusing first on rescuing the banks and treasuries.
However, unconventional and non-Eurozone fund sources could supplement or substitute for the traditional funders, supplying sufficient funds for a European CCC-like program. For example, the world's billionaires are increasingly engaged in large-scale philanthropy and many have pledged to dedicate half of their wealth to philanthropic causes.
Universities, with billions of dollars in endowments, can join philanthropists and foundations in supporting these climate change-mitigation/unemployment-reducing measures. Perhaps most auspicious, Norway, which has an over 600-billion dollar "oil fund" and is a leader on climate change, can fund, in substantial part, an ecological restoration program for Europe that alleviates unemployment. The world's best financial auditors could be directed to ensure that money for ecological restoration goes directly and efficiently to the projects and their employees.
It might be most fitting to begin with Greece so that we can stop this seesawing at the edge of the economic precipice, and give the Greek people and newly elected government a needed support to transition to the future. Moreover, this is a time of urgent financial and ecological challenge for the West, and Greece is where the West begins.
One has only to look today at the parks, trails, and landscapes restored by the CCC and the functional agricultural lands restored by U.S. government response in the 1930s "Dust Bowl" to see that these ecological restoration-unemployment programs have enduring results.
This week's Rio conference could be the place that furthers the linkage between public works, ecosystem restoration, and climate change response. Perhaps, Greece, Norway, and other interested parties might gather in Rio and begin exchanging ideas as to an ecosystem restoration-public works program. Nations could easily add one short provision or clause to the conference's final document on sustainable development making the link between public works, ecosystem restoration, and climate change response.
Turning around the downcast global mood, Rio + 20 could then surprise naysayers by giving hope in economically-challenged times and providing measurable benefits for human kind.
Related articles
Over 700 people killed defending forest and land rights in past ten years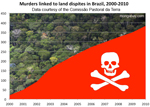 (06/19/2012) On May 24th, 2011, forest activist José Cláudio Ribeiro da Silva and his wife, Maria do Espírito Santo da Silva, were gunned down in an ambush in the Brazilian state of Pará. A longtime activist, José Cláudio Ribeiro da Silva had made a name for himself for openly criticizing illegal logging in the state which is rife with deforestation. The killers even cut off the ears of the da Silvas, a common practice of assassins in Brazil to prove to their employers that they had committed the deed. Less than a year before he was murdered, da Silva warned in a TEDx Talk, "I could get a bullet in my head at any moment…because I denounce the loggers and charcoal producers."
Scientists give world leaders 'Fs' on climate change, biodiversity, and desertification
(06/19/2012) It seems world leaders may need to retake environmental studies. As the Rio+20 Summit on Sustainable Development opens, the scientific journal, Nature, has evaluated the progress made on three treaties signed at the Rio Earth Summit in 1992: climate change, biodiversity decline, and desertification. Unfortunately the publication gives progress on all three treaties an 'F', highlighting how little progress has been made on the global environmental crisis.
WWF: biggest villain at Rio+20 is Canada
(06/18/2012) Having sent a delegation to the United Nation's Rio+20 Summit on Sustainable Development, the World Wide Fund for Nature (WWF), the world's biggest conservation group, has recently declared their Heroes and Villains of Rio+20—so far. The NGO has strong words for the negotiating position of the U.S. and the major oil exporting countries (OPEC), but saves its harshest criticisms for Canada.
Experts: ignoring climate change at Rio+20 makes other goals "meaningless"
(06/18/2012) The Climate Change Task Force (CCTF)—made up of 30 climate scientists, other experts and world leaders—warned today that sidelining climate change at the Rio+20 Summit on Sustainable Development threatened progress on the conference's other goals, which includes combating poverty and building economies that value nature. "I am very concerned and worried because the draft final document of the Rio+20 conference does not give proper attention to climate change," says former Russian President Mikhail Gorbachev in a press statement.
WWF: only Brazil can save Rio+20 summit
(06/16/2012) WWF is calling upon Brazil 'to play politics as well as they play football' to ensure the Rio+20 summit produces a meaningful outcome.
In Rio, 5 big companies to launch initiative to boost demand for REDD+ carbon credits
(06/16/2012) Five large corporations have launched an effort to boost demand for carbon credits from 'high quality' Reducing Emissions from Deforestation and Degradation (REDD+) projects in tropical countries.