Survival International has warned that oil exploration in northern Peru threatens two uncontacted tribes. The organization, devoted to indigenous rights, has sent a letter to the UN's Special Rapporteur on indigenous peoples, James Anaya, alleging that Peru is "violating international law" by allowing oil companies to explore a region home to uncontacted people, who are especially vulnerable to disease.
Anglo-French oil company, Perenco, has already spent months building and drilling wells in the remote Amazonian region known as Block 67, for which Perenco holds 100% interest. The company has stated that '50,000 tons of material and consumables' have been flown into the jungle. The company is now waiting for approval to build a (207 kilometer) pipeline. According to Survival International, Perenco denies the existence of the uncontacted tribes.
"This is as serious as it gets for indigenous people anywhere in the world. Massive oil operations are planned which will destroy the rainforest and could decimate two tribes," Stephen Corry, director of Survival International, said in a statement.
Peru has begun a drilling boom in its rainforests. According to Amazon Watch, 75% of Peru's Amazon rainforest is now open to oil and gas exploration and drilling.
Peru's government has backed big oil and other development projects, such as massive dams, over the protests of indigenous groups. Last year, the issue came to a head as a protest turned violent: 23 police officers and at least 10 indigenous protesters were killed.
Related articles
More of the Amazon opened to oil development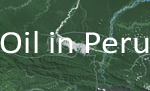 (05/24/2010) Perupetro, the Peruvian government's oil and gas corporate leasing body, announced last week that it will open an additional 25 lots for oil and gas exploration in the Amazon covering an area of 10 million hectares (nearly 25 million acres). Peru's national Amazon indigenous group, AIDESEP, criticized the move calling it a 'new threat' to Peru's indigenous group. According to Amazon Watch these new lots mean that 75 percent of the Peruvian Amazon is now open to oil and gas exploration and drilling.
Oil company to cut 454 kilometers of seismic lines in uncontacted tribe territory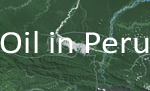 (04/21/2010) Repsol YPF, a Spanish-Argentine oil company, plans to cut 454 kilometers (282 miles) of seismic lines in a territory of the Peruvian rainforest known to be home to uncontacted indigenous peoples, according to a press release from Survival International. To construct seismic lines paths will be cleared in the forest and explosives set-off regularly. Seismic lines allow energy companies to locate oil deposits by creating a cross sectional view of the subsurface.
Under siege: oil and gas concessions cover 41 percent of the Peruvian Amazon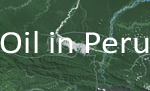 (02/16/2010) A new study in the Environmental Research Letter finds that the Peruvian Amazon is being overrun by the oil and gas industries. According to the study 41 percent of the Peruvian Amazon is currently covered by 52 separate oil and gas concessions, nearly six times as much land as was covered in 2003. "We found that more of the Peruvian Amazon has recently been leased to oil and gas companies than at any other time on record," explained co-author Dr. Matt Finer of the Washington DC-based Save America's Forests in a press release. The concessions even surpass the oil boom in the region during the 1970s and 80s, which resulted in extensive environmental damage.