Dams, agricultural runoff, pesticides, sewage, mercury pollution from coal plants, invasive species, overconsumption, irrigation, erosion from deforestation, wetland destruction, overfishing, aquaculture: it's clear that the world's rivers are facing a barrage of unprecedented impacts from humans, but just how bad is the situation? A new global analysis of the world's rivers is not comforting: the comprehensive report, published in Nature, finds that our waterways are in a deep crisis which bridges the gap between developing nations and the wealthy west. According to the study, while societies spend billions treating the symptoms of widespread river degradation, they are still failing to address the causes, imperiling both human populations and freshwater biodiversity.
"Flowing rivers represent the largest single renewable water resource for humans," says Charles J. Vörösmarty of the City University of New York, an expert on global water resources and co-leader of the international team examining the world's rivers. "What we've discovered is that when you map out these many sources of threat, you see a fully global syndrome of river degradation."
The study found that 80 percent of the world's population (nearly 5.5 billion people) lives in an area where their rivers are gravely threatened, putting the issue of water security at front and center. In addition, the study found that freshwater organisms, on which people depend, are also in crisis, echoing a study last year that reported that the world's freshwater species are more threatened than both land and marine. But researchers were especially surprised to find that wealthy nations were no better at safeguarding their rivers than developing nations.
| | |
| --- | --- |
| | The Colorado River winding through America's Grand Canyon. A new study in river health found that rivers worldwide, regardless of a nation's economic status, are in grave trouble. Photo By: Rhett. A. Butler. |
"What made our jaws drop is that some of the highest threat levels in the world are in the United States and Europe," says Peter B. McIntyre, co-leader of the study and a professor of zoology at the University of Wisconsin-Madison's Center for Limnology. "Americans tend to think water pollution problems are pretty well under control, but we still face enormous challenges."
In fact, the most pristine rivers in the world were found farthest from human populations: deep in the arctic or in largely untouched regions of the tropics.
Rivers near large populations suffered from a wide-range of pollutants. From agricultural runoff to industrial developments, "we find a real stew of chemicals flowing through our waterways," says Vörösmarty. He adds that study wasn't even able to address some big river polluters, such as mining and pharmaceuticals.
"What we're doing is treating the symptoms of a larger problem," Vörösmarty says. "We know it is far more cost effective to protect these water systems in the first place. So the current emphasis on treating the symptoms rather than the underlying causes makes little sense from a water security standpoint or a biodiversity standpoint, or for that matter an economic standpoint."
While developed nations make huge economic investments to remove pollutants from drinking water, many poorer nations do not have the capacity to do this.
McIntyre says that the developing world should learn from failures of the west: protecting watersheds from polluters would reduce the cost of cleaning up drinking water, while preserving floodplains provides natural protection from floods.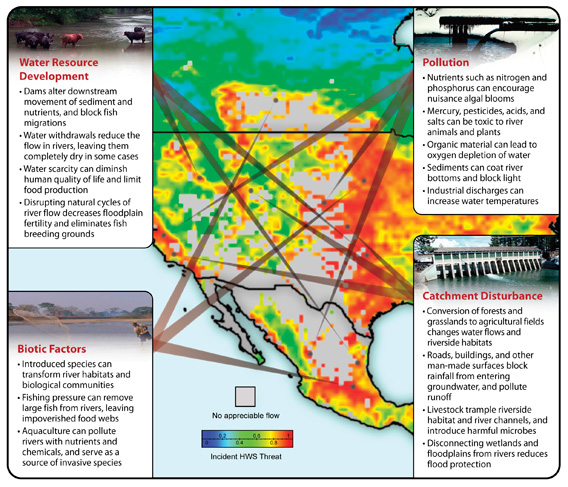 The world's rivers are in crisis, according to in Nature. The study combines, for the first time, water security and biodiversity for all of the world's rivers, many of which are severely degraded. Illustration: Barry Carlsen. Click image to enlarge.
Related articles
146 dams threaten Amazon basin
(08/19/2010) Although developers and government often tout dams as environmentally-friendly energy sources, this is not always the case. Dams impact river flows, changing ecosystems indefinitely; they may flood large areas forcing people and wildlife to move; and in the tropics they can also become massive source of greenhouse gases due to emissions of methane. Despite these concerns, the Amazon basin—the world's largest tropical rainforest—is being seen as prime development for hydropower projects. Currently five nations—Brazil, Bolivia, Colombia, Ecuador, and Peru—are planning over 146 big dams in the Amazon Basin. Some of these dams would flood pristine rainforests, others threaten indigenous people, and all would change the Amazonian ecosystem. Now a new website, Dams in Amazonia, outlines the sites and impacts of these dams with an interactive map.
Crystal-clear river becomes first in Madagascar to wins Ramsar protected status
(09/20/2010) The Nosivolo river and its watershed has become Madagascar's first Ramsar site, reports Conservation International.
21% of Africa's freshwater plants and animals threatened
(09/02/2010) 21 percent of African freshwater plant and animal species are threatened with extinction, according to a five year assessment of 5,167 freshwater species by 200 scientists.