Meski tumbuh di bagian bumi yang berlainan, badak Sumatera Ratu dan Andalas telah memberikan para penggerak pelestarian harapan baru untuk menyelamatkan spesies yang sedang diperjuangkan. Pasangan badak ini sedang akan memiliki anak, menurut Perlindungan Badak Sumarera di Way Kambas, Indonesia. Satu dari mamalia besar yang paling terancam di dunia, badak Sumatera unik karena badannya yang berambut dan ukurannya yang kecil (paling tidak jika dibandingkan dengan badak lain). Anggota terakhir yang masih bertahan hidup dari genus Dicerorhinus, diperkirakan hanya sekitar 200 badak Sumatera yang masih hidup di alam liar.
Kehamilan Ratu memiliki signifikansi khusus untuk beberapa alasan. Ini adalah kehamilan pertama di Perlindungan Badak Sumatera; ini akan menjadi anak pertama baik untuk Ratu maupun Andalas; ini juga merupakan kehamilan pertama di penangkaran sejak ibu Andalas Emi – satu-satunya badak Sumatera yang berhasil melahirkan di penangkaran dalam 112 tahun – mati musim gugur yang lalu.
| | |
| --- | --- |
| | Ini adalah Tam. Dia adalah badak Borneo – yang merupakan sub-spesies dari Sumatera – dan ditangkap setelah dia berkeliaran hingga ke perkebunan kelapa sawit dengan kaki terluka. Badak Sumatera adalah badak terkecil di dunia. Diperkirakan hanya tinggal 200 Badak Sumatera yang tersisa di dunia, hanya 40 dari mereka yang Borneo. Foto oleh Jeremy Hance. |
"Kami menantikan waktu yang lama untuk membagi berita kehamilan badak ini," ungkap Dr. Dedi Candra, koordinator koleksi hewan di perlindungan. "Dengan bantuan dari rekan-rekan, kami telah bekerja tanpa lelah untuk menjaga hewan-hewan ini sehat dan berkembangbiak. Penjaga berdedikasi kami berperan sangat besar dalam hal ini."
Calon ayah, Andalas, dilahirkan di bagian lain dunia jauh dari Indonesia, di Cincinnati Zoo di tahun 2001. Di tahun 2007 dia dipindahkan ke Indonesia dengan harapan bahwa sebagai pejantan muda dia dapat berkembangbiak dengan betina-betina di rumah barunya. Di lain pihak, Ratu lahir di alam liar, namun berkeliaran hingga ke pedesaan di luar Taman Nasional Way Kambas Sumatera di tahun 2006.
Pasangan ini pelan-pelan didekatkan. Dalam berbulan-bulan, mereka diperkenalkan melalui bau, suara, pengelihatan, dan pada akhirnya dipertemukan untuk berkembangbiak.
"Badak Sumatera secara alami merupakan penyendiri dan sangat agresif antara satu dengan yang lainnya, kecuali jika seekor betina sedang dalam masa estrus," jelas Dr. Terri Roth, direktur Cincinnati Zoo's Center for Conservation and Research of Endangered Wildlife (CREW) dan wakil presiden untuk Yayasan Badak Internasional (IRF) program Asia. "Melalui ilmu kita dapat menentukan kapan seekor betina sudah siap untuk berovulasi sehingga dia akan dipasangkan dengan seekor jantan pada saat yang tepat dan perkelahian dapat diminimalisir sementara kemungkinan pembuahan teroptimalkan."
Badak Sumatera telah berkurang akibat perdagangan cula badak untuk obat-obatan tradisional Asia dan akibat penggundulan hutan skala besar untuk penebangan dan perkebunan kelapa sawit. Jumlah terbesar badak Sumatera bertahan hidup di Sumatera Barat, namun populasi lain – sub-spesies yang berbeda – bertahan hidup di Borneo. Saat ini, rencana telah dikembangkan untuk pelestarian badak sejenis di Borneo.
Perlindungan Badak Sumatera di Indonesia adalah kompleks seluas 250 acre dan saat ini merupakan rumah bagi lima badak yang sangat terancam. Perlindungan ini dimaksudkan untuk menyediakan bagi badak-badak tempat dengan nuansa rumah hutan hujan mereka sambil memberikan para dokter hewan akses yang mudah dan sering. Perlindungan ini dibangun dan didanai oleh IRF.
"Angka badak Sumatera telah menurun sebanyak 50 persen selama 15 tahun di alam liar. Setiap individu, dan populasi yang ditangkarkan mewakili tidak hanya sebagai 'kebijakan asuransi' untuk populasi liar, namun juga bertujuan untuk pembelajaran mengenai biologi dasar bagi spesies itu, yang harus kita pahami agar dapat menyelamatkan mereka," ujar Dr. Susie Ellis, direktur eksekutif dari IRF
Bayi badak ini diperkirakan akan lahir bulan Mei 2011.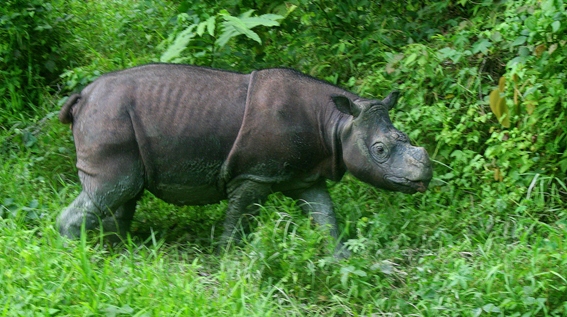 Tam di dalam kandang 2,5 hektar-nya. Foto oleh Jeremy Hance