For the first time transmitters have been implanted in orangutans to track their daily movements. The Sabah Wildlife Department (SWD) has implanted transmitters into three orangutans that have been released back into the wild from Sepilok Orangutan Rehabilitation Center in the Malaysian state of Sabah on the island of Borneo.
"Over the years, we have been actively releasing a small number of orangutans back into the forest, however we have had no way of monitoring them after release," explained SWD Director Laurentius Ambu in a statement. Placing a radio-tracking collar on orangutans has proven unworkable, because the great apes quickly learned how to take off the collars.
The three orangutans with transmitters are doing just fine, according to SWD Chief Field Veterinarian, Dr. Senthilvel Nathan.
| | |
| --- | --- |
| | The transmitter implanted into the orang-utans are 35 millimeters in diameter and 10 millimeters wide. |
"After the surgery to place the implants, we have been watching them closely and our rangers have had time to practice with the tracking equipment within the jungle of Sepilok, we are confident about using this method," said Senthilvel. "The transmitter is placed in the neck area where the skin is thick and has fat deposits. We can also turn the device on and off using a magnet without having to surgically remove it first." Each transmitter is about 35 millimeters in diameter and 10 millimeters wide.
Prior to the transmitters being inserted into rehabilitated orangutans, they were tested on captive apes.
"Before coming to Sabah, Dr. [Christain] Waltzer and Dr. [Thierry] Petit tested this method on captive orangutans in France on the 18th of March this year to see whether it had any harmful effects to the orangutan," explained Laurentius. "Following their success in France, my Department then proceeded with their assistance to implant three orangutans in Sepilok late September."
Laurentius said that the safety and welfare of the animals implanted with the transmitters was the most important factor.
Thousands of orangutans are in rehabilitation centers. Many of these apes were orphaned after their mothers were killed by palm oil plantation workers or loggers as pests. Large-scale deforestation and human-started fires can lead starving orangutans into palm oil plantations for food. In addition, orangutans are often captured for the illegal pet trade.
Bornean orangutans are classified as Endangered by the IUCN Red List, while Sumatran orangutans are considered Critically Endangered. Both species' populations are on the decline.
Related articles
46 rescued orangutans returned to the wild by helicopter in Borneo
(09/05/2009) The Borneo Orangutan Survival Foundation (BOSF) has successfully released 46 orangutans back into the wild. The orangutans had been rescued from forest fragments and housed for months at the Nyaru Menteng Rescue and Reintroduction Project in Central Kalimantan until suitable — and secure — habitat was located. The release site is a section of rainforest in the upper Barito region of Central Kalimantan, within the Heart of Borneo.
20,000 orangutans killed or poached in 10 years without a single prosecution
(08/24/2009) At least 20,000 orangutans have been killed or captured for the illegal pet trade in the past ten years in Indonesia without a single prosecution, according to a report published by Nature Alert and the Centre for Orangutan Protection, groups that campaign on behalf of orangutans.
Rehabilitation not enough to solve orangutan crisis in Indonesia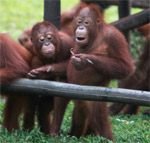 (08/20/2009) A baby orangutan ambles across the grass at the Borneo Orangutan Survival Foundation's Nyaru Menteng rehabilitation center in Central Kalimantan, in the heart of Indonesian Borneo. The ape pauses, picks up a stick and makes his way over to a plastic log, lined with small holes. Breaking the stick in two, he pokes one end into a hole in an effort to extract honey that has been deposited by a conservation worker. His expression shows the tool's use has been fruitful. But he is not alone. To his right another orangutan has turned half a coconut shell into a helmet, two others wrestle on the lawn, and another youngster scales a papaya tree. There are dozens of orangutans, all of which are about the same age. Just outside the compound, dozens of younger orangutans are getting climbing lessons from the Borneo Orangutan Survival Foundation (BOS) staff, while still younger orangutans are being fed milk from bottles in a nearby nursery. Still more orangutans—teenagers and adults—can be found on "Orangutan Island" beyond the center's main grounds. Meanwhile several recently wild orangutans sit in cages. This is a waiting game. BOS hopes to eventually release all of these orangutans back into their natural habitat—the majestic rainforests and swampy peatlands of Central Kalimantan, on the island of Borneo. But for many, this is a fate that may never be realized.