Cambodia's Royal Government's Council of Ministers has declared the creation of the Seima Protection Forest, a 1,100 square miles (2,849 square kilometers) park home to tigers, elephants, and endangered primates. The park's creation was developed in part by the Wildlife Conservation Society's (WCS) "Carbon for Conservation" program, which intends to protect high-biodiversity ecosystems while raising funds through carbon sequestration schemes such as Reducing Emission from Deforestation and Degradation (REDD).
"We commend the Royal Government of Cambodia for their decision to protect this important refuge for the region's wildlife and also for safeguarding stocks of carbon," said WCS Asia Program Director Colin Poole.
| | |
| --- | --- |
| | View of the Seima Protection Forest. Photo courtesy of WCS. |
WCS is working with Cambodian officials to measure the total carbon stocks contained within the Seima Protection Forest. In addition to massive amounts of stored carbon, the reserve is home to seven cat species, two bears, and two species of wild dog. Recently, scientists have also discovered a new species of bat and two new species of frog.
"In addition to safeguarding the wildlife of Cambodia, Seima Protection Forest will serve as an important model for demonstrating how REDD could be implemented on the ground," said Dr. Jane Carter Ingram of WCS's Conservation Support Team. "Forests provide numerous benefits for both wildlife and rural communities, so efforts such as these will help on local, regional and global scales."
WCS is pursuing similar projects to protect biodiversity and carbon in Bolivia, Guatemala, Chile, Democratic Republic of Congo, Tanzania, Madagascar, and Indonesia.
The Seima Protection Forest will remain open to local hunters and farmers from the Bunong ethnic minority.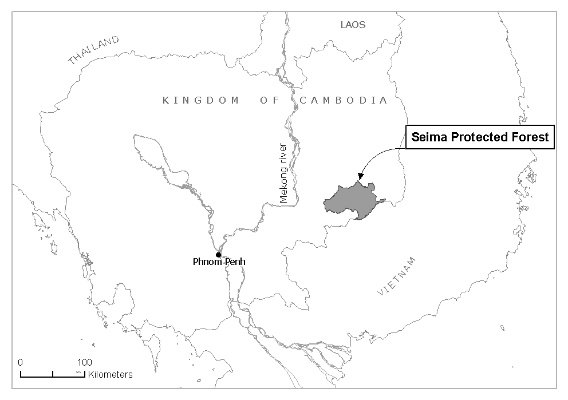 Map of new reserve in Cambodia.

Related articles
Weak forest definition may undermine REDD efforts
(08/20/2009) The weak definition of what constitutes forest under the United Nations Framework Convention on Climate Change (UNFCCC) puts the effectiveness of a proposed mechanism for reducing emissions from deforestation and degradation (REDD) at risk, argue researchers writing in the journal Conservation Letters.
REDD shouldn't neglect biodiversity say scientists
(07/30/2009) Schemes to mitigate climate change by protecting tropical forests must take into account biodiversity conservation, said two leading scientific organizations at the conclusion of a four day meeting in Marburg, Germany.
Are we on the brink of saving rainforests?
(07/22/2009) Until now saving rainforests seemed like an impossible mission. But the world is now warming to the idea that a proposed solution to help address climate change could offer a new way to unlock the value of forest without cutting it down.Deep in the Brazilian Amazon, members of the Surui tribe are developing a scheme that will reward them for protecting their rainforest home from encroachment by ranchers and illegal loggers. The project, initiated by the Surui themselves, will bring jobs as park guards and deliver health clinics, computers, and schools that will help youths retain traditional knowledge and cultural ties to the forest. Surprisingly, the states of California, Wisconsin and Illinois may finance the endeavor as part of their climate change mitigation programs.