Teddy bear-like carnivorous creature discovered in South America (photos)
While the olinguito looks like a wild, tree-climbing teddy bear with a cat's tail, it's actually the world's newest mammalian carnivore. The remarkable discovery—the first mammal carnivore uncovered in the Western Hemisphere since the 1970s—was found in the lush cloud forests of the Andes, a biodiverse region home to a wide-range of species found no-where else. Dubbed the olinguito (Bassaricyon neblina), the new mammal is a member of a little-known, elusive group of mammals—olingos—that are related to raccoons, coatis, and kinkajous. However, according to its description in the journal Zookeys, the olinguito is the most distinct member of its group, separated from other olingos by 3-4 million years (or longer than Homo sapiens have walked the Earth).
"You can tell them apart by looking at almost any feature!" Kristofer Helgen, the lead scientist on the team and Director of Mammals at the Smithsonian Institute told mongabay.com. "Olinguitos are smaller than olingos, with longer, softer fur (shorter and harsher in olingos), they are more more colorful (usually reddish-brown or orange-brown in olinguitos, more brown, tan, or gray in olingos), and they have a shorter, bushier tail, smaller ears, and a more rounded face. Olinguitos have larger molars, smaller bones of the ear, and somewhat differently shaped skulls compared to olingos."
Olinguitos are also the only one in the family that inhabit high-altitude cloud forests at 5,000 to 9,000 feet above sea level.
| | |
| --- | --- |
| | The olinguito came close to being discovered several times during the past century and was even exhibited in zoos, such as this one from the Louisville Zoo. Photo by: I. Poglayen-Neuwall. |
It's not that scientists were wholly unaware of the animal, but simply that for over a century they mixed it up with species of lowland olingos. In fact, the olinguito was even housed at U.S. zoos in the past, but was identified as an olingo. It's smaller body, distinct shape, and high-altitude habitat was simply not recognized.
Helgen and his research team first noticed distinct differences between the olinguito and its relatives in museum specimens. This discovery led Helgen to try and find living animal in the wild—if they still existed. A video captured by an Ecuadorean zoologist, Miguel Pinto, of a wild olinguito, proved a breakthrough. And soon Helgen, along with Roland Kays, with the North Carolina Museum of Natural Sciences, were on their way to Ecuador.
"Discovering the existence of the olinguito first in museum collections was one of the happiest days of discovery in my life as a scientist, and finding the olinguito in the wild in Ecuador was better still. I have discovered many species of mammal new to science, but this is the most exciting one yet," Helgen says. He and Kays spent three weeks studying the animal in Ecuador.
The scientists found that like lowland olingos, the little olinguito is primarily nocturnal and appears to spend most of its life in trees. To date the olinguito has only been observed feeding on fruit. Still, Helgen says the new species is rightly-considered a carnivore.
"The olinguito is the smallest member of the raccoon family, which is in turn part of the mammalian order Carnivora, and members of this order are called carnivores," he explains, adding that, "the olinguito is a carnivore by relation, even though it has only been found to eat fruit so far. All other members of the raccoon eat some meat, and the olinguito will probably turn out to do so, too."
Helgen's paper in Zookeys not only describes the new species, but also untangles the olingo family altogether. After years of research, the scientists now recognize four distinct species of olingo: the olinguito; the bushy-tailed olingo (Bassaricyon gabbii) found in Central America; Allen's olingo (Bassaricyon alleni) from the Amazon east of the Andes; and the middle olingo (Bassaricyon medius) from Panama and western South America. This is the first time scientists have produced a conclusive family tree of the olingos. Notably, the olinguito, itself, is not a simple species: Helgen and his team identified four subspecies of the animal spread across the Andean mountains of Ecuador and Colombia.
| | |
| --- | --- |
| | Illustration of olingo from 1902 showing off its cat-like tail. Illustration by: Frank E. Beddard. |
"We have evaluated that the best IUCN ranking [for the olinguito] is probably 'Near Threatened,' based on rates of deforestation of their cloud forest home, which is their principal threat," Helgen adds. "Setting aside as much cloud forest a possible in well-enforced protected areas is the best way to protect and preserve the olinguito, and so many other plants and animals that are found only in the same Andean cloud forest habitats."
Helgen and his team hope that the new discovery will lead to greater conservation efforts in the Andean cloud forests, which are imperiled by deforestation for agriculture, livestock, logging, and mining. A paper published last year in BMC Ecology found that 80 percent of the Andes' biodiversity hotspots (in Peru and Bolivia) remain unprotected. Meanwhile, research in the Andes is also lacking. A recent paper found that between 1995 and 2008, six times more ecological research was conducted in Central America than in the Andes.
"The cloud forests of the Andes are a world unto themselves, filled with many species found nowhere else, many of them threatened or endangered," Helgen notes. "We hope that the olinguito can serve as an ambassador species for the cloud forests of Ecuador and Colombia, to bring the world's attention to these critical habitats."

The world's newest species in the mammal order Carnivora: the olinguito. The one was photographed in the wild at Tandayapa Bird Lodge, Ecuador. Photo by: Mark Gurney.

The olinguito in the cloud forests of Ecuador. Photo by: Mark Gurney.
Coverage of the new discovery by Untamed Science.
CITATION: Kristofer M. Helgen, C. Miguel Pinto, Roland Kays, Lauren E.
Helgen, Mirian T. N. Tsuchiya, Aleta Quinn, Don E. Wilson, Jesús E.
Maldonado. Taxonomic revision of the olingos (Bassaricyon), with
description of a new species, the Olinguito. ZooKeys. 2013.
Related articles
Photos: new mammal menagerie uncovered in remote Peruvian cloud forest
(10/03/2012) Every year scientists describe around 18,000 new species, but mammals make up less than half a percent of those. Yet mammal surprises remain: deep in the remote Peruvian Andes, scientists have made an incredible discovery: a rich cloud forest and alpine grassland ecosystem that may be home to no less than eight new mammal species. Although most of these new mammals are currently under study—and have not been officially described yet (a process which can take several years)—lead scientists, Horacio Zeballos of Peru and Gerardo Ceballos of Mexico are certain they have uncovered a small forest, surrounded by deforestation and farmland, that shelters a remarkable menagerie of mammals unknown to scientists until now.
Conservation without supervision: Peruvian community group creates and patrols its own protected area
(04/30/2013) When we think of conservation areas, many of us think of iconic National Parks overseen by uniformed government employees or wilderness areas purchased and run from afar by big-donor organizations like The Nature Conservancy, Wildlife Conservation Society, WWF, or Conservation International. But what happens to ecosystems and wildlife in areas where there's a total lack of government presence and no money coming in for its protection? This is the story of one rural Peruvian community that took conservation matters into their own hands, with a little help from a dedicated pair of primate researchers, in order to protect a high biodiversity cloud forest.
Peruvian night monkey threatened by vanishing forests, lost corridors
(03/18/2013) The Peruvian night monkey (Aotus miconax) is one of the world's least known primates, having never been studied in the wild–until now. Found only in the cloud forests of northern Peru, a group of scientists with Neotropical Primate Conservation and the National University of Mayor San Marcos have spent 12 months following a single group of this enigmatic monkey species in a small forest patch. The results of their research, published in mongabay.com's open access journal Tropical Conservation Science, shows that protecting forests, even small forest fragments, is vital to the species' survival.
Pictures: Bolivian park may have the world's highest biodiversity
(09/12/2012) With over 90 species of bat, 50 species of snake, 300 fish, 12,000 plants, and 11 percent of the world's bird species, Madidi National Park in Bolivia may be the world's most biodiverse place, according to new surveys by the the Bolivian Park Service (SERNAP) with aid from the Wildlife Conservation Society (WCS).
Private reserve safeguards newly discovered frogs in Ecuadorian cloud forest
(08/28/2012) Although it covers only 430 hectares (1,063 acres) of the little-known Chocó forest in Ecuador, the private reserve las Gralarias in Ecuador is home to an incredible explosion of life. Long known as a birder's paradise, the Reserva las Gralarias is now making a name for itself as a hotspot for new and endangered amphibians, as well as hundreds of stunning species of butterfly and moth. This is because the reserve is set in the perfect place for evolution to run wild: cloud forest spanning vast elevational shifts. "The pacific slope cloud forests […] are among the most endangered habitats in the world," explains Reserva las Gralarias' founder, Jane Lyons, in a recent interview with mongabay.com.
Majority of Andes' biodiversity hotspots remain unprotected
(02/01/2012) Around 80 percent of the Andes' most biodiverse and important ecosystems are unprotected according to a new paper published in the open-access journal BMC Ecology. Looking at a broad range of ecosystems across the Andes in Peru and Bolivia, the study found that 226 endemic species, those found no-where else, were afforded no protection whatsoever. Yet time is running out, as Andean ecosystems are undergoing incredible strain: a combination of climate change and habitat destruction may be pushing many species into ever-shrinking pockets of habitat until they literally have no-where to go.
Volcano and cloud forests conserved in Ecuador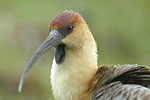 (12/05/2011) Conservation organizations and the Ecuadorian government have succeeded in securing over 250,000 acres (106,000 hectares) of cloud forest and grasslands surrounding the Antisana Volcano for protection. The area, long-used for cattle ranching, is home to Andean condors (Vultur gryphus), cougars (Puma concolor), Andean fox (Lycalopex culpaeus), silvery grebes (Podiceps occipitalis), black-faced ibis (Theristicus melanopis), spectacled bear (Tremarctos ornatus), and three species of endangered frogs. The protected area stretches from 3,900 feet (1,188 meters) to 18,700 feet (5,699 meters) above sea level.
Amazon still neglected by researchers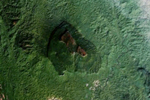 (03/28/2011) Although the Amazon is the world's largest tropical forest, it is not the most well known. Given the difficulty of access along with the fear of disease, dangerous species, indigenous groups, among other perceived perils, this great treasure chest of biology and ecology was practically ignored by scientists for centuries. Over the past few decades that trend has changed, however even today the Amazon remains lesser known than the much smaller, and more secure, tropical forests of Central America. A new study in mongabay.com's open access journal Tropical Conservation Science, which surveyed two prominent international tropical ecology journals (Biotropica and Journal of Tropical Ecology) between 1995 and 2008, finds that Central America was the subject of twice as many studies as the Amazon. In fact, according to the authors, much of the Amazon remains terra incognito to researchers, even as every year more of the rainforest is lost to human impacts.