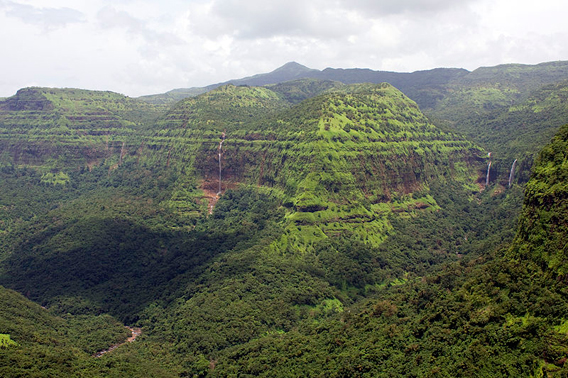 View from Varandha Pass in the Western Ghats.
A massive expert panel report on the conservation of the Western Ghats has caused a political stir in India. The report, headed by noted ecologist Madhav Gadgil, recommends that the government phase out mining projects, cancel damaging hydroelectric projects, and move toward organic agriculture in ecologically-sensitive sections of the Ghats. The report, which was leaked after the government refused to release it, has yet to be implemented. Recently dubbed a UNESCO World Heritage Site, the Western Ghats is one of India's largest wildernesses and home to thousands of species, many found no-where else.
"Unfortunately infrastructure projects and environmental degradation have gone hand-in-hand in the Western Ghats. While some of the destruction might be unavoidable, proponents of these projects have historically made little effort to adopt alternate sites, better practices, or effective mitigation to reduce the ecological impacts," M.O. Anand, an ecologist with National Center for Biological Sciences in India, told mongabay.com. Unconnected with the expert report, Anand studies tree communities in the western Ghats.
Contrary to its portrayal in some of the media, Anand says the report's recommendations are not surprising. The expert panel recommended designating various regions of the Western Ghats under one-of-three categories denoting ecological sensitivity. The most sensitive areas would outlaw deforestation except to allow village expansion; phase out mining and move toward all organic agricultural within five years; ban eucalyptus plantations and new large hydropower projects; and avoid new highway construction among other several other recommendations.
| | |
| --- | --- |
| | Lion-tailed macaques (Macaca silenus) are only found in the Western Ghats and are listed as Endangered by the IUCN Red List. Photo by: Kaylan Varma. |
"In fact, if you read the report closely, you will find that none of the recommendations are very severe. Some of the major recommendations are no more than calls to remove deficits in law enforcement and improve transparency in decision-making," Anand notes, adding that the report could be improved by consultation with a larger group of experts.
Ranjit Daniels, co-founder and managing trustee of Care Earth Trust, agrees that the recommendations are not surprising, since, as he explains, they have been carefully developed for a long time.
"The recommendations have basically emerged from a series of meetings and discussions during the past ten years or so," he told mongabay.com. "The report is thus a culmination of several concerns that were voiced during the decade."
The Western Ghats is unique among many of the world's large rainforests, since people have been practicing agriculture uninterrupted in the region for thousands of years. Rainforest wildlife and smallscale farming have survived alongside one another for millennia. But today booming populations, ongoing deforestation, large development projects, and industrialized agricultural methods threaten the Western Ghats. Supporting populations of Bengal tigers and Asian elephants, the region is home to 139 mammals, more than 5,000 flowering plants, over 500 birds, 288 freshwater fish, and 179 amphibians, with new species uncovered in the region every year.
"Organic farming should be a priority," Anand says, adding that "there are several small-scale organic projects in the Western Ghats that are functioning profitably."
As an example of the movement toward organic farming in the region, Daniels points to the Bombay Burma Trading Company (BBT), which he says is "converting some of its tea estates into organic."
Still Anand adds that even organic farming does not necessarily mean biodiversity preservation.
"As a study published in Conservation Biology in 2005 points out," he notes, "the organic cattle manure used in coffee farms in one part of the Western Ghats was sourced from another part of the Western Ghats where cattle grazing was heavily impacting a tropical dry forest ecosystem."
In general both Anand and Daniels believes the report's recommendations would aid local people living the Western Ghats.
"The report does not impose conservation on anyone. Rather, it recommends that more power and information be placed in the hands of local people to decide on matters of environment and biodiversity conservation in the area," Anand says.
Still the report, and even the UNESCO World Heritage Status, have become controversial in India. For example, recently the state of Karnataka passed an unanimous resolution opposing Heritage Status for the Western Ghats. But environmental groups say the status does not come with any strings attached and that those criticizing it are the victims of a misinformation campaign. Given the response to the UNESCO World Heritage Status, it wouldn't be surprising if the expert panel report's recommendations face an even fiercer fight.
"The problems I see are not with the recommendations themselves but in translating them to change on the ground," Anand says. "The report calls for sweeping reform across political and administrative institutions, something that the current system is not prone to doing."
To kick-start a conservation renaissance in the Western Ghats, Daniels says the most vital sections of the report are those that define certain region as Ecologically Sensitive Zones.
However, he notes that since the report applies to six Indian states, it may be that recommendations will be implemented piecemeal, if at all.
"Almost all indian laws and policies that concern wildlife and biodiversity have had variable levels of acceptance and application in the different states," Daniels says.
Related articles
India's Western Ghats rainforest declared UNESCO World Heritage Site
(07/03/2012) India's Western Ghats, considered one of the richest biodiversity hotspots in the world, has been dubbed a UNESCO World Heritage Site. In total, 39 different sites in the tropical rainforest—home to Asian elephants, Bengal tigers, lion-tailed macaques, and thousands of other species—have made it under the listing.
Photos: 10 new frogs discovered in India's great rainforest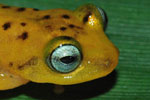 (08/09/2011) Ten new species of frog have been discovered in India's Western Ghats according to two new papers in Biosystematica. Although human populations have farmed in the Western Ghats for centuries, the new discoveries prove that the rainforest still holds many surprises. The Western Ghats lie along India's west coast and have been dubbed one of the world's biodiversity hotspots, but the rich wildlife is imperiled by rising human impacts.
Balancing agriculture and rainforest biodiversity in India's Western Ghats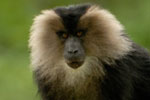 (08/08/2011) When one thinks of the world's great rainforests the Amazon, Congo, and the tropical forests of Southeast Asia and Indonesia usually come to mind. Rarely does India—home to over a billion people—make an appearance. But along India's west coast lies one of the world's great tropical forests and biodiversity hotspots, the Western Ghats. However it's not just the explosion of life one finds in the Western Ghats that make it notable, it's also the forest's long—and ongoing—relationship to humans, lots of humans. Unlike many of the world's other great rainforests, the Western Ghats has long been a region of agriculture. This is one place in the world where elephants walk through tea fields and tigers migrate across betel nut plantations. While wildlife has survived alongside humans for centuries in the region, continuing development, population growth and intensification of agriculture are putting increased pressure on this always-precarious relationship. In a recent paper in Biological Conservation, four researchers examine how well agricultural landscapes support biodiversity conservation in one of India's most species-rich landscapes.
Back from a century of extinction, conservation proposed for elusive Asian flying squirrel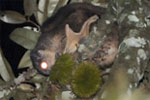 (06/27/2011) The Travancore flying squirrel (Petinomys fuscocapillus) occurs in the forests of the Western Ghats and Sri Lanka, a global biodiversity hotspot, and is listed as Near Threatened on the IUCN Red List. During the first half of the 20th century the species was thought to be extinct, but was rediscovered in the 1960s, then not seen again for over twenty years.
Parks key to saving India's great mammals from extinction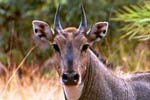 (02/24/2011) Krithi Karanth grew up amid India's great mammals—literally. Daughter of conservationist and scientist Dr. Ullas Karanth, she tells mongabay.com that she saw her first wild tigers and leopard at the age of two. Yet, the India Krithi Karanth grew up in may be gone in a century, according to a massive new study by Karanth which looked at the likelihood of extinction for 25 of India's mammals, including well-known favorites like Bengal tigers and Asian elephants, along with lesser known mammals (at least outside of India) such as the nilgai and the gaur. The study found that given habitat loss over the past century, extinction stalked seven of India's mammals especially: Asiatic lions, Bengal tigers, wild dogs (also known as dholes), swamp deer, wild buffalo, Nilgiri Tahr, and the gaur. However, increasing support of protected areas and innovative conservation programs outside of parks would be key to saving India's wildlife in the 21st Century.