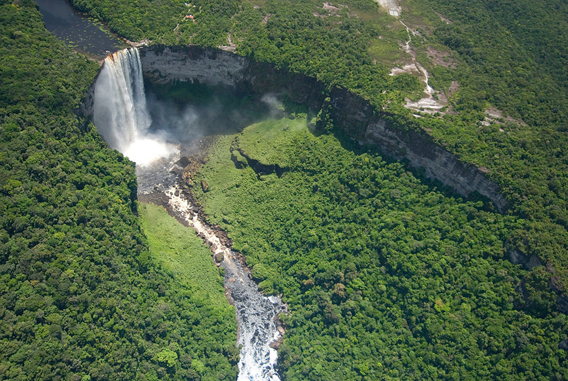 Aerial view of Kaieteur Falls, Guyana. Photo © Conservation International/John Martin.
The nation of Guyana sports some of South America's most intact and least-imperiled rainforests, and a new $8.5 million trust fund hopes to keep it that way. The Guyanese government has teamed up with Germany and Conservation International (CI) to create a long-term trust fund to manage the country's protected areas system (PAS).
"Guyana is globally recognized for its unique biodiversity and for having one of the lowest deforestation rates in the developing world," Robert M. Persaud, Guyana's Minister of Natural Resources and the Environment, said in a press release. "We have recently made significant strides in establishing a national protected areas system as a tool to conserve this natural heritage, while at the same time contributing to our sustainable development.
Currently, nearly 9 percent of Guyana's landmass is under protection, including two new parks created last year: the Kanuku Mountain Protected Area and the Shell Beach Protected Area. Seventy-six percent of Guyana is forested, and astoundingly, over half of this is covered in primary forest.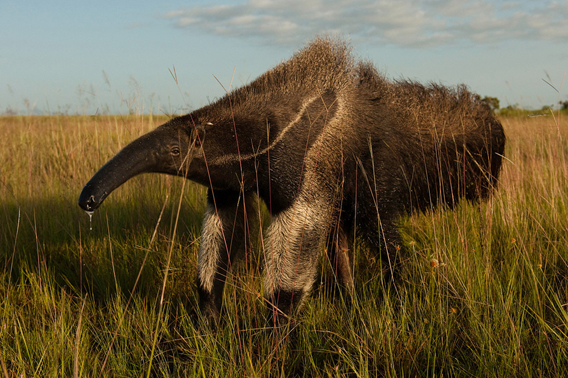 Giant anteater (Myrmecophaga tridactyla). Photo: © Pete Oxford/iLCP.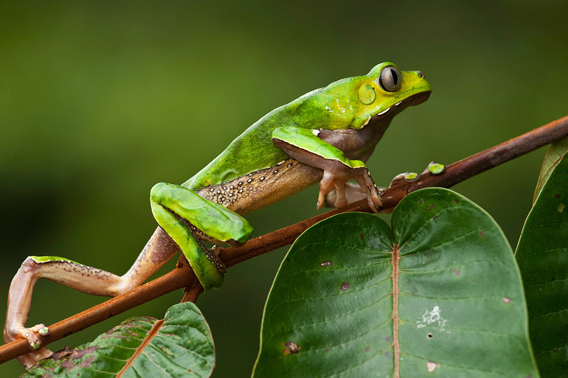 Giant leaf frog (Phyllomedusa bicolor), Iwokrama Reserve. Photo: © Pete Oxford/iLCP.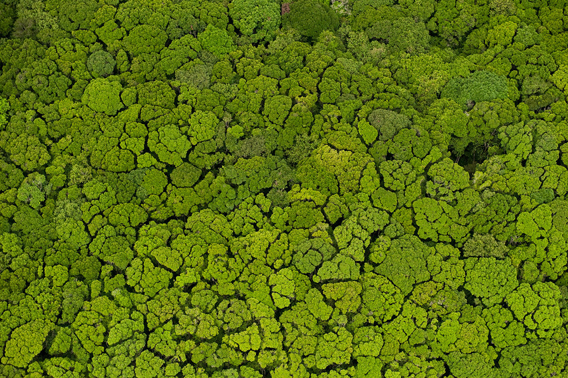 Aerial View of Rainforest, Iwokrama Reserve. Photo: © Pete Oxford/iLCP.
Related articles
Guyanese tribe maps Connecticut-sized rainforest for land rights
(02/07/2012) In a bid to gain legal recognition of their land, the indigenous Wapichan people have digitally mapped their customary rainforest land in Guyana over the past ten years. Covering 1.4 million hectares, about the size of Connecticut, the rainforest would be split between sustainable-use regions, sacred areas, and wildlife conservation according to a plan by the Wapichan tribe that will be released today. The plan says the tribe would preserve the forest from extractive industries.
8 Amazon countries pledge more coordination in rainforest conservation
(11/27/2011) Eight Amazon countries pledged greater cooperation in efforts to protect the world's largest rainforest from deforestation and illegal mining and logging, reports AFP.
Indigenous technicians scour Amazonia to help researchers track wildlife populations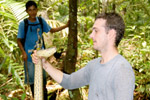 (11/09/2011) Scientists only have so many hands and eyes. That's why ecologists enlisted hundreds of Makushi and Wapishana villagers to record the sights and signs of animals across 48,000 square kilometers of the Amazon basin near the Brazil-Guyana border. In the ongoing project, scientists seek to describe the interactions between indigenous peoples, their environment and the native fauna.
Animal picture of the day: the jaws of the piranha
(08/10/2011) Few fish have a more fearsome reputation than the piranha. Yet recent research has shown that attacks on humans are rare and often accidental, though they do eat their prey alive and are capable of stripping a cattle carcass bare (though it doesn't happen instantaneously).
Prominent indigenous leader gets death threats in Guyana
(12/17/2010) Environmental groups have written to Guyana president Bharrat Jagdeo over recent threats against Tony James, the President of the Amerindian Peoples Association in Guyana.
Guyana: where's the money pledged for saving rainforests?
(12/09/2010) Funds ostensibly set aside to reward tropical countries for protecting their rainforests are being held up, threatening to exhaust the political capital needed to advance the proposed reducing emissions from deforestation and degradation (REDD) mechanism before it even gets off the ground, warned the president of Guyana during a lively panel organized by Avoided Deforestation Partners on the sidelines of UN climate talks in Cancun, Mexico.