Airplane view of Peruvian Amazon landscape scarred by open pit gold mining. Photo by: Rhett A. Butler.
Brazilian police have arrested 26 people and confiscated gold and aircraft in a coordinated effort to tackle illegal gold-mining in the Yanomami Indigenous Reserve, reports the BBC. Along with illegal miners the year-long investigation also arrested complicit airplane pilots, engineers, and business people in a bid to undercut the trade's funders and infrastructure.
"There was a risk of genocide due to the pressure from the miners. We already have information about confrontations between Indians and miners," a spokesperson from Brazil's indigenous department, FUNAI, said, as reported by Survival International.
The reserve where the miners operated on the border with Venezuela is home to around 20,000 Yanomami people, who have long complained of illegal gold miners in their territory.
Illegal gold mining has hit epidemic proportions in the Amazon as the price of gold rises that of price mercury, which is needed to amalgamate gold, remains low. But gold mining comes with a high environmental and social cost. Gold miners cut swathes into pristine floodplain rainforest and blast river banks looking for the precious metal: the destructive evidence of which is visible from airplane. Mercury, which often ends up in the river, contaminates fish and humans. The illicit trade has also been linked to social problems, including drug trafficking, indentured labor, and forced prostitution, including of children.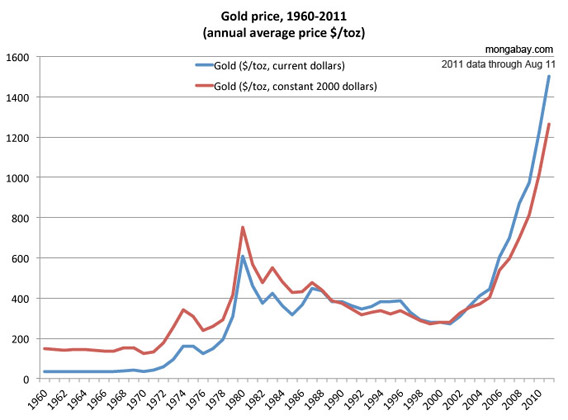 Related articles
Gold mining in the Peruvian Amazon: a view from the ground
(03/15/2012) On the back of a partially functioning motorcycle I fly down miles of winding footpath at high-speed through the dense Amazon rainforest, the driver never able to see more than several feet ahead. Myriads of bizarre creatures lie camouflaged amongst the dense vines and lush foliage; flocks of parrots fly overhead in rainbows of color; a moss-covered three-toed sloth dangles from an overhanging branch; a troop of red howler monkeys rumble continuously in the background; leafcutter ants form miles of crawling highways across the forest floor. Even the hot, wet air feels alive.
Thousands protest giant gold mine in Peru's mountains
(11/29/2011) Fearing water contamination and pollution, over ten thousand people in Cajamarca, Peru are taking part in protests against mining plans by US-company Newmont Mining Corporation. In its sixth day, the growing protests have caused flights in and out of Cajamarca to be cancelled. According to Reuters, police also clashed with protestors today, injuring two dozen.
Peruvian authorities raid illegal gold mining operations
(11/07/2011) Peru's Defense Ministry destroyed at least 75 illegal dredges and seized 15 vehicles from gold miners operating illegally in one of the most biodiverse parts of the Amazon rainforest.
High gold price triggers rainforest devastation in Peru
(10/11/2011) As the price of gold inches upward on international markets, a dead zone is spreading across the southern Peruvian rain forest. Tourists flying to Manu or Tambopata, the crown jewels of the country's Amazonian parks, get a jarring view of a muddy, cratered moonscape … and then another … and another in what the country boasts is its capital of biodiversity. While alluvial gold mining in the Amazon is probably older than the Incas, miners using motorized suction equipment, huge floating dredges and backhoes are plowing through the landscape on an unprecedented scale, leaving treeless scars visible from outer space. Sources close to the Peruvian Environment Ministry say the government is considering declaring an environmental emergency in the region, but emergency measures passed two years ago were not enough to contain the destruction, and some observers doubt that a new decree would have any more impact.