Hidden animals and new species: over 100 years of discovery. An interview with Karl Shuker.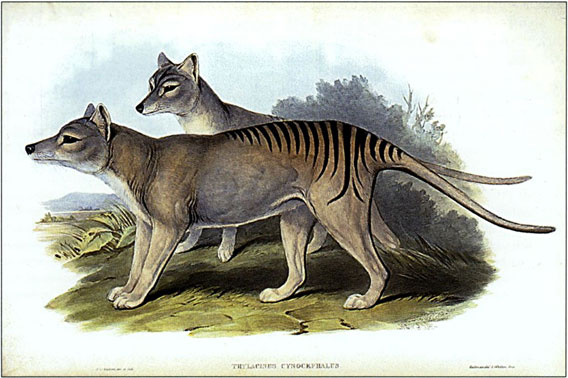 The last thylacine, or Tasmanian tiger, is believed to have died in 1936. However many contend that the species could still survive including unconfirmed sightings in Tasmania, Australia, and New Guinea. The thylacine was the world's largest carnivorous marsupial. Painting by Henry Constatine Richter, 1845.
Anyone who doubts cryptozoology, which in Greek means the "study of hidden animals," should remember the many lessons of the past 110 years: the mountain gorilla (discovered in 1902), the colossal squid (discovered in 1925, but a full specimen not caught until 1981), and the saola (discovered in 1992) to name a few. Every year, almost 20,000 new species are described by the world's scientists, and a new book by Dr. Karl Shuker, The Encycloapedia of New and Rediscovered Animals, highlights some of the most incredible and notable new animals uncovered during the past century.
In an interview with mongabay.com, Shuker says the top three zoological discoveries since 1900 would have to be the okapi, the coelacanth, and the saola, also known as the Vu Quang ox. His book highlights these three discoveries along with hundreds of others, including species discovered as recently as last year.
Shuker, a zoologist by training, has made a name for himself in cryptozoology by pursuing "hidden animals" with scientific rigor. While cryptozoologists sometimes struggle for serious acceptance of their evidence, Shuker says that may just be the nature of pursuing animals rumored to exist.
"Cryptozoologists who investigate cases of cryptids in a scientific manner are pursuing the same paths as 'mainstream' scientists. Ironically, however, as soon as one of the cryptids that they investigate is formally discovered, it is, by definition, no longer a cryptid, and immediately becomes a subject for study by zoologists instead. So in a sense, cryptozoology can never win, because as soon as one of its subjects is confirmed to be real, it is no longer cryptozoological but zoological instead."
To boost the discovery of new species, Shuker is starting a new scientific journal devoted to evidence of the hidden animals.
"I hope that cryptozoological researchers will submit papers to the journal that are totally worthy of publication in mainstream zoological journals but which may not be accepted by them simply because their subject is cryptozoological, which seems a great tragedy and injustice," he notes.
There are many places in the world where discoveries, even of big and charismatic animals, is still quite possible. Shuker says researchers should focus on "remote, little-explored regions, such as the rainforests of South America, Asia, Africa, Australia, and New Guinea; the vast, inhospitable Arctic zones; and obviously the even more vast oceans and large freshwater lakes in tropical regions that have attracted little scientific attention so far."
But even as scientists are documenting new species left-and-right, Shuker warns in his book that extinction may be just as likely a fate for many of the world's hidden species as discovery.
| | |
| --- | --- |
| | Shuker with the skull of the extinct smilodon. Photo courtesy of Karl Shuker. |
"The wholesale destruction of tropical rainforests, together with the obscene pollution of the oceans and freshwater ecosystems, has alerted scientists and the public to the frightening truths about likely consequences of such desecration," he writes in book's Introduction. The best way to combat the loss of the world's hidden biodiversity is "to protect the habitats where such creatures are being reported. After all, if their habitat is destroyed, they will unquestionably become extinct, meaning that we stand the very real risk of losing some remarkable animals before they were ever made known to science."
In a March 2012 interview Karl Shuker shares favorite stories from his book, The Encycloapedia of New and Rediscovered Animals; explains how genetic research has up-ended our knowledge of species; and tells mongabay.com which famous cryptids might have the best chance of discovery.
INTERVIEW WITH KARL SHUKER: NEW SPECIES OVER THE LAST 110 YEARS