Amazon cloud forest and the Andes in Peru. This region of the world may be home to more endemic species than any other. Photo by: Rhett A. Butler.
Around 80 percent of the Andes' most biodiverse and important ecosystems are unprotected according to a new paper published in the open-access journal BMC Ecology. Looking at a broad range of ecosystems across the Andes in Peru and Bolivia, the study found that 226 endemic species, those found no-where else, were afforded no protection whatsoever. Yet time is running out, as Andean ecosystems are undergoing incredible strain: a combination of climate change and habitat destruction may be pushing many species into ever-shrinking pockets of habitat until they literally have no-where to go.
"Biodiversity in the Andes is under threat from oil and gold mining, infrastructure projects, illegal crops, and many other activities. There is already evidence of species migrating upslope to keep up with climate change in this region," explains lead author Jennifer Swenson with Duke University. "Conservation across the Andes needs urgent revising and we hope that our data will help protect this incredibly unique region."
Swenson and a large group of international colleagues analyzed known ranges for 782 Andean species (115 birds, 55 mammals, 177 amphibians and 435 plants) to discover that only 20 percent of high biodiversity areas were protected. In addition, only 20 percent of "irreplaceable sites," were also under protection. Irreplaceable sites are defined as ecosystems with a high number of endemic species along with overall high biodiversity.
| | |
| --- | --- |
| | The Chestnut-breasted Coronet (Boissonneaua matthewsii) is a Andean forest specialist. Photo by: Rhett A. Butler. |
"These species require unique ecological conditions and are particularly vulnerable to changes in the environment or climate," Swenson says. Although historically understudied the Andes is thought to have one of the highest levels of endemism in the world.
To their surprise researchers found one of most important unprotected sites near a famous archeological monument.
"Interestingly, one of the areas we identified with the highest number of bird and mammal species and one of the highest levels of irreplaceability was an unprotected region surrounding the World Heritage Site of Machu Picchu, one of the most heavily visited tourist destinations in the region," Swenson noted.
The authors recommend "new complementary protected areas" in order to safeguard these ecosystems before they vanish.
Conservation and research in the Andes has long lagged behind other regions of South America. A recent study in mongabay.com's open access journal Tropical Conservation Science found that scientists produces six times more research studies about the tropical forests of Central America than the Andes from 1995-2008. In fact, more studies were written about the island of Puerto Rico than all of the Andean regions.
"The Andean range—the undisputed epicenter of global biodiversity and endemism—remains one of the least-studied tropical regions on the planet," write the authors of that study.
CITATION: Jennifer J Swenson, Bruce E Young, Stephan Beck, Pat Comer, Jesus H Cordova, Jessica Dyson, Dirk Embert, Filomeno Encarnacion, Wanderley Ferreira, Irma Franke, Dennis Grossman, Pilar Hernandez, Sebastian K Herzog, Carmen Josse, Gonzalo Navarro, Victor Pacheco, Bruce A Stein, Martin Timana, Antonio Tovar, Carolina Tovar, Julieta Vargas, Carlos M Zambrana-Torrelio. BMC Ecology 2012, 12:1 (27 January 2012).
Pitman, N. C. A., Widmer, J., Jenkins, C. N., Stocks, G., Seales, L., Paniagua, F. and Bruna, E. 2011. Volume and geographical distribution of ecological research in the Andes and the Amazon, 1995-2008. Tropical Conservation Science Vol. 4 (1):64-81.
Related articles
Picture of the day: the world's largest bromeliad
(01/30/2012) Found in the Andes of Peru and Bolivia, the world's biggest bromeliad Puya raimondii is imperiled by climate change and human disturbances.
Amazon still neglected by researchers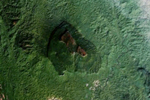 (03/28/2011) Although the Amazon is the world's largest tropical forest, it is not the most well known. Given the difficulty of access along with the fear of disease, dangerous species, indigenous groups, among other perceived perils, this great treasure chest of biology and ecology was practically ignored by scientists for centuries. Over the past few decades that trend has changed, however even today the Amazon remains lesser known than the much smaller, and more secure, tropical forests of Central America. A new study in mongabay.com's open access journal Tropical Conservation Science, which surveyed two prominent international tropical ecology journals (Biotropica and Journal of Tropical Ecology) between 1995 and 2008, finds that Central America was the subject of twice as many studies as the Amazon. In fact, according to the authors, much of the Amazon remains terra incognito to researchers, even as every year more of the rainforest is lost to human impacts.
New population discovered of the America's mini snow leopard: the Andean cat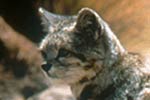 (03/16/2011) The elusive Andean cat (Leopardus jacobita), which until the late 1990s was only known to scientists by a couple photographs, has been discovered beyond the Andes mountain range for which it is named. According to researchers, the wild Andean cat resembles Asia's snow leopard, both in appearance and its habitat above altitudes of 3,000 meters (9,800 feet), only in this case the wild cat is about the size of a domesticated feline. But, scientists have now discovered that the cat, which is listed as Endangered by the IUCN Red List, also inhabits the Patagonian steppe at elevations as low as 650 meters (2,100 feet).