Palm oil plantation in Sumatra, Indonesia. Photo by: Rhett A. Butler.
Girl Scouts USA has announced that it will lessen palm oil in its ubiquitous cookies by using alternatives when possible and cutting overall usage. The organization also committed to purchasing GreenPalm certificates for all of its palm oil in order to financially support more environmentally sustainable palm oil, even if the palm oil in the cookies is not.
"Girl Scouts' palm oil use is very small, but our voice is big," Girl Scouts USA's Manager of Product Sales, Amanda Hamaker, said in a press release from the company. "Palm oil is an important product to the world's food supply, so we believe promoting sustainable manufacturing principles is the most responsible approach for Girl Scouts."
The move by Girl Scouts—including a pledge to only use certified sustainable palm oil by 2015—came after a four year campaign by two Girl Scouts' members, Madison Vorva (now 16) and Rhiannon Tomtishen (now 15).
"Madison and Rhiannon have done exactly what Girl Scouts teaches girls: find a cause you care about, connect with others, and take action to change the world. They are shining examples of leadership in persuading a 99-year-old American icon to take on a serious global issue," Hamaker said.
| | |
| --- | --- |
| | Palm oil is now found in up to half of packaged processed foods, including Girl Scout cookies. By virtue of its high yield, palm oil is a cheaper substitute than other vegetable oils. In an effort to reduce costs, some candy makers are using palm oil in place of cocoa butter in their milk chocolate products. Photo by Rhett A. Butler |
However during the past four years Vorva and Tomtishen had to fight hard to have the top people at Girl Scouts take action on their concerns. The girls eventually partnered with a number of environmental organizations to put pressure on the organization.
"We hope that today's announcement shows that Girl Scouts USA is serious about ensuring that their cookies don't destroy forests or endanger orangutans and other wildlife, and that they'll strongly urge their bakers to find an alternative oil that is both rainforest-safe and socially responsible. As a non-profit organization, not a food company, there should be no question that Girl Scout Cookies contain ingredients that live up to the values described in the Girl Scout Law," said Madison Vorva.
Palm oil has been blamed by environmentalists and scientists for vast deforestation in Southeast Asia, particularly in Malaysia and Indonesia. Although the world's most productive oil seed, palm oil has been connected to imperiling endangered species, emitting significant amounts of carbon due to deforestation and peatland destruction, causing conflict with indigenous groups, as well as human rights abuses. A recent study in Conservation Letters found that 55-59 percent of palm oil plantations in Malaysia built between 1990 and 2009 occurred on forested land.
Beginning next Girl Scouts' cookie season, the organization says all of its treat boxes will sport a GreenPalm certificate. Much like a carbon-offset, the certificate does not mean the palm oil in the cookies was sustainably grown, however it does mean that Girl Scouts is 'offsetting' their palm oil use by financially supporting the growth of a sustainable palm oil industry. Girl Scouts also plans to join the Roundtable for Sustainable Palm Oil (RSPO), an organization that sets environmental sustainability and social regulations for palm oil.
Fifteen-year-old activist, Rhiannon Tomtishen says Girl Scouts "deserves credit for recognizing the role the palm oil in their cookies plays in driving deforestation, and for taking initial action to address it. Purchasing GreenPalm certificates and working towards segregated, certified sustainable palm oil by 2015 are steps in the right direction. However, the most important part of their policy is the commitment to use palm oil only if there is no alternative. We hope to work closely with the Girl Scouts and experts to find such an alternative."
The Rainforest Action Network (RAN), which has provided support for Tomtishen and Vorva's campaign, says in a blog that Girl Scouts is taking 'a small step in the right direction,' but adds 'leaps forward' are necessary to save remaining forests from destruction.
Lindsey Allen, Forest Campaign Director with RAN, added starkly that "nothing in today's statement ensures that palm oil connected to rainforest destruction will no longer be found in Girl Scout cookies." RAN is asking Girls Scouts to push its suppliers, like Cargill, to implement better environmental and social regulations of its palm oil.
Last year, Girl Scouts sold over 200 million boxes of cookies in the US—over half of a box for every person living in the US. The non-profit made over $700 million from cookie sales.
Related articles
Europe should lift duty on RSPO-certified palm oil to encourage use, says Dutch group
(09/21/2011) To encourage uptake of palm oil that is less damaging to the environment, the European Union (EU) should lift the import duty on palm oil certified under Roundtable on Sustainable Palm Oil (RSPO), said a Dutch industry group.
Palm oil, poverty, and conservation collide in Cameroon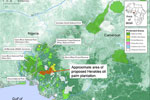 (09/13/2011) Industrial palm oil production is coming to Africa, its ancestral home. And like other places where expansion has occurred rapidly, the crop is spurring hope for economic development while generating controversy over its potential impacts. The world's most productive oil seed has been a boon to southeast Asian economies, but the looming arrival of industrial plantations in Africa is raising fears that some of the same detriments that have plagued leading producers Malaysia and Indonesia—deforestation, greenhouse gas emissions, biodiversity loss, conflicts with local people, social displacement, and poor working conditions—could befall one of the world's most destitute regions. While there is no question that oil palm is a highly lucrative crop that can contribute to economic development, there is also little doubt that conversion of native forests for plantations exacts a heavy toll on the environment. The apparent conflict seems to pit agroindustrial goliaths against greens, with communities falling somewhere in between. But Herakles, a New York-based investment firm planning to construct a 60,000-hectare plantation in the Central African country of Cameroon, says its approach will bridge this gap between economic development and the environment. Social and environmental campaigners are skeptical.
Cargill adopts 'greener' palm oil policy
(07/12/2011) Agribusiness giant Cargill will ensure all palm oil supplied to customers in Europe, United States, Canada, Australia and New Zealand is certified under the Roundtable on Sustainable Palm Oil (RSPO), an environmental standard, or originated from smallholder growers by 2015, according to a statement issued by the company. Cargill says it will extend the commitment to 100 percent of its products and customers globally – including China and India, the largest consumers of palm oil – by 2020.