A new study on its way to being published shows that the Amazon rainforest suffered greatly from last year's drought. Employing satellite data and supercomputing technology, researchers have found that the Amazon was likely hit harder by last year's drought than a recent severe drought from 2005. The droughts have supported predictions by the Intergovernmental Panel on Climate Change's (IPCC) that climate change, among other impacts, could push portions of the Amazon to grasslands, devastating the world's greatest rainforest.
"The greenness levels of Amazonian vegetation—a measure of its health—decreased dramatically over an area more than three and one-half times the size of Texas and did not recover to normal levels, even after the drought ended in late October 2010," explains the study's lead author Liang Xu of Boston University.
According to the study, which will be published in Geophysical Research Letters, nearly a million square miles (2.5 million square kilometers) saw reduced greenness in 2010. This is more than four times the area impacted by the 2005.
According to Arindam Samanta, a co-lead author from Atmospheric and Environmental Research in Lexington, Massachusetts, satellite data taken from NASA's Moderate Resolution Imaging Spectroradiometer (MODIS)] "suggest a more widespread, severe and long-lasting impact to Amazonian vegetation than what can be inferred based solely on rainfall data."
Samanta also studied the 2005 drought, including working on a paper that found little greenness difference in the Amazon between 2005 and non-drought years. However, the level of greenness is not the only line of evidence researchers look to in order to determine the impact of a drought. Other evidence includes tree mortality and the outbreak of fires in the rainforest.
While the prediction that around 40% of the Amazon could flip to grasslands due to climate change has faced criticism from climate skeptics—and become a part of the histrionic and rarely fact-based political fight over greenhouse gas emissions—the science behind the theory has remained strong.
"The main conclusion of the IPCC statement—that Amazonian forests are very susceptible to reductions in rainfall—remains our best understanding of the data available at the time of the IPCC report and also today," reads a letter from some of the world's most well-respected Amazon experts that attempted to clarify misinformation on the issue last year.
Around the same time, Thomas Lovejoy, biodiversity chair at the Washington DC-based Heinz Center for Science, Economics and the Environment, and chief biodiversity adviser to the president of the World Bank, pointed out that the Amazon rainforest did not exist in a laboratory, but faced multiple pressures on top of climate change. Citing a World Bank report that looks at the synergistic effects of deforestation, climate change, and fires, Lovejoy said that the "tipping point for the Amazon is 20 percent deforestation". Currently 17-18 percent of the Amazon has been lost, leading Lovejoy to tell Tierramerica that the Amazon rainforest was "very close to a tipping point".
Both the letter and Lovejoy's statements came prior to the 2010 drought.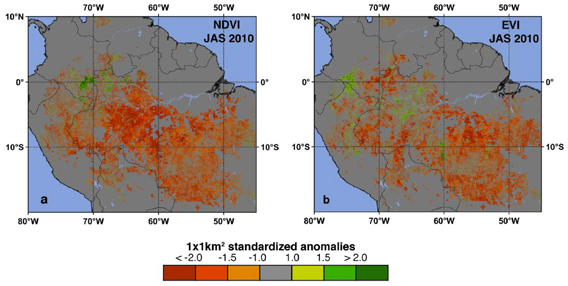 Red and orange identify areas where satellite measurements indicated reduced greenness of the Amazon forest during the 2010 drought. (Green patches are areas of enhanced greenness.) The maps differ only in the method used for determining vegetation greenness from optical data. Click to enlarge.
CITATION: [THIS PAPER IS NOT YET PUBLISHED] Liang Xu, Arindam Samanta, Marcos H. Costa, Sangram Ganguly, Ramakrishna R.
Nemani, and Ranga B. Myneni. Widespread Decline in Greenness of Amazonian Vegetation
Due to the 2010 Drought. Geophysical Research Letters.
Related articles
Two massive droughts evidence that climate change is 'playing Russian roulette' with Amazon
(02/03/2011) In 2005 the Amazon rainforest underwent a massive drought that was labeled a one-in-100 year event. The subsequent die-off of trees from the drought released 5 billion tons of CO2. Just five years later another major drought struck. The 2010 drought, which desiccated entire rivers, may have been even worse according to a new study in Science, adding on-the-ground evidence to fears that climate change may inevitably transform the world's greatest rainforest.
NASA image reveals worst drought on record for the Amazon river
(12/15/2010) A new image released by NASA reveals the impact of the worst drought on record on the world's largest river.
Rainforests thrived in warmer conditions in the past, yet study requires "caution"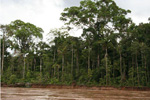 (11/11/2010) A new study in Science is likely to reopen the contentious debate about the impact of climate change on tropical rainforests. Scientific modeling of future climate conditions in tropical rainforests, such as the Amazon, has shown that climate change—combined with deforestation and fire—could create a tipping point whereby a significant portion of the Amazon could turnover to savannah, pushing untold species to extinction and undercutting the many ecosystem services provided by tropical rainforests. Yet, a new study headed by Carlos Jaramillo, staff scientist at the Smithsonian Tropical Research Institute (STRI), has found a tropical forest ecosystem thriving in much warmer conditions than today.
Amazon suffers worst drought in decades
(10/24/2010) The worst drought since 1963 has created a regional disaster in the Brazilian Amazon. Severely low water levels have isolated communities dependent on river transport. Given a worsening situation, Brazil announced on Friday an emergency package of $13.5 million for water purification, tents, and food airdrops.
Satellites show fragmented rainforests significantly drier than intact forest
(10/13/2010) A new study in Biological Conservation has shown that edge forests and forest patches are more vulnerable to burning because they are drier than intact forests. Using eight years of satellite imagery over East Amazonia, the researchers found that desiccation (extreme dryness) penetrated anywhere from 1 to 3 kilometers into forests depending on the level of fragmentation.
(06/21/2010) The Sunday Times over the weekend retracted a column that accused the Intergovernmental Panel on Climate Change (IPCC) of making a "bogus rainforest claim" when it cited a report warning that up to 40 percent of the Amazon could be "drastically" affected by climate change. The "Amazongate" column, authored by Jonathan Leake, Science & Environment Editor of the Sunday Times, was immediately seized upon by climate skeptics as further evidence to discredit the IPCC just two weeks after it was found to be using shoddy glacier data in its 2007 climate assessment. But now the Sunday Times has removed Leake's column from its web site and issued on apology, admitting that the Amazon claim was indeed supported by scientific research. The Sunday Times also acknowledged misconduct in the way one of the story's sources—Simon Lewis of the University of Leeds in Britain—was quoted.