New primate is on the edge of extinction.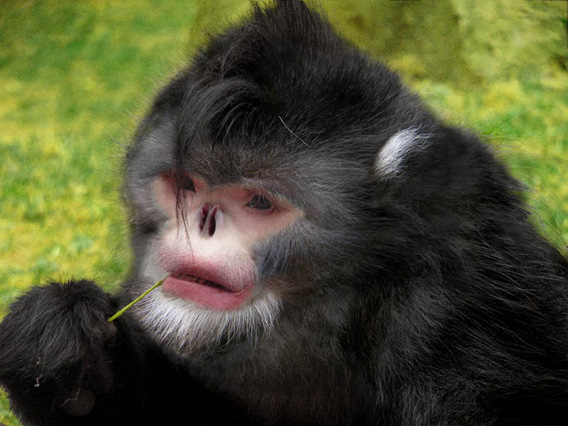 With no photos yet of a living Myanmar snub-nosed monkey, this image was reconstructed using Photoshop, based on a Yunnan snub-nosed monkey and the carcass of the newly discovered species, the Myanmar snub-nosed monkey. Image by: Dr. Thomas Geissmann.
Hunters' reports have led scientists to discover a new species of monkey in the northern forests of Myanmar. Discovered by biologists from the Myanmar Biodiversity and Nature Conservation Association with support from primatologists with Fauna & Flora International (FFI) and the People Resources and Biodiversity Foundation, the strange looking primate is a member of the snub-nosed monkey family, adding a fifth member to this unmistakably odd-looking group of Asian primates. However, the species survives in only a small single population, threatened by Chinese logging and hunting.
Described in the American Journal of Primatology, the new monkey, dubbed the Myanmar snub-nosed monkey (Rhinopithecus strykeri), was only discovered after researchers heard reports from hunters of a strange monkey with upturned nostrils and prominent lips. It is known locally as mey nwoah,or 'monkey with an upturned face'.
| | |
| --- | --- |
| | An artists impression of the new species in its habitat, based on field sightings and a carcass of the newly discovered species. Image by: Martin Aveling/Fauna & Flora International. |
Locals have an easy time finding the species, since, according to them, it sneezes whenever it rains. Rainwater collects on the monkey's upturned noses causing them to sneeze. To combat this, the monkeys spend their rainy days with heads tucked between legs.
The new primate is especially notable for being the only snub-nosed monkey known in Myanmar. The other four snub-nosed monkey species are found in parts of China and Vietnam.
Frank Momberg, FFI's Regional Program Development Coordinator in the Asia Pacific and co-author of the paper, told mongabay.com that this new species proves "snub-nosed monkeys must have had a much largest distribution in China and adjacent areas in the past," adding that "[the new species] is most closely related to the Yunnan snub-nosed monkey. However, the two species are morphologically very distinct and are now separated by two major species barriers, the Salween and the Mekong River."
Researchers believe only 260-330 individuals survive of the new species, which would rank it as Critically Endangered according to IUCN Red List standards. Unfortunately, the new species faces a large variety of threats.
"Snub-nosed monkey get frequently trapped in traps laid out for bears. Local hunters also use shotguns. Until 8 years ago hunting was primarily for subsistence use only. Since Chinese logging roads are moving closer, hunting is now increasingly supplying bushmeat for local logging and dam construction camps, as well as feeding into the wildlife trade to China," Momberg says.
But overexploitation of the species isn't the only concern.
| | |
| --- | --- |
| | Logging along the Chinese border with Myanmar. Photo by: Myanmar Biodiversity and Nature Conservation Association. |
"By next year Chinese logging companies will have moved into the Myanmar snub-nosed monkey range, which will cause serious degradation of their habitat and increase hunting pressure," Momberg says.
Saving the Myanmar snub-nosed monkey will require quick work on many different issues, according to Momberg. First, the Chinese government must "crackdown on illegal Chinese logging in the area" and "step-up law enforcement of CITES regulations by Chinese customs officers to reduce trans-border illegal wildlife trade."
A protected area should be established in the Myanmar snub-nosed monkey's range, a recommendation already given by the China Power Investment Corporation, which is building a dam in Myanmar.
In addition, conservationists must work quickly with local people to minimize hunting and trapping, as well as provide income.
Momberg recommends that conservationists "develop a community-based conservation program for the Myanmar snub-nosed monkey range, involving all surrounding villagers in the conservation initiative. Employ local hunters as species guardians and provide alternative livelihoods for forest dependent communities."
The discovery of a new monkey in Myanmar proves just how little we know about the country's wildlife according to Momberg.
"There is plenty of more species to be discovered [in Myanmar], even mammal species. Myanmar is a priority country for biodiversity conservation with currently the second highest deforestation rate in Asia after Indonesia."
CITATION: Geissmann. T, Lwin. G, Aung. S, Naing Aung. T, Aung. Z M, Hla. T, Grindley. M, Momberg. F, "A new species of Snub-nosed monkey, Genus Rhinopithecus Milne-Edwards, 1872 (Primates, Colobianae), From Northern Kachin State, Northeastern Myanmar", American Journal of Primatology, Wiley-Blackwell, October 2010, DOI: 10.1002/ajp.20894
Related articles
Picture: unknown carnivore discovered in Madagascar lake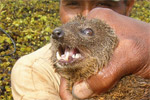 (10/10/2010) Researchers have identified a previously unknown species of carnivore lurking in one of the world's most endangered lakes. Durrell's vontsira (Salanoia durrelli), named in honor of the late conservationist and writer Gerald Durrell, was first photographed swimming in Madagascar's Lake Alaotra in 2004. Subsequent surveys by scientists at the the Durrell Wildlife Conservation Trust, the Natural History Museum, London, Nature Heritage, Jersey, and Conservation International confirmed the mongoose-like creature was indeed a new species.
New ape species uncovered in Asia
(09/21/2010) Discovering a species unknown to science is a highlight of any biologist's career, but imagine discovering a new ape? Researchers with the German Primate Center (DPZ) announced today the discovery of a new species of ape in the gibbon family, dubbed the northern buffed-cheeked gibbon (Nomascus annamensis), according to the AFP. The new species was discovered in rainforests between the borders of Vietnam, Laos, and Cambodia: an area that contains a number of gibbon species.
Stunning monkey discovered in the Colombian Amazon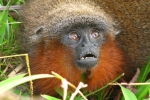 (08/11/2010) While the Amazon is being whittled away on all sides by logging, agriculture, roads, cattle ranching, mining, oil and gas exploration, today's announcement of a new monkey species proves that the world's greatest tropical rainforest still has many surprises to reveal. Scientists with the National University of Colombia and support from Conservation International (CI) have announced the discovery of a new monkey in the journal Primate Conservation on the Colombian border with Peru and Ecuador. The new species is a titi monkey, dubbed the Caquetá titi ( Callicebus caquetensis). However, the announcement comes with deep concern as researchers say it is likely the new species is already Critically Endangered due to a small population living in an area undergoing rapid deforestation for agriculture.