New satellite data shows that human actions are wiping out mangrove forests even faster than previous bleak estimates. Conducted by the US Geological Survey and NASA, the researchers found that mangroves comprise 12.3 percent less area than previously estimated. In total, satellites reveal that mangrove forests cover approximately 53,290 square miles (137,760 square kilometers).
"Our assessment shows, for the first time, the exact extent and distribution of mangrove forests of the world at 30 meters spatial resolution, the highest resolution ever," said Dr Chandra Giri from USGS.
Providing the best picture yet of mangrove placement, the study found Asia has most of the world's mangroves with 42 percent, followed by Africa with 21 percent, North and Central America with 15 percent, Oceania with 12 percent, and South America with 11 percent.
| | |
| --- | --- |
| | Mangroves replaced by rice fields in Indonesia. Photo by: Rhett A. Butler. |
However the study "reveals that 75 percent of the remaining [mangrove] forest is found in just 15 countries, out of which only ~6.9 percent is protected under the existing protected areas network," says Giri.
Despite governments protecting so few mangrove forests, these tropical saline-adapted forests are one of the world's most important ecosystems. Mangroves serve as nurseries for a variety marine fish, underpinning global fisheries and providing additional food security in some developing nations. In addition, they store massive amounts of carbon and provide buffers against marine erosion. In all it has been estimated that mangroves provide at least $1.6 billion in ecosystem services annually.
Recent studies have even found that mangroves buffer human populations and property against tropical storms. During the devastating 2004 tsunami in Southeast Asia, regions with mangroves suffered less damage than those without. Quite literally, mangroves have saved lives.
"The current estimate of mangrove forests of the world is less than half what it once was, and much of that is in a degraded condition," said Giri. "It is believed that 35 percent of mangrove forests were lost from 1980 to 2000 which has had an impact on the coastal communities."
Mangroves are being lost to a variety of impacts, including coastal developments; agriculture and aquaculture, such as shrimp farms and rice fields; and rising sea levels due to climate change.
Related articles
Scientists condemn current development plan in Kalimantan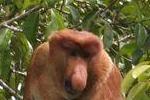 (08/02/2010) Scientists with the Association for Tropical Biology and Conservation (ATBC) have released a resolution opposing the current development plan for a road and bridge crossing Balikpapan Bay in the Indonesian state of Kalimantan. The resolution states that the plan threatens not only the fragile ecosystems within the bay, but of the nearby mangroves as well as the Sungai Wain forest and its watershed, vital for local industry and people. According to ATBC, the plan could be easily remedied by officials picking an alternate route, which is also favored by locals since it would be 80 kilometers shorter.
As Mangroves Die from Oil, U.S. Public Yawns
(06/03/2010) What if, instead of a nasty oil disaster in the Gulf of Mexico, the U.S. public was now confronted with a natural catastrophe in the Grand Canyon or in California Redwood forests? Within the popular imagination, certain types of ecosystems elicit more sympathy than others, and very low on the totem pole are mangrove forests. Located in the tropics, mangroves are a mess of thick, tangled salt-tolerant trees and shrubs which thrive in brackish tidal waters. When I paddled through the Florida Everglades in a canoe some fifteen years ago, I found mangroves bizarre looking: trees have long roots which stick out above the water level.
Half of Indonesia's mangroves gone in less than thirty years
(03/23/2010) The Jakarta Post reports that, according to the local NGO People's Coalition for Justice in Fisheries (Kiara), Indonesia's has lost 2.2 million hectares of mangroves in less than thirty years, going from covering 4.2 million hectares in 1982 to just 2 million hectares today.