The last time the hairy-nosed otter (Lutra sumatrana) was seen in Borneo it was road-kill, but researchers have now photographed a living individual of this elusive and endangered species. Photos were taken by camera trap in the Dermakot forest in Sabah, a state of Malaysian Borneo. While the last specimen known in Borneo was killed by a car in 1997, the species hasn't been found confirmed in Sabah for over a century.
"This is great news for Sabah and shows once again how unique and fortunate we are in terms of wildlife and nature. In addition, these findings also boost the conservation of this endangered otter internationally as historically this otter was distributed throughout large parts of southeast Asia," said Sabah Wildlife Department (SWD) Director, Dr. Laurentius Ambu, in a press release.
| | |
| --- | --- |
| | Photo taken by an automated camera trap set up by the Conservation of Carnivores in Sabah (ConCaSa) project. Photo by: Mohamed & Wilting, SWD, SFD. |
The photos were taken as apart of the Conservation of Carnivores in Sabah (ConCaSa) program, which began in 2008 to study the state's carnivores, including wild cats, civets, and otters. The project is being carried out by the Leibniz Institute for Zoo and Wildlife Research (IZW) with help from the SWD and the Sabah Forestry Department (SFD).
The identity of the hairy-nosed otter was verified by a number of exports given how similarly different otters can appear. The hairy-nosed otter is listed as Endangered by the IUCN Red List and is considered one of the world's most threatened otters. Individuals have been found in a number of other Southeast Asian countries, including Thailand, Vietnam, and Cambodia, yet the otter is most threatened by poaching for meat and traditional medicine uses. It has also been hit by pollution, habitat destruction, and loss of prey due to overfishing. According to the IUCN the otter population has been cut in half in the past thirty years.
The Deramakot forest is an FSC-certified forest managed by the SFD with an eye towards sustainable logging.
"These findings show that long-term sustainable forest management is of great importance for the protection of some of this country's most threatened species and of the unique biodiversity of the forests of Borneo," said Datuk Sam Mannan, Director of the SFD.
| | |
| --- | --- |
| | The hairy-nosed otter (Lutra sumatrana). Researcher Azlan Mohamed setting up one of the automated camera traps in the Deramakot Forest Reserve. Photo courtesy of ConCaSa. |
Camera traps in Deramakot forest have also revealed all of Borneo's five cat species, (Sunda clouded leopard, bay cat, marbled cat, leopard cat, and flat-headed cat) and 13 other carnivores, including the sun bear. The study also produced the first video footage of the otter civet (Cynogale bennettii).
"These results mean that out of 25 known carnivore species in Borneo, our project, together with a Japanese researcher Hiromitsu Samejima, confirmed 20 in Deramakot. This makes Deramakot outstanding for being extremely rich in its diversity of carnivores," said Andreas Wilting, project leader of the IZW.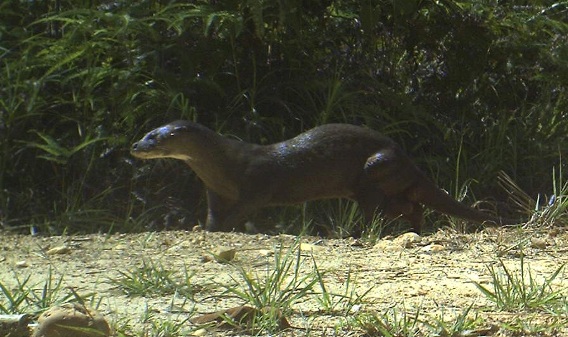 The "rediscovered" hairy-nosed otter (Lutra sumatrana). Photo by: Mohamed & Wilting, SWD, SFD.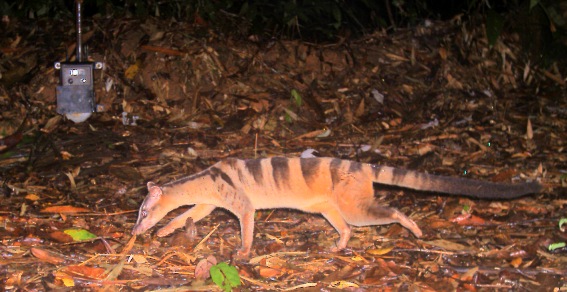 A photograph of the banded civet (Hemigalus derbyanus), note another automated camera trap on the opposite side. Photo by: Mohamed & Wilting, SWD, SFD.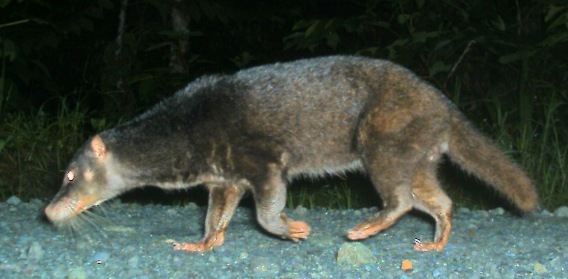 A photograph of the otter civet (Cynogale bennettii). Photo by: Mohamed & Wilting, SWD, SFD.
Related articles
Malaysia introducing tough new wildlife laws
(05/20/2010) By the end of the year, Malaysia will begin enforcing its new Wildlife Conservation Act 2010 including stiffer penalties for poaching and other wildlife-related crimes, such as first time punishments for wildlife cruelty and zoos that operate without license.
World's first video of the elusive and endangered bay cat

(11/05/2009) Rare, elusive, and endangered by habitat loss, the bay cat is one of the world's least studied wild cats. Several specimens of the cat were collected in the 19th and 20th Century, but a living cat wasn't even photographed until 1998. Now, researchers in Sabah, Malaysian Borneo, have managed to capture the first film of the bay cat (Catopuma badia). Lasting seven seconds, the video shows the distinctly reddish-brown cat in its habitat.
Photos: Palm oil threatens Borneo's rarest cats

(11/04/2009) Oil palm expansion is threatening Borneo's rarest wild cats, reports a new study based on three years of fieldwork and more than 17,000 camera trap nights. Studying cats in five locations—each with different environments—in Sabah, Malaysian Borneo, researchers found that four of five cat species are threatened by habitat loss due to palm oil plantations. "No other place has a higher percentage of threatened wild cats!" Jim Sanderson, an expert on the world's small cats, told Mongabay.com. Pointing out that 80 percent of Borneo's cats face extinction, Sanderson said that "not one of these wild cats poses a direct threat to humans."