A new study in Tropical Conservation Science finds that Kibale National Park in Uganda has retained its tropical forest despite pressures of a dense human population and large-scale clearing activities just beyond the border of the park. Home to twelve primate species, including Chimpanzees, the park is known as a safe-haven for African primates.
Although researchers found that the park remained intact despite human population outside—which has increased seven times in less than a century—worries remain for the efficacy of the park in preserving its species and ecosystem services.
"Few, if any, [protected areas] represent intact ecosystems; and it has become increasingly important to locate each protected area as a functional component of a larger landscape," the researchers write., adding that "a major concern for conservationists has been the 'islandization' of parks , i.e., the increasing isolation of natural habitat into smaller areas surrounded by human-dominated land covers. Isolation can affect natural movement patterns of organisms, altering dynamics and genetics of natural populations."
| | |
| --- | --- |
| | A black and white colobus monkey, one of the primate species that has impacted by forest clearing around Kibale National Park. Photo by: Rhett A. Butler. |
Many forest fragments outside of the park were lost during the study period of 1984-2003, while the fragments that survive have been decreased due to expanding agriculture. For example, tea plantations in the area more than doubled during the time of the study. Cutting trees for fuel has also strained many of the forest areas outside Kibale.
Researchers speculate that population may have boomed around the park in part because people perceive that the park brings extra benefits.
"Some farmers want to live closer to Kibale National Park because they feel they receive rain and fertile soil to cultivate crops at any time in the season and perceive other benefits. Proximity to parks can also be an important indicator for associated direct benefits, such as tourism, employment, and active engagement with park officials in resource management," the researchers explain.
According to the study, this loss of outlying forest has already impacted some species.
"While large mammal populations, such as elephants, previously freely mixed throughout the region, populations in Kibale National Park are now isolated with dispersal limited to the game corridor connecting Queen Elizabeth National Park […]," the researchers write, adding that two primate species have also been affected: "between 1995 and 2003, 25 percent of the fragments that supported red (Piliocolobus tephrosceles) and black and white (Colobus guereza) colobus monkeys were cleared of forest and the population of black-and-white colobus in this landscape decreased by 55 percent. "
Even though the park itself has remained intact, continued habitat loss outside of the park have caused researchers to conclude that "the question of whether the park is a conservation success […] remains unanswered."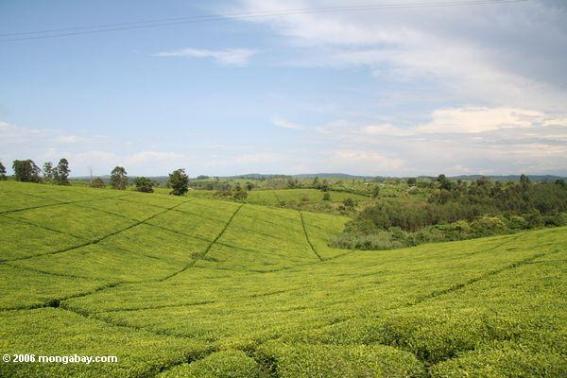 Tea plantation in Uganada. Photo by Rhett A. Butler.
CITATION: Southworth, J., Hartter, H., Binford, M. W., Goldman, A., Chapman, C. A., Chapman,, L. J., Omeja, P. and Binford, E. 2010. Parks, people and pixels: evaluating landscape effects of an East African national park on its surroundings. Tropical Conservation Science Vol. 3 (2):122-142.
Related articles
Company seeks to log forest reserve for palm oil in Uganda
(01/15/2010) A company in Uganda is pressuring the environment ministry to allow it to log a protected forest reserve to establish a palm oil plantation, reports The New Vision.
Ugandan president continues to undermine national forest reserves
(11/04/2008) Ugandan President Yoweri Museveni — a leader who has repeatedly sought to hand forest areas over to industrial developers and undermine the sanctity of reserves — is now blaming the country's forestry agency for deforestation in Uganda.
Uganda renews plans to log rainforest reserve for sugar cane
(12/21/2007) Uganda's President Yoweri Museveni on Friday revived a controversial plan to grant a forest reserve to commercial sugar cane interests.