Repsol YPF, a Spanish-Argentine oil company, plans to cut 454 kilometers (282 miles) of seismic lines in a territory of the Peruvian rainforest known to be home to uncontacted indigenous peoples, according to a press release from Survival International. To construct seismic lines paths will be cleared in the forest and explosives set-off regularly. Seismic lines allow energy companies to locate oil deposits by creating a cross sectional view of the subsurface.
Repsol YPF has submitted its oil exploration plans, which also include constructing 152 heliports, to Peru's Energy Ministry for approval.
Home to two uncontacted tribes, the area, known simply as Lot 39, is also one of the most biodiverse places in the world according to a recent study in PLoS ONE that looks at the impact of oil and gas exploration in the western Amazon.
"What would the uncontacted Indians in this region make of seismic lines and heliports? They're likely to respond in one of two ways—either by fleeing, or by attacking people they will view as hostile invaders. Either way, the consequences will be profoundly damaging. Repsol and the Peruvian authorities should know by now that you simply can't look for oil in rainforest belonging to uncontacted Indians in a safe manner," says Stephen Corry, director of Survival International, in a press release.
Indigenous tribes that have had little or no contact with the outside world are especially vulnerable to disease, since they have not developed immunity to a variety of even common illnesses.
Anglo-French company Perencho has already discovered oil deposits in Lot 39 and has submitted plans to build a pipeline in the area. Peruvian indigenous rights group, AIDESEP, has sued companies working in Lot 39.
Related articles
Spanish oil company develops own rules for contacting uncontacted Amazon tribes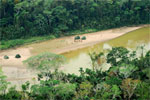 (03/26/2010) Imagine you're in one of the remotest parts of the Amazon rainforest and suddenly you come across members of an uncontacted tribe. What should you do? The experts say, "Turn around. At all costs, make no attempt at contact." Repsol YPF, exploring for oil in northern Peru, has taken a different approach. Despite the extreme vulnerability of the tribes to any form of contact, the company suggests that its workers talk to them in certain instances, and even provides specific phrases to use and conversation topics to address.
Under siege: oil and gas concessions cover 41 percent of the Peruvian Amazon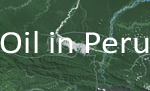 (02/16/2010) A new study in the Environmental Research Letter finds that the Peruvian Amazon is being overrun by the oil and gas industries. According to the study 41 percent of the Peruvian Amazon is currently covered by 52 separate oil and gas concessions, nearly six times as much land as was covered in 2003. "We found that more of the Peruvian Amazon has recently been leased to oil and gas companies than at any other time on record," explained co-author Dr. Matt Finer of the Washington DC-based Save America's Forests in a press release. The concessions even surpass the oil boom in the region during the 1970s and 80s, which resulted in extensive environmental damage.
The real Avatar story: indigenous people fight to save their forest homes from corporate exploitation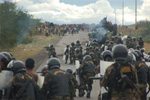 (12/22/2009) In James Cameron's newest film Avatar an alien tribe on a distant planet fights to save their forest home from human invaders bent on mining the planet. The mining company has brought in ex-marines for 'security' and will stop at nothing, not even genocide, to secure profits for its shareholders. While Cameron's film takes place on a planet sporting six-legged rhinos and massive flying lizards, the struggle between corporations and indigenous people is hardly science fiction.