In a place of poverty and hunger, how do you save a species on the edge of extinction? A difficult question that conservationists have long-been working to tackle, the Wildlife Conservation Society (WCS) has come up with a new plan to protect the world's most endangered gorilla, the Cross River gorilla, from poachers by providing locals with an alternate and better income from farming snails.
In a new initiative funded by Great Apes Program of the Arcus Foundation, WCS has selected eight former poachers from four villages to become snail farmers. But why farm snails?
| | |
| --- | --- |
| | WCS hopes these African giant snails will provide an alternate income source for past gorilla poachers. Photo courtesy of WCS. |
In Nigeria, snails are a highly sought-after delicacy and provide enough to support a family. According to WCS, operating costs to run a snail farm run about 87 US dollars, whereas profit from 3000 snails sold annually runs about 413 US dollars, leaving the snail farmer 326 US dollars a year. On the other hand, poaching a gorilla for bushmeat brings in only about 70 US dollars. Unlike poaching, income from snail farming is reliable and regular.
"People living near Cross River gorillas have trouble finding alternative sources of income and food and that's why they poach," said James Deutsch, Director of the WCS's Africa program in a press release. "We are working with them to test many livelihood alternatives, but perhaps the most promising, not to mention novel, is snail farming."
Poachers-turned-snail-farmers received 230 African giant snails from WCS to start their business. The snails reproduce quickly and provide high protein.
Thought to be extinct until rediscovered in the 1980s, the Cross River gorilla ( Gorilla gorilla diehli), a subspecies of the western gorilla, is hanging on by a thread: researchers believe that less than 300 survive today. The Cross river gorilla lives on the mountainous border between Nigeria and Cameroon.
| | |
| --- | --- |
| | Still from the only video of the Cross River gorilla in the wild. Photo courtesy of WCS. |
Two years ago, the government of Cameroon created Takamanda National Park to help save the Cross River gorilla.
"Cross-River gorillas depend on law enforcement and conservation efforts to survive," says Andrew Dunn, WCS Nigeria Country Director. "The work of WCS and our dedicated field-staff to develop alternate livelihoods for local poachers is just one step on the road to recovery for these incredible animals."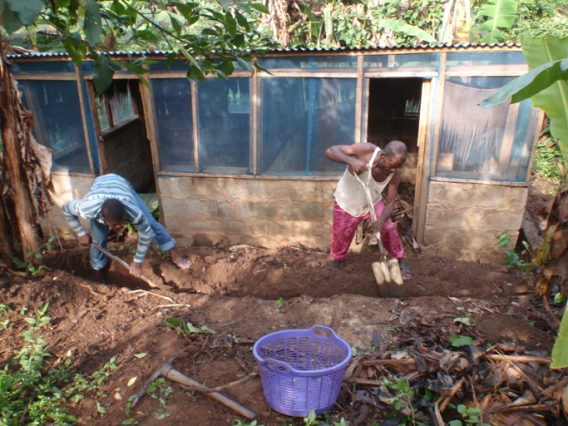 Building a snail farm. Photo courtesy of: WCS.
Related articles
Cameroon moves to protect rarest gorilla
(11/26/2008) The government of Cameroon has created a national park to help protect the world's most endangered great ape: the Cross River gorilla, reports the Wildlife Conservation Society (WCS), a group that provided scientific and technical support for the initiative.
Cameroon and Nigeria to protect world's rarest gorilla
(09/05/2008) Cameroon and Nigeria have agreed to protect the the Cross River gorilla, world's most endangered gorilla, reports the Wildlife Conservation Society, which helped broker the deal.
Rare gorillas use weapons to attack forest-intruding humans
(12/05/2007) Following the first documented cases of the Cross River gorillas — world's most endangered gorilla — throwing sticks and clumps of grass when threatened by people, the Wildlife conservation Society (WCS) has announced new research to better protect the species from poaching and encroachment.