Using camera traps over a two-year period, wildlife biologist Kashmira Kakati has discovered seven species of wild cats living in the same forest: the Jeypore-Dehing lowland forests in the northeastern Indian state of Assam. Yet the cat-crazy ecosystem is currently threatened by deforestation, unsustainable extractive industries, including crude oil and coal, and big hydroelectric projects. Some of the cats are also imperiled by poachers. In light of this discovery, conservationists are calling on the Indian government to protect the vulnerable forest system.
Kakati captured on camera traps (see photos) the jungle cat Felis chaus), leopard cat (Prionailurus bengalensis), golden cat (Catopuma temminckii), the clouded leopard (Neofelis nebulosa), marbled cat (Pardofelis marmorata), the leopard (Panthera pardus), and the world's largest cat, the tiger (Panthera tigris).
Other ecosystems support large cat diversity: such as five documented species in Borneo and perhaps six species in parts of Amazonia. But this is first time anyone has ever documented seven.
| | |
| --- | --- |
| | India's biggest predator, the tiger, pictured here from a camera trap in the Jeypore-Dehing forest. Photo by: Kashmira Kakati. |
"The importance of Kakati's findings cannot be underestimated. To discover what is most likely the maximum number of wild cat species sharing a single area gives us a mere glimpse of what species the Jeypore-Dehing forests hold. That such a place still exists will attract naturalists and scientists alike to make even more discoveries, but only if the Jeypore-Dehing forests receive the protection they so clearly deserve," says Jim Sanderson one of the world's foremost experts on wild cats and a member of the IUCN's Cat Specialist Group.
Only two of the seven cats in the jungle are considered not endangered by the IUCN Red List: the jungle cat and the leopard cat. The golden cat and and the leopard are both considered Near Threatened, while the clouded leopard and marbled cat are classified as Vulnerable. Most famous of these, the tiger is classified as Endangered.
But it's not just the cats that makes the Jeypore-Dehing forests noteworthy. During the two years, Kataki took photos of a dozen additional predators and in total 45 mammals. These include the Endangered Asian wild dog, the dhole, and the Vulnerable Malayan sun bear, as well as six primate species, deer, porcupine, wild pig, civets, otters, mongoose, and a number of rodents.
"Forests such as Jeypore-Dehing are important for biodiversity, as watersheds, and for the livelihood of local communities. The entire forest here should be protected as a single conservation landscape, free of disturbance and connected by wildlife corridors between the disjunct sections," says Ravi Chellam of the Wildlife Conservation Society-India Program.
Sarala Khaling, regional coordinator of the Critical Ecosystem Partnership Fund (CEPF) in the Eastern Himalayas, add that "it is now time for the extractive industries operating in and around the area to give something back by partnering with conservation organizations and local communities to preserve the area's incredible biodiversity."
Kakati's camera trap survey was funded in part by CEPF, which is a global initiative to provide funding to the world's biodiversity hotspots. Other fundraisers included the Wildlife Conservation Society–India Program and the Rufford Small Grants Foundation, U.K. The Forest Department for the Government of Assam provided additional support.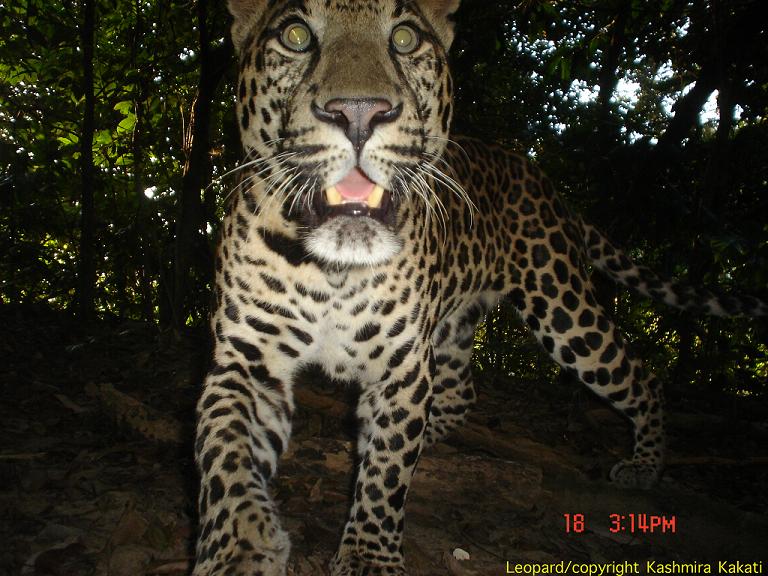 A leopard caught on a camera trap. Photo by: Kashmira Kakati.

Classified as Vulnerable, the clouded leopard in the Jeypore-Dehing forest. Photo by: Kashmira Kakati.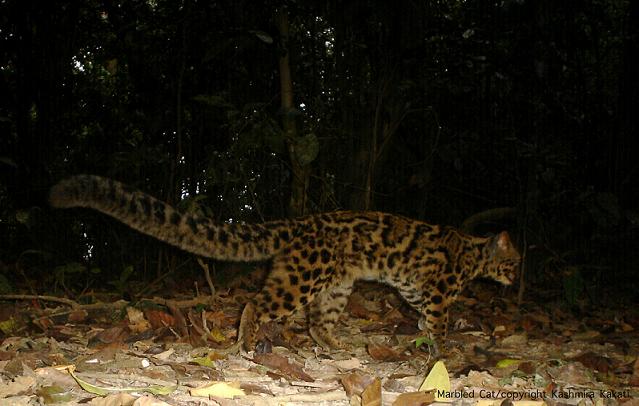 The marbled cat is considered Vulnerable. Photo by: Kashmira Kakati.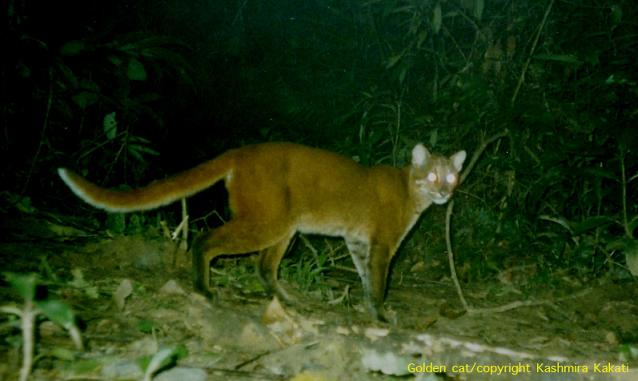 The golden cat is considered Near Threatened. Photo by: Kashmira Kakati.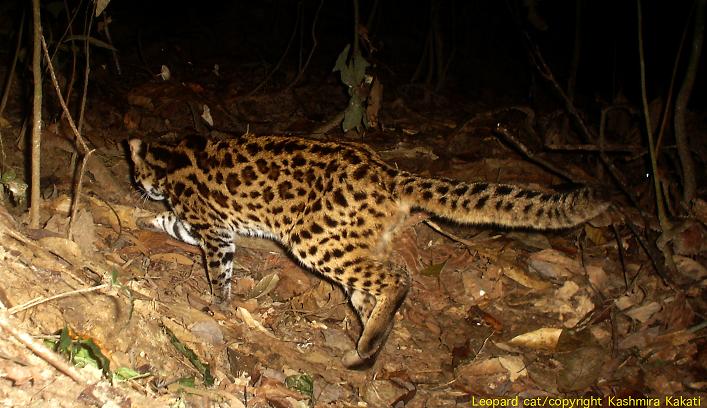 The leopard cat is not endangered. Photo by: Kashmira Kakati.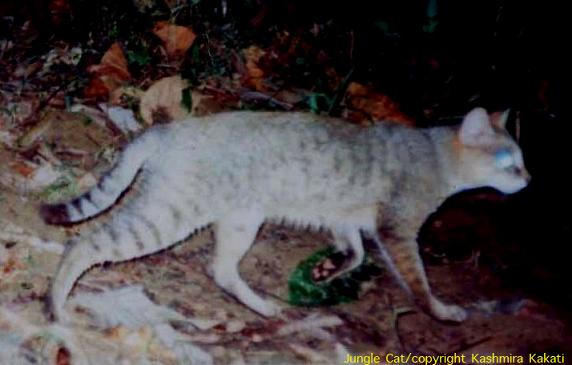 The jungle cat is not endangered. Photo by: Kashmira Kakati.
Related articles
The Critically Endangered South China Tiger Roars Again in 2010, the Chinese Year of the Tiger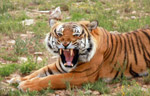 (02/14/2010) Today marks the Chinese New Year for 2010, and the start of the traditional Year of the Tiger. The people of China might be celebrating future Years of the Tigers without their native and critically endangered South China Tiger (Panthera tigris amoyensis) if not for the efforts of Save China's Tigers (SCT) a grassroots conservation effort headed by the charismatic Li Quan and her husband Stuart Bray. Both Ms Quan and Mr. Bray are former senior executives in international business circles. After leaving the corporate world, Ms Quan and Mr. Bray are now stepping up as champions for China's natural environment, much of which has been lost in the Chinese march towards "The Four Modernizations."
Video: Sunda clouded leopard caught on film for the first time
(02/10/2010) Carnivore researchers have captured the first footage of the Sunda clouded leopard (Neofelis diardi) in Malaysia. The island's largest predator was only proclaimed a unique species in 2006 when genetic evidence and analysis of its markings proved it was distinct enough from its mainland relative—the clouded leopard (Neofelis nebulosa)—to be considered a new species. The recent classification has prompted renewed interest in this elusive and threatened cat.
India to track every tiger death on-line
(02/07/2010) Due to increased problems with poaching, the conservation organization TRAFFIC has joined with the National Tiger Conservation Authority (NTCA) to begin tracking every tiger mortality in India with a new website called Tigernet.
Why top predators matter: an in-depth look at new research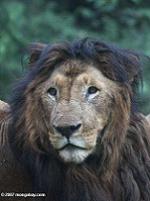 (02/02/2010) Few species have faced such vitriolic hatred from humans as the world's top predators. Considered by many as pests—often as dangerous—they have been gunned down, poisoned, speared, 'finned', and decimated across their habitats. Even where large areas of habitat are protected, the one thing that is often missing are top predators. However, new research over the past few decades is showing just how vital these predators are to ecosystems. Biologists have long known that predators control populations of prey animals, but new studies show that they may do much more. From controlling smaller predators to protecting river banks from erosion to providing nutrient hotspots, it appears that top predators are indispensible to a working ecosystem. Top predators sit at the apex of an ecosystem's food chain. Wolves in Alaska, tigers in Siberia, lions in Kenya, white sharks in the Pacific are all examples of top predators.
Indonesia plans to sell endangered tigers as pets to the wealthy
(01/21/2010) Indonesia has a new plan to save the Critically Endangered Sumatran tiger, reports the AFP: sell captive-born tigers as pets. The proposed price is 100,000 US dollars for a pair of Sumatran tigers with the money going to conservation efforts, though it was unclear who would manage these funds.
World's first video of the elusive and endangered bay cat

(11/05/2009) Rare, elusive, and endangered by habitat loss, the bay cat is one of the world's least studied wild cats. Several specimens of the cat were collected in the 19th and 20th Century, but a living cat wasn't even photographed until 1998. Now, researchers in Sabah, Malaysian Borneo, have managed to capture the first film of the bay cat (Catopuma badia). Lasting seven seconds, the video shows the distinctly reddish-brown cat in its habitat.
Photos: Palm oil threatens Borneo's rarest cats

(11/04/2009) Oil palm expansion is threatening Borneo's rarest wild cats, reports a new study based on three years of fieldwork and more than 17,000 camera trap nights. Studying cats in five locations—each with different environments—in Sabah, Malaysian Borneo, researchers found that four of five cat species are threatened by habitat loss due to palm oil plantations. "No other place has a higher percentage of threatened wild cats!" Jim Sanderson, an expert on the world's small cats, told Mongabay.com. Pointing out that 80 percent of Borneo's cats face extinction, Sanderson said that "not one of these wild cats poses a direct threat to humans."
Tiger rescued from poachers in Malaysia perishes from injuries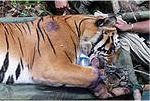 (10/29/2009) Rescued in early October from a poacher's snare, a Malayan tiger has died from stress and infection due to its injuries. The 120 kilogram (264 pound) male tiger died on October 19th in the Malacca Zoo after undergoing surgery to amputate its right foreleg, which two weeks before had been caught in a poacher's snare and severely injured. "It broke my heart as I was there during the rescue. Everyone had such high hopes of the tiger being released back into the wild after its treatment at the zoo, and no one spoke of the in-betweens," says Reuben Clements.
Tiger success story turns bleak: poachers decimating great cats in Siberia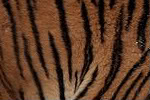 (10/18/2009) There were two bright spots in tiger conservation, India and Russia, but both have dimmed. Last year India announced that a new survey found only 1,411 tigers, instead of the previous estimation of 3,508, and now Russian tigers may be suffering a similar decline. The Siberian Tiger Monitoring Program—a collaboration between the Wildlife Conservation Society (WCS) and several Russia government organizations—has found evidence that after a decade of stability the Siberian tiger's population may be falling. This year's annual survey, which covers only a portion of tiger habitat in Russia, found only 56 adult tigers: a forty percent decrease from the average of 95 tigers. While the cause of this year's decline may be weather-related, researchers fear something far more insidious is going on.
Tiger brutally killed in zoo, body parts taken to sell for Chinese medicine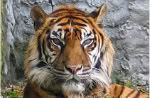 (08/25/2009) Poachers broke into the Jambi Zoo on Saturday morning in Indonesia. Using meat they drugged a female Sumatran tiger named Sheila and then skinned her in the cage. They left behind very little of the great cat: just her intestines and a few ribs. Authorities suspect that the tiger's body parts will be sold in the thriving black market for Chinese medicines where bones are used as pain killers and aphrodisiacs.
Lion population in Kenya could disappear in 10 to 20 years
(08/20/2009) The Kenyan Wildlife Service recently announced that massive declines in lion population may lead to their disappearence from the region within less than 2 decades. Kenya currently has an estimated 2000 lions, but is losing the large cats at a rate of around 100 each year.
Indian tiger reserve no longer has tigers
(07/15/2009) Panna National Park, one of India's tiger reserves, no longer supports tigers, reports BBC News.
India hopes to reintroduce cheetah 60 years after extinction
(07/09/2009) India hopes to reintroduce the world's fastest land animal some 60 years after it went extinct in the country, reports The Independent. India's Environment Minister Jairam Ramesh said the government has commissioned a study to determine whether it is possible to reintroduce the cheetah into India by importing pairs from Namibia.