While it's difficult to know what's truly going on inside the Bella Center at the UN Climate Change Conference in Copenhagen, a pattern seems to be emerging of the United States being unwilling to compromise on, well, anything.
Last week instead of moving talks forward, the United States appeared to spend much of its time in a back-and-forth spat with China. Now, as talks enter a critical phase and the media—as well as some officials—become increasingly pessimistic about the chances of an agreement, reports seem to indicate a belligerent United States at the heart of it.
The United States has made it clear that it will not budge from its emissions target of 17 percent cut from 2005 levels by 2020. This equals about a 4 percent cut from its 1990 level. By contrast the EU has currently pledged a 20 percent cut from 1990 levels by 2020 and says it will move that to 30 percent if other countries deepen their cuts. Scientists and environmentalists say cuts must reach 25-40 percent by 2020.
| | |
| --- | --- |
| | Renewable energy makes up less than one percent of energy consumption in the United States according to the Energy Information Administration's Emissions of Greenhouse Gases in the United States 2004. |
Nations from all parts of the world—not just China—have called on the US to pledge larger cuts, but the calls have fallen on deaf ears. Even British Prime Minister, Gordon Brown, a staunch supporter of the US, has said today that he would like to see the US make bigger cuts.
The US says it won't go any further on cuts because the Senate is still debating the issue, and its current target remains in line with what passed the House and what is under consideration by the Senate. Canada, which has become a climate change pariah, has said it will follow the US in everything, further entangling talks among industrialized countries and further frustrating the developing world.
"USA is the world's largest emitter historically and per capita. A reduction of four percent (compared to 1990) will not help save the world," Lumumba Stanislaus Di-Aping, chair of the G-77, said in a press conference last week. "We ask USA to join the Kyoto Protocol and take on commitments comparable to Annex 1 countries (industrialized countries)."
But it's not just emission targets for the developed world that the US is holding up. In recent days the US has been accused by Climate Action Network (CAN) of slowing progress on REDD (Reducing Emissions from Deforestation and forest Degradation), a program that would pay countries to preserve carbon-sequestering forests, which many believe is the most cost-effective way to combat climate change. The US has also blocked 'bunker finance', according again to CAN, which would raise money for developing nations vulnerable to climate change through a global tax on international air travel and shipping. 'Bunker finance' would be one way to ensure long-term financing for vulnerable and poor countries dealing with the impacts of climate change. CAN says the US stood alone in opposing this measure.
Providing funds to the developing world to adopt green technologies as well as to mitigate the impact of global warming on the world's most vulnerable citizens has proven a major stumbling block at the conference. So far, the US has refused to set any commitment on long-term financing, i.e. after 2012, for the developing world. By some estimates hundreds of billions of dollars will be required annually to aid vulnerable nations in the midst of climate change.
| | |
| --- | --- |
| | CO2 emissions for China and the United States, 1850-2003. |
"The American Congress approves billions of dollars in defense budgets. Can you not approve 200 billion to save the world?" Di-Aping said last week.
The US also remains in a stand-off with China over whether or not China should commit to emissions cuts and be subject to independent international verification for reporting its cuts. Under the Kyoto Treaty only developed countries are legally bound to make emissions cuts, however the Kyoto Treaty was signed in 1997 and since then China's economy and emissions have grown enormously. China has overtaken the US now as the world's largest emitter of greenhouse gases. Although, China does not have the historical responsibility that the EU and the US have, it does have a future responsibility to climate change that must be addressed. On this issue, at least, China appears as much to blame as the US for a stubborn unwillingness to compromise.
In a sign of just how inflexible the US is in negotiations the AP reports that the US slowed talks overnight by insisting that the word 'shall' be replaced with 'should' in a proposed text. According to the AP the US did not want to commit prematurely—i.e. before Congress acts—on reducing its emissions. However, President Obama has already publicly pledged emissions cuts. In addition, if congress fails to act, the EPA now has the power to limit greenhouse gas emissions.
The Obama Administration argues that it has moved much farther than any past US administration. This, of course, is very true, however during the last twenty years—when the US mostly ignored climate change—the world has also moved ahead and most countries are ready for the ambitious actions that science says is necessary to avoid catastrophic climate change.
The international community still places great hopes in President Obama, but Obama is caught between nations around the world that see climate change as one of their defining issues—exacerbating drought, desertification, floods, storms, biodiversity loss, and rising sea levels—and a public at home for whom climate change remains largely off the radar. Obama may have to decide by Friday if he wants to lead the world in combating climate change or sit on the sidelines playing spoiler like his predecessors.
"This is a challenge that President Barack Obama needs to rise to as a Nobel Prize winner and as an advocate of a multilateral global society," Di-Aping said last week.
Whether or not the US is truly the spoiler of Copenhagen, it certainly has more power than any other nation to turn things around in these waning hours. Simply by giving a little more on emissions and funding (and showing a little humility), the US could save the conference single-handedly.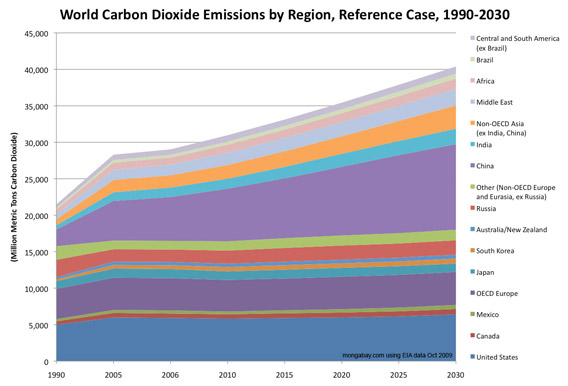 Past and projected CO2 emissions for countries, 1990-2030. The Department of Energy's (DOE) Energy Information Administration's (EIA) forecasts for emissions from energy use until 2030.
Related articles
Obama on global warming and forest protection
(12/10/2009) President of the United States, Barack Obama, was in Oslo, Norway this morning accepting the Nobel Peace Prize, which he won in part for promising to bring the United States to the negotiating table on climate change—something he has recently done.
Europe says US and China emission targets don't go far enough
(12/07/2009) At a press conference during the first day of the UN Copenhagen Climate Change Conference, the European Union has stated it will not raise its emissions cuts from 20 percent to 30 percent by 2020 (over 1990 levels) unless the US and China go further in their cuts.
Obama administration about to declare carbon dioxide a danger to the public, allowing regulation
(12/06/2009) The day before talks start in Copenhagen on a new international treaty to combat climate change, the Wall Street Journal reports that the Environmental Protection Agency (EPA) in the United States is set to declare carbon dioxide a 'public danger' as soon as Monday.
Has Canada become the new climate villain (yes, that's right, Canada)?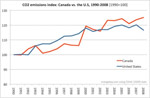 (12/02/2009) In 2007 American delegates to a climate summit in Bali were booed outright for obstructing a global agreement on climate change. Then in a David versus Goliath moment they were famously scolded by a negotiator from Papua New Guinea, Kevin Conrad. "If for some reason you are not willing to lead, leave it to the rest of us. Please get out of the way," Conrad told the American delegates. However, much has changed in two years: the United States, under a new administration, is no longer the climate change pariah. The US has recently announced emissions cuts, negotiated successfully with China on the issue, and will be attending—Obama included—the Climate Change Summit in Copenhagen next week. Obama and his team probably don't need to worry about being booed or remonstrated this time around, but that role may instead go to Canada.
The US will set emissions target, but is this a turning point for success at Copenhagen?
(11/24/2009) Today may mark a turning point for a successful negotiation at the Climate Change Summit in Copenhagen or it may just be another blip in the up-and-down news cycles that have preceded the summit for months.