Is Canada really worse than the United States, China, India, and Indonesia on climate change?
In 2007 American delegates to a climate summit in Bali were booed outright for obstructing a global agreement on climate change. Then in a David versus Goliath moment they were famously scolded by a negotiator from Papua New Guinea, Kevin Conrad.
"If for some reason you are not willing to lead, leave it to the rest of us. Please get out of the way," Conrad told the American delegates.
However, much has changed in two years: the United States, under a new administration, is no longer the climate change pariah. The US has recently announced emissions cuts, negotiated successfully with China on the issue, and will be attending—Obama included—the Climate Change Summit in Copenhagen next week. Obama and his team probably don't need to worry about being booed or remonstrated this time around, but that role may instead go to Canada.
| | |
| --- | --- |
| | Comparison of the aggregate emissions of the United States and Canada. |
In a scathing, no-holds-barred opinion piece in the Guardian yesterday, author of Heat: how to stop the planet burning George Monbiot defined the argument that Canada—not the United States, China, India or Indonesia—is "the real villain" on climate change now.
Calling Canada a "corrupt petrol state", Monbiot writes that "Canada is slipping down the development ladder, retreating from a complex, diverse economy towards dependence on a single primary resource, which happens to be the dirtiest commodity known to man."
This "dirtiest commodity" is the number one reason why Canada is now considered by some as the world's largest climate villain: its development of tar sands for oil (video below). In an area about the size of England, Canada is literally mining oil from the ground. Such oil reserves have been avoided in the past because the process of extracting the oil from the tar sands is incredibly difficult and environmentally destructive. Oil cannot be pumped from the ground, but must be mined since the oil, mixed with sand, clay, and water, resides in the form of bitumen (a heavy thick oil). The process is resource intensive to say the least: to make a single barrel of oil two tons of tar sands and three barrels of water are required.
"Already it looks like a scene from the end of the world: the strip-miners are creating a churned black hell on an unimaginable scale," writes Monbiot who recently visited Canada. In his op-ed Monbiot describes the death of birds, the contamination of water, and the devastating health impacts on indigenous tribes living near the tar sands. Others have written about the social impacts the trade has had on once sleepy Canadian towns, including high rates of suicide, injuries and deaths on the job, drug abuse, homelessness, violence, spousal abuse, and auto accidents.
Aside from the destruction of ecosystems, injured health, and high social ills, the process to extract oil from tar sands requires double to triple as much energy as refining crude oil. According to Monbiot, this makes the tar sands in Alberta the largest industrial source of carbon emissions in the world. Currently it is estimated that the tar sands release 40 millions tons of greenhouse gas emission into the air every year. Because of this, Canada may soon beat out Australia and become the nation with highest per capita emissions in the world, reason enough to be named a climate villain.
To date Canada is the only nation that has large-scale oil extraction in tar sands, although other countries such as Venezuela and the US also possess tar sands. Oil companies Shell and BP are currently the biggest players in the tar sands oil business in Canada. Approximately 40 percent of Canada's total oil production is from the tar sands and Canada is responsible for 20 percent of the United State's oil imports, a sizeable portion of which comes from these tar sands.
| | |
| --- | --- |
| | Emissions rise by percentage since 1990 in Canada and the United States. |
This massive industrial mining of oil is also influencing Canada's policies on climate change. To date, Canada is the only nation to sign on to the Kyoto Treaty and then to abandon it. Under the Kyoto Treaty Canada was supposed to have lowered emissions 6 percent between 1990 and 2012, but instead emissions have risen 26 percent since 1990. That other climate change villain, the United States (which never ratified Kyoto), has seen emissions rise by 16 percent in the same period, 10 percent less than its neighbor to the north.
Since developing the tar sands, Canada has also been seen as increasingly hostile within climate change negotiations. After a meeting last week of the Commonwealth, that largely focused on climate change, a number of scientists and a former UK Minster demanded that Canada be expelled from the Commonwealth due to its position on climate change. During the meeting, even the head of the UN Ban Ki-Moon singled out Canada for its unwillingness to do more, such as set ambitious mid-term cuts.
Canadian Prime Minister Stephen Harper has stuck by his pledge that Canada will make only "minor adjustments" to its greenhouse gas emission targets. At this point Harper has stated publically that Canada will follow the United States on climate change and he has been true to his word: Harper only agreed to attend Copenhagen after Obama did.
Currently the United States has said it will reduce emissions by 17 percent from 2005 levels by 2020; Canada is looking at a similar proposal of 20 percent from 2006 levels, making the pledges nearly identical. But by 2050, Obama has pledged cuts of 80 percent, while Canada has said it will cut by 60-70 percent. In weighing Canada's villainy over the US's, it's partly a matter of perception: after decades of stalling, the world is just happy to see the United States announce any significant emissions cuts, while they expect more of Canada than simply following (or trailing behind as is the case) the United States.
| | |
| --- | --- |
| | Mining operations in the Athabasca oil sands in Alberta. Image shows the Athabasca River about 600 meters from the tailings pond. Athabasca Oil Sands NASA Earth Observatory image by Jesse Allen and Robert Simmon using EO-1 ALI data courtesy of the NASA EO-1 team. |
But it's not just the lackluster pledges that has made Canada a candidate for the world's biggest climate villain: to date the Harper administration has been accused of bullying at climate change meetings, of ignoring scientific input, of hiring climate change deniers with industry ties to environmental positions, and then, of course, there's the continuing and widening development of the tar sands, which was called "selling suicide" by an unnamed shareholder at Shell. Even, Stephen Harper, himself, has been long been accused of denying the science of climate change. Whether or not such allegations are true they point to the frustrations many have with Canadian policy.
"Despite the growing climate crisis, the Harper Government is doing everything in its power to sabotage global problem-solving efforts," argued Mike Hudema, Climate and Energy campaigner with Greenpeace, Canada in a press release by the organization. "By endangering and blocking progress on an international climate agreement and prioritizing the tar sands over the health of people on this planet Harper is further jeopardizing the lives of millions that will die or become displaced due to the climate crisis."
Last year at meetings in Poznan, Poland, Canada won the Colossal Fossil Award from environmental groups. The award was given due to the fact that Canada has won a total of ten Fossils Awards, which are given out to nations who do the least—and obstruct the most—at climate change meetings.
Environmental groups like Greenpeace Canada are starting to push harder against Harper's policies. Most recently Greenpeace Canada teamed up with the Rainforest Action Network to produce a video called "Tar Sands Blow" (below) meant to reach young activists about the environmental costs of Canada's oil mining in the tar sands.
"I just returned from a UK speaking tour about the dirty, dangerous environmental, climate and Indigenous and human rights impacts of the Tar Sands," Eriel-Tchekwie Deranger, an indigenous youth climate activist, said in a press release. "It's clear that people across the world and leaders in the International community are beginning to understand that Canada has actively been blocking international progress to develop collective emission target agreements. There's one main reason they are unwilling to join the rest of the world to meet these targets: the Tar Sands."
Many are arguing that Canada cannot become a climate leader (or even a dutiful climate follower) unless it gives up the extraction of oil from the tar sands or at least stops industry expansion. At this point, however, the Harper administration has no intention in bending or negotiating on the tar sands or its stance on climate change.
"Unless we can stop it, the harm done by Canada in December 2009 [at Copenhagen] will outweigh a century of good works," Monbiot concludes.
The next few weeks in Copenhagen will be especially telling as to whether or not Canada is truly the new climate villain described by Monbiot.
Warning to Canadian delegates and citizens: boos and remonstrations may be forthcoming.
Video produced in part with Greenpeace Canada and the Rainforest Action Network on Canada's tar sands. From Press Release: "Created by Agit-Pop and set to the music of DJ ChampionThe Tar Sands Blow is a powerful music video mashup, mixing images of the tar sands, animated sequences and a call to action."
Related articles
The US will set emissions target, but is this a turning point for success at Copenhagen?
(11/24/2009) Today may mark a turning point for a successful negotiation at the Climate Change Summit in Copenhagen or it may just be another blip in the up-and-down news cycles that have preceded the summit for months.
Record year for CO2 emissions, even with economic slowdown
(11/17/2009) 8.7 billion tons of carbon dioxide was emitted into the earth's atmosphere in 2008, a growth of 2 percent despite the economic crisis. This averages out to each person contributing a record high of 1.3 tons of carbon, according to a report in the journal Nature Science. While the global recession slowed the growth of fossil fuel emissions for the first time this decade, it did not lower emissions altogether.
Holding the Global North Responsible for Climate Change: What Would Lord Russell Do?
(11/16/2009) If Lord Bertrand Russell were still alive today, he would most likely be appalled by the Global North's glaring inaction on climate change. One of the twentieth century's most eminent philosophers, Russell was also an outspoken critic of war and irrationality. In 1966, just as the United States was ramping up the war in Vietnam, Russell helped to establish a novel legal tribunal which condemned war crimes committed in South East Asia.
New report: boreal forests contain more carbon than tropical forest per hectare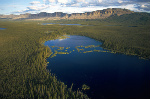 (11/12/2009) A new report states that boreal forests store nearly twice as much carbon as tropical forests per hectare: a fact which researchers say should make the conservation of boreal forests as important as tropical in climate change negotiations. The report from the Canadian Boreal Initiative and the Boreal Songbird Initiative, entitled "The Carbon the World Forgot", estimates that the boreal forest—which survives in massive swathes across Alaska, Canada, Northern Europe, and Russia—stores 22 percent of all carbon on the earth's land surface. According to the study the boreal contains 703 gigatons of carbon, while the world's tropical forests contain 375 gigatons.
Fossil fuel subsidies "bringing us closer to irreversible climate change"
(11/06/2009) The Green Economy Coalition is urging G20 finance ministers to rapidly put an end to fossil fuel subsidies. In a letter to the ministers the coalition argues that these subsidies are contributing directly to climate change and making it difficult for the world to transition to a greener economy.
500 global business leaders call for 50-85% cut in emissions by 2050
(09/22/2009) In a statement issued today, more than 500 business leaders have called for "an ambitious, robust and equitable global deal" on climate change.
US subsidies of oil and coal more than double the subsidies of renewable energy
(09/21/2009) During the fiscal years of 2002-2008 the United States handed out subsidies to fossil fuel industries to a tune of 72 billion dollars, while renewable energy subsidies, during the same period, reached 29 billion dollars.
Boreal forests in wealthy countries being rapidly destroyed
(08/12/2009) Boreal forests in some of the world's wealthiest countries are being rapidly destroyed by human activities — including mining, logging, and purposely-set fires — report researchers writing in Trends in Ecology and Evolution.
Canada and Britain abandon conventional coal
(04/29/2009) In an effort to curb climate change, both Britain and Canada have announced plans to stop building new conventional coal power plants, a move long-advocated by environmentalists. Both nations have turned their sights to the possibility of clean coal, a controversial and still unproven method that has divided environmentalists, scientists, and policy makers.
Industrialized countries slow to reduce emissions
(11/17/2008) Industrialized countries are making slow progress in reducing emissions as pledged under the Kyoto Protocol, finds a new U.N. assessment of global emissions.
New program pays Canadians for energy efficiency gains
(01/20/2008) As I write this article, CBS News is having a Sunday evening prime-time, hour long special on global warming. What is alarming is both the extent of how bad the situation is for the planet, the impact on wildlife (e.g . Polar Bear populations dwindling dangerously low due to reduced glaciers) and the alleged refusal of certain governments to acknowledge both that there is a fact based problem and that we are running out of time to reduce its effects on the air we breathe, our environments, our forests and its wildlife population.
To fight warming, Canada will ban incandescent light bulbs by 2012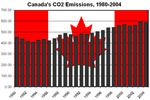 (04/25/2007) In an effort to fight greenhouse gas emissions, Canada plans to ban use of incandescent light bulbs by 2012, said Natural Resources Minister Gary Lunn. Canada follows Australia as the second country to announce a ban on the inefficient bulbs. California legislators have proposed a similar ban for 2012.