There are 200 Tonkin snub-nosed monkeys left in the world. The cao vit gibbon, however, is even worse off with only 110 individuals remaining, giving it the dubious honor of being the second most endangered primate in the world (the closely-related Hainan gibbon with only 17 individuals is likely number one).
Both of these species—the cao vit gibbon and Tonkin snub nosed monkey—have received good news recently as new reserves in China and Vietnam have been created in part to aid their survival.
In the Khau Ca forest in northern Vietnam a new 2000 hectare nature reserve protects a population of 90 Tonkin snub-nosed monkeys ( Rhinopithecus avunculus), as well as macaques, lorises, and rare plants in the sub-tropical forest.
| | |
| --- | --- |
| | Rare cao vit gibbons in the new Bangliang Cao Vit Gibbon Nature Reserve. Credit Zhao Chao, FFI. |
"This new reserve protects the most viable Tonkin snub-nosed monkey population and
so represents the species' best chance for survival," said Paul Insua-Cao, Flora and Fauna International's (FFI) Vietnam Primate Programme Manager. "FFI is proud to have helped to establish the protected area and congratulates the provincial government and local communities on their new nature reserve."
The new reserve in China, which borders Vietnam, more than quadruples the amount of protected habitat for the cao vit gibbon ( Nomascus nasutus). Adjacent to the Cao Vit Gibbon Conservation Area in Vietnam, the new 6,530 hectare reserve entitled the Bangliang Nature Reserve, now places the entire habitat of the cao vit gibbons under protection.
"This increase in the amount of protected cao vit gibbon habitat is a huge success for
FFI and for conservation in the region," said Luo Yang, FFI's China Programme
Manager. "FFI has been encouraging the local government to establish this new reserve
ever since the species was discovered in China in 2006. The cao vit gibbon currently
lives mainly on the Vietnamese side of the border but it now has the chance to safely
extend its population into China. The future for the species now looks much brighter."
Habitat loss from firewood collection, livestock, and agricultural expansion, has been the main driver behind the decline in both the cao vit gibbon and the Tonkin's snub-nosed monkey.
FFI has been working with local communities to improve their livelihoods and ensure the survival of the nearby primates. One program has been providing fuel efficient stoves to communities in order to stem forest destruction for firewood. Patrol groups have also been established to protect the primates from poachers.
Since 2002 FFI's Asia-Pacific program has been working with local authorities in both Vietnam and China to save the Tonkin snub-nosed monkey and the cao vit gibbon.
Habitat loss, poaching for bushmeat and traditional medicines, and a palm oil boom leading to massive deforestation across the region, have made Asia the worst place in the world for primates, according to Conservation International Director Russel Mittermeier.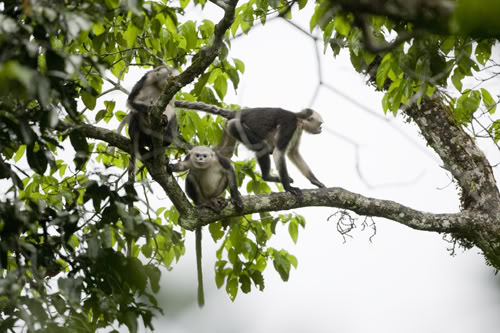 The strange-looking Tonkin snub-nosed monkey is one of the world's rarest primates. Credit – Xi Zhinong, Wild China, FFI.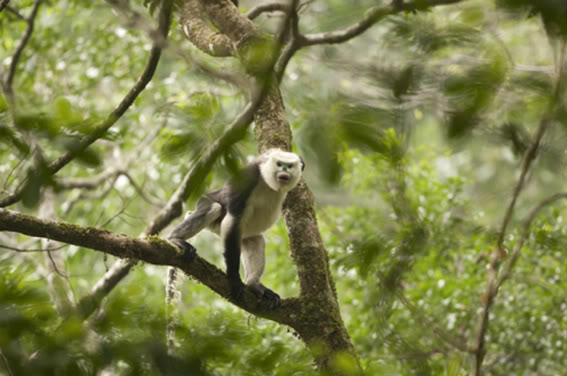 Tonkin snub-nosed monkeys now have their own nature reserve, which brings hope for their survival. Credit – Xi Zhinong, Wild China, FFI.
Related articles
TV footage leads to discovery of strange and rare monkey
(12/04/2008) After showing archival TV footage of a critically endangered species of primate to local villagers, conservationists have discovered a previously unknown population of the Tonkin snub-nosed monkey in a remote forested area of northern Vietnam. The find the offers new hope for the species, which is down to 200 individuals in two of Vietnam's northern-most provinces — Tuyen Quang and Ha Giang.
Photos of living gremlin discovered in Indonesia
(11/19/2008) Scientists have rediscovered a long-lost species of primate on a remote island in Indonesia. Conducting a survey of Mount Rore Katimbo in Lore Lindu National Park on the island of Sulawesi, a team led by Sharon Gursky-Doyen of Texas A&M University captured three pygmy tarsiers, a tiny species of primate that was last collected in 1921 and was assumed to be extinct until 2000 when two scientists studying rats accidently trapped and killed an individual. Gursky-Doyen's team spent two months using 276 mist nets to capture the gremlin-like creatures so they could be fitted with radio collars and tracked. One other individual was spotted but eluded capture.
Rare monkeys double in number in China but remain under threat
(09/08/2008) China's population of the gray snub-nosed monkey, a critically-endangered species endemic to Guizhou Province in southwestern China, has more than doubled in the wild since conservation measures were implemented in 1979, reports Chinese state media.
Two large populations of endangered monkeys discovered in Cambodian
(08/28/2008) Conservationists have discovered "surprisingly large populations" of two globally threatened primates in a protected area in Cambodia. Surveys by scientists with the Bronx Zoo-based Wildlife Conservation Society (WCS) and the Cambodian government counted 42,000 black-shanked douc langurs and 2,500 yellow-cheeked crested gibbons in Cambodia's Seima Biodiversity Conservation Area.
48% of primates threatened with extinction
(08/05/2008) 48 percent of the world's primate species are at risk of extinction, according to the first comprehensive review of the world's primates since 2003. The results were released as an update to the IUCN Red List at the 22nd International Primatological Society Congress in Edinburgh, Scotland.