This March, the Canadian province of Quebec pledged to conserve 50 percent of its boreal forest lying north of the 49th parallel, protecting the region from industrial, mining, and energy development. On Thursday 500 scientists and conservation professionals—65 percent of whom have PhDs—sent a letter to Quebec's Premier Jean Charest calling on him to make good on his promise.
"In protecting northern Quebec's natural environment and ensuring responsible development in the rest of the area, your government will set in motion one of the most ambitious sustainable development and nature conservation projects in North America, and one that could serve as a model for the rest of the world," the letter reads.
| | |
| --- | --- |
| | Map of Quebec's Boreal north of the 49th parallel. |
According to the letter, northern Quebec houses 340 million birds, more than a million caribou, and among the greatest populations of freshwater fish in North America. However, not all species are thriving: woodland caribou, the wolverine, and the golden eagle are all threatened with extinction.
"Northern Quebec is home to high-value conservation lands, most notably the vast intact forests and habitats for the woodland caribou and for more than half of the world's breeding pairs of the American Black Duck," said Dr. Marcel Darveau, head of boreal research and conservation for Ducks Unlimited in Quebec and adjunct professor at Laval University. "Along with housing a diversity of animals and flora beyond our immediate measure, this land offers indispensible ecological benefits to our society, most notably water filtration and carbon storage. We call for the protection of Northern Quebec's natural capital because, in our world of changing climate, its survival is vital to our own."
According to the letter, the carbon storage and water filtration services from Quebec's forests alone are worth 13.8 times the value of the extractive industries inside.
"Our scientific data confirm that Boreal ecosystems already efficiently store more carbon in their trees, soils and peat than any other environment in the world," said Nigel Roulet, Director of the McGill School of Environment in Montreal. "Development and conservation planning will determine whether this carbon gets released into the atmosphere. When we consider the Plan Nord, it is imperative that decisions made at the political level be based on sound scientific data."
| | |
| --- | --- |
| | The moose, a resident of Quebec's boreal forests. Photo by: Ashley Hockenberry. |
In addition to conserving half of the land, Premier Charest pledged that any industrial activity occurring in the land open to development would be conducted under sustainable standards. The scientists added in their letter that the Premier should base any such plans on the best science available.
A recent report in Trends in Ecology and Environment showed that the world's boreal forests (occurring mostly in wealthy countries) are greatly threatened by mining, logging, and manmade fire. They found that overall less than 10 percent of the boreal is protected and 60 percent is degraded and fragmented, while 27 percent of the species in this massive ecosystem are threatened with extinction.
"The government of Quebec has shown us a vision for protecting this world-class resource," said Mat Jacobson of the Pew Environment Group. "We believe that Premier Charest's vision, if properly carried out, will provide a global model for sustainable development. As a next step, we recommend establishing a planning process that engages Aboriginal people and stakeholders, using science, traditional knowledge and local perspectives to conserve ecological and cultural integrity while fostering healthy regional economies."
Related articles
Sears catalogue continues to harm boreal forest and caribou
(08/17/2009) Sears Holding Company, most known for their ubiquitous catalogues, continues to stall on releasing a more environmental paper policy, according to the nonprofit environmental organization ForestEthics. Sears' long delay to implement a more forest-friendly policy is adding pressure to already threatened caribou populations and deforesting forests in Canada, where the company sources much of its paper.
Boreal forests in wealthy countries being rapidly destroyed
(08/12/2009) Boreal forests in some of the world's wealthiest countries are being rapidly destroyed by human activities — including mining, logging, and purposely-set fires — report researchers writing in Trends in Ecology and Evolution.
Caribou and reindeer population plunges 60 percent in three decades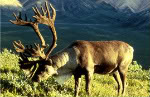 (06/14/2009) The first ever comprehensive survey of caribou worldwide (known as reindeer in Europe) has found that the species has suffered a staggering decline. Researchers from the University of Alberta discovered that the caribou population has fallen 60 percent in half as many years. The study published in Global Change Biology points to global warming and industrial development as the reasons behind the decline.