Cameroon has created a new national park to protect a population of 600 gorillas, along with other threatened species such as chimpanzees, forest elephants, buffaloes, and bongo.


Deng Deng National Park covers 224 square miles (580 square kilometers), an area the size of Chicago.
The Wildlife Conservation Society (WCS), a group that played an instrumental role in identifying the area for protection, welcomed Cameroon's decision.
| | |
| --- | --- |
| | The western lowland gorilla is the most populous of the four gorilla subspecies. Last year, WCS scientists discovered more than 125,000 western lowland gorillas in the northern Republic of Congo. Other subspecies include: eastern lowland gorillas, restricted to eastern Democratic Republic of Congo; mountain gorillas, made famous by Dian Fossey and George Schaller; and Cross River gorillas, which number fewer than 300 individuals along the border region of Cameroon and Nigeria. Julie Larsen Maher © Wildlife Conservation Society |
"Deng Deng National Park is a major step toward conserving all of Cameroon's gorilla populations and wildlife," said Dr. Steven E. Sanderson, President and CEO of the Wildlife Conservation Society. "We applaud the government of Cameroon for continuing to be a leader in conservation and for taking this important step to protect this species."
The demarcation of Deng Deng National Park comes just three months after Cameroon announced the establishment of Takamanda National Park, which now forms part of an trans-boundary protected area with Nigeria's Cross River National Park and protects the world's rarest gorilla, the Cross River gorilla.
Cameroon has one of the highest deforestation rates in Africa, losing some 220,000 hectares of forest per year, mostly to logging and agriculture.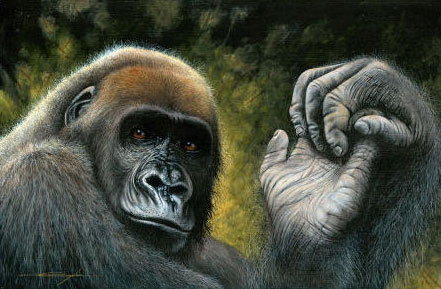 Help support Gross River Gorilla Conservation by buying a limited edition print by Artist Daniel Taylor: Wildlife Art Africa