EU says emissions trading system may fund forest conservation
mongabay.com
October 17, 2008
Europe's carbon trading scheme may be used to generate funds to fight deforestation, reports Reuters.
Speaking at a news conference on Friday, EU Environment Commissioner Stavros Dimas said he hoped the EU's emissions trading scheme could reduce gross tropical deforestation by half by 2020 and eliminate net forest loss by 2030.
"We are not going to have effective tackling of global warming if we do not take care of this type of activity," he was quoted as saying by Reuters. "Without stopping deforestation, the biodiversity loss will continue… in 10 square kilometers' of tropical rainforest, there are more species than in the entire EU."
| | |
| --- | --- |
| | More than 13 million hectares of forests are cleared each year. Rainforests, like that pictured above, store massive amounts of carbon that is released when they are cut or burned. |
Deforestation and change in land use accounts for about a fifth of total anthropogenic greenhouse gas emissions, or more than the emissions from all the world's cars, trucks, airplanes, and ships combined. As such, emissions from deforestation and land use change have become a central issue in international climate negotiations. A coalition of rainforest nations, a well as a broad spectrum of environmental groups and development agencies, is now pushing for inclusion of forest carbon in mitigating climate change. The World Bank is even providing funding for start-up projects in 14 tropical counties.
Europe has excluded emissions from forestry in its emissions trading scheme (ETS), fearing that such credits would flood the market and undermine carbon prices, thereby reducing the incentive to cut industrial emissions but the comments by Dimas suggest that the EU is reconsidering its position, at least in terms of "testing" the inclusion of deforestation in carbon markets. He told the press that the European Commission wants to establish a Global Forest Carbon Mechanism (GFCM) that would compensate tropical countries for reducing their emissions from deforestation. Under the proposed plan, while forest carbon credits wouldn't become part of the trading system until 2020, a portion of the proceeds from the auctioning of carbon emissions permits would go towards compensation for forest conservation. The EU proposal estimates that a 5 percent share of auction revenue could generate €2.5 billion per year in 2020.
| | |
| --- | --- |
| | Global carbon markets in 2007. |
Presently "avoided deforestation" carbon credits are limited to voluntary markets where they fetch 10-15 percent of the ETS trading price. Nevertheless dozens of avoided deforestation projects have been established around the world in recent months in anticipation of a compliance market that recognizes forest carbon offsets.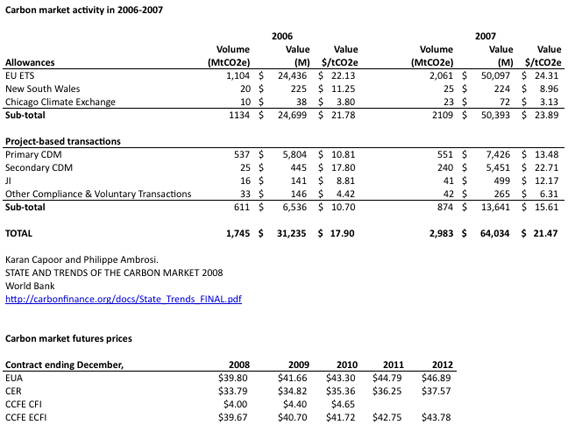 ---
Excerpts from the EU statement on avoided deforestation
ADDRESSING THE CHALLENGES OF DEFORESTATION
The EU needs to take a leading role to shape the global policy response to deforestation. The Community and Member States must work together to pool resources and ensure that actions are complementary. The battle against deforestation must be fought on several fronts:
Firstly, strengthening forest governance and institutions at local and national level is a precondition for any effective policy response.

Secondly, it should be explicitly recognized that one of the main drivers for deforestation is economic. Forests are destroyed because it is more profitable in the short run to use land for other purposes than to keep them standing. An effective policy has to reward the value of the services provided by forests.

Thirdly, a comprehensive policy on deforestation cannot disregard the demand side and the responsibility of consumers. Certain internal and external EU policies can be used to help achieve the overall objective.

Fourthly, because deforestation is a global issue requiring a global solution, the aim being to stabilize CO2 emissions at an acceptable level and to halt biodiversity loss, the international climate negotiations provide a unique opportunity to get to grips with deforestation. The UN Convention on Biological Diversity should feed biodiversity considerations into the negotiations.

Fifthly, if policy is to be designed and implemented properly, it must be based on high quality information. Existing forest monitoring and assessment programs are neither complete nor integrated. A more comprehensive science-based approach is required to guide policy decisions and monitor implementation.
THE CONTRIBUTION OF EU POLICIES
Strengthening existing policies
Forestry-relevant policies are not confined to the forest sector. Many internal and external EU policies have indirect impacts on deforestation sometimes encouraging over exploitation or shifts in land use that directly contribute to deforestation. Different sectors and policies – such as trade, energy, agriculture, food security and development cooperation–can play a significant role in helping to conserve world's forests.
EU policies to promote sustainably produced timber and timber products
The EU is a major consumer of timber and timber products from around the world. In 2005, 83 million m3 of timber and timber products were imported into the EU market. Imports of illegally harvested timber and timber products are estimated at 16 million m3, accounting for more than 19% of imports from all countries.
The EU can help promote sustainable forest management in various ways:
Through the Forest Law Enforcement Governance and Trade Action Plan, which has as its centre-piece the development of Voluntary Partnership Agreement (VPA) with timber producing countries. This will ensure that exports from these countries are covered by a license attesting that the timber has been harvested legally. The VPAs also establish a framework for addressing governance and law enforcement challenges, which are often at the root of problems of deforestation and forest degradation. As such there is a strong synergy between FLEGT and efforts to tackle deforestation.

Another measure (under the FLEGT Action Plan) is a Regulation that lays down the obligation of EU operators to minimize the risk of illegally harvested timber and timber products entering their supply chain. The Commission has proposed a Regulation to achieve this objective.

Reducing emissions from deforestation is also one of the priority areas of the Global Climate Change Alliance (GCCA), which the EU launched and which focuses on poor developing countries. It provides a platform for policy dialogue and exchange of good practices on how to tackle the combined challenge of the fight against poverty and climate change. It works in support of the international negotiations on a post-2012 Climate Change Agreement.

By continuing to provide input to existing international fora, such as the International Tropical Timber Organization, the Convention on International Trade in Endangered Species of Wild Fauna and Flora (CITES) and the UN Forum on Forests (UNFF), and giving further consideration to the 2015 review of the UNFF Non- Legally Binding Instrument on Forests.

Through green public procurement (GPP) policies, under which public authorities in the EU can generate demand for sustainably and legally harvested timber.

By promoting instruments like eco-labeling and by encouraging forest certification schemes as well as private sector procurement favoring sustainable timber; and

By developing sustainability criteria for wood and other biomass used for the generation of renewable energy.

European initiatives such as the Global Monitoring for Environment and Security (GMES) and the Tropical Ecosystem Environment observation by Satellite (TREES) project can play an important role in monitoring land-use changes and deforestation trends.
EU policies related to non-timber products
There are linkages between demand for agricultural commodities and pressures on land use. There is also a tension between the need to increase food production and the need to halt deforestation. Agricultural production should be increased without further deforestation. This requires substantial investment to increase yields on existing farmland. Stepping up agricultural research to enhance agricultural productivity growth in developing countries in a sustainable manner should be pursued.
The development of biofuels should be sustainable, so vigilance is needed to ensure that further development of domestic production and imports does not jeopardize efforts to protect forests or broader biodiversity priorities. Appropriate criteria to achieve this are being developed at EU level.
The Convention on Biological Diversity is preparing guidance on the biodiversity-related aspects of sustainability of biofuels following the latest Conference of the Parties in Bonn (COP 9), and this should help in achieving international consensus. The Commission will play an active role in the follow-up process to make this a success.
More generally on policy coherence, the Commission is committed to:
<IL>

assessing the impact of future EU and international policy initiatives on deforestation, including those not directly linked to forests and timber/timber products;

continuing to include in future reviews and impact assessments of trade and agricultural policy agreements a specific analysis of their likely impacts on deforestation;

conducting environmental impact assessment associated with country strategy papers developed to guide development assistance policy;

studying the impact of EU consumption of imported food and non-food commodities (e.g. meat, soy beans, palm oil, metal ores) that are likely to contribute to deforestation. This could lead to considering policy options to reduce this impact;

improving agricultural productivity, especially by stepping up research to improve the productivity and sustainability of agriculture in developing countries; the Commission has decided to double its support for international agricultural research from 2008 to an average of € 63 million for each of the next three years;

continuing the review process that started with the adoption of the first report on Policy Coherence for Development, which is important in helping the EU to support developing countries in their efforts to attain the Millennium Development Goals.

Scale, sources of funding and mechanisms to meet the deforestation challenge

In order to successfully tackle deforestation, significant additional funding will be needed to provide the necessary assistance for capacity-building to developing countries and to provide incentives to counteract the drivers of deforestation.

The cost analysis of forest protection contained in the impact assessment accompanying this Communication concludes that an estimated amount of between € 15 and 25 billion per annum would be needed to halve deforestation by 202015.

Further work is needed to quantify the financing needs, but it is clear that developed countries need to allocate considerable resources to help to tackle deforestation in developing countries under the future international climate regime. This funding will complement financial and other efforts by developing countries and will need to come from both public and private sources. Funding mechanisms will only be effective if:
developing countries are first provided with the financial and technical assistance necessary to build capacities and strengthen institutions;

work is carried out to resolve remaining technical issues (e.g. monitoring and verification);

performance can be assessed and rewarded against agreed baselines; and

build on existing and proven aid delivery practices and respect the principles of sound financial management.
At the EU level, an appropriate level of funding from 2013 to 2020 would be required for the fight against deforestation, mainly in the form of support to developing countries for slowing down, stabilizing and reversing deforestation and forest degradation.
The total amount of funding will depend on the level of mitigation actions undertaken by developing countries.
Recognition of forestry credits in the EU emissions trading system (ETS) would not be realistic at the present time. Emissions from deforestation are roughly three times higher than the amount of emissions regulated under the EU ETS. As the EU ETS is currently the only major operational trading system in the world, allowing companies to buy avoided deforestation credits would result in serious imbalances between supply and demand in the scheme. There are also unresolved monitoring, reporting, verification and liability questions. Forestry credits are temporary and will then have to be replaced after a certain period. This means that, if a company goes out of business, somebody would have to take on this liability to guarantee environmental integrity.
For these reasons, the EU should consider recognition of forestry credits for EU ETS compliance only as a complementary tool and in the longer term – i.e. post-2020 – provided that certain conditions are fulfilled (especially supply/demand balance and liability). Furthermore, once other emission trading systems are established and interconnected, generating increased demand for emission reductions, it may become feasible to use forestry credits to finance forest protection.
However, a major portion of EU funding could come from proceeds from the auctioning of allowances within the EU ETS. Indeed, under the proposed amendment of the ETS Directive of January 2008, at least 20% of auction proceeds should be used to support climate objectives, including fighting deforestation. Recently, the European Parliament and the Council endorsed the use of proceeds from the auctioning of allowances in the aviation sector for reducing emissions, including by avoiding deforestation.
It is estimated that auctioning allowances could generate annual revenue of €30–50 billion for EU Member States by 2020. If 5% of the auctioning revenue was earmarked to contribute to global efforts to combat deforestation , €1.5–2.5 billion could be raised in 2020
A response to deforestation needs support beyond incentive schemes. Funding is required to improve governance and to resolve technical issues (such as monitoring using satellite and other technologies). European Community and EU Member States development assistance can play a role in addressing these problems. This assistance can be channelled through existing arrangements at national level as well as through international and multilateral arrangements established for this purpose.
These sources of public funding should be complemented by private funding.
DEFORESTATION IN THE UNFCCC CONTEXT
The EU should pursue the objective of establishing an internationally supported incentive scheme to reduce deforestation and forest degradation in developing countries as part of the future UNFCCC global agreement for the period 2013-2020.
The scheme would be open to all developing countries ratifying the future agreement, and able to contribute to the globally agreed emission reduction objective of the future international climate framework through the commitment to take national mitigation action in order to reduce emissions from deforestation and forest degradation.
A two-track approach is proposed:
(1) establishing a Global Forest Carbon Mechanism; (2) testing the inclusion of deforestation in carbon markets.
The short-term response: establishing a Global Forest Carbon Mechanism
The EU's aim would be to enable developing countries to contribute to the globally agreed emissions reduction objective by taking action to reduce emissions from deforestation and forest degradation.
A Global Forest Carbon Mechanism (GFCM) should be established. While institutional and operational details would have to be worked out, and in this regard existing arrangements would be considered for the GFCM to be effective the following points are essential:
Participation should be open to developing countries that ratify the future agreement and commit to action with a view to reducing deforestation under that regime.

It should focus on reducing emissions from deforestation and forest degradation. Complementary ways need to be found to assist developing countries to preserve their forests and to reduce the risk of international leakage.

It should support capacity-building activities in developing countries.

Nationwide implementation involving the entire forestry sector would be required to benefit from its funds so as to minimize the risk of in-country leakage (in large countries there could be regional implementation with regional disparities).

It should take account of the need to secure co-benefits, such as protecting biodiversity and eradicating poverty, to the greatest extent possible. Where cobenefits can be assessed, financial incentives could potentially be directed towards the actions with the highest co-benefits. Input from the Convention on Biological Diversity's work on climate change and biodiversity should be fed straight into the UNFCCC negotiations.

The results of the emission reduction efforts must be assessed, monitored and accounted for at national level, with independent verification of these reductions.

Financial support for action by a country against deforestation and forest degradation would be performance-based and provided on the basis of verified results.

It should require that effective forest governance structures are in place, and that the rights of the forest dependent people are respected.

The principle of common but differentiated responsibilities should be taken into account when designing the financial support instruments under the Mechanism.
The longer-term perspective: testing the inclusion of deforestation in carbon markets
Public funding is the most appropriate way to take forward a number of essential activities – in particular capacity building, technical support for forest governance and developing the necessary technical know-how to monitor and enforce commitments. Public funding is also the most realistic tool with which to provide incentives for combating deforestation over the period 2013 to 2020. However, it is not the only mechanism that could be envisaged to provide such incentives and the EU should also be prepared to explore the possible contribution of well designed market approaches.
Between 2008 and 2012 afforestation and reforestation activities are recognized, subject to strict quantitative limits, for government compliance and can generate credits in the Clean Development Mechanism (CDM). This recognition, within current limits, should be continued post-2012. In addition, the Commission will test the recognition of deforestation credits for government compliance. Certain pre-conditions would need to be met before any inclusion of forests in carbon markets could be considered as a realistic option.
There would need to be an international agreement with ambitious mid-term emission reduction commitments. This would be necessary to generate a sufficiently high demand for emissions reductions, so that developed countries actually reduce their emissions instead of simply offsetting them with carbon credits.

As with CDM afforestation and reforestation projects, the additional impact of reduced deforestation on carbon emissions would need to be properly monitored and independently verified.

The permanence of forestry credits, and liability, are matters that would need to be resolved. For these reasons, a new sectoral market mechanism is needed to avoid leakage problems and to ensure a benefit in terms of net-deforestation.
Inclusion of forestry credits in the EU ETS should only be considered after a thorough review of the experience of using deforestation credits for government compliance and for the period after 2020.
Full reliance on carbon value would focus solely on the services of forests as carbon stocks, while not rewarding other important services that forest ecosystems provide and whose value can be significantly higher. This is an issue that will also have to be resolved.
CITATIONS:
Related articles
UK government: rainforests are weapon against global warming
(10/15/2008) Protecting tropical forests will simultaneously reduce carbon emissions, support poverty reduction and help preserve biodiversity and other forest services, says a new report commissioned by the British government. The report — dubbed the "Eliasch Review" after the lead author, Johan Eliasch, a multimillionaire Swede who runs a sports equipment company and owns 162,000 hectares (400,000 acres) of rainforest in the Brazilian Amazon — takes a comprehensive look at the role forests can play in mitigating climate change. It concludes: "Urgent action to tackle the loss of global forests needs to be a central part of any future international deal on climate change"
WWF ends contentious debate, will now support effort to fight climate change by saving rainforests
(9/24/2008) WWF, one of the world's largest environmental groups, says it will now support policy mechanisms that would compensate tropical countries for reducing carbon dioxide emissions generated by deforestation and forest degradation, according to remarks by the group's president and CEO at an "avoided deforestation" meeting in New York.
Why Europe torpedoed the REDD forests-for-carbon credits initiative
(3/5/2008) Reducing emissions from deforestation and forest degradation (REDD) has been widely lauded as a mechanism that could fund forest conservation and poverty alleviation efforts while fighting climate change. At the December U.N. climate meeting in Bali, delegates agreed to include REDD in future discussions on a new global warming treaty — a move that could eventually lead to the transfer of billions of dollars from industrialized countries to tropical nations for the purpose of slowing greenhouse gas emissions by reducing deforestation rates. conservationists and scientists applauded the decision.