The new catfish, Aspidoras mephisto, is the first completely cave-dependent member of the Callichthyidae family found in South America.
The species has adaptations to living underground, including a lack of pigment and reduced eyes. Researchers think it may use tree roots for shelter and food.
Surveys indicate A. mephisto is restricted to two caves in an area devoid of official protection. Deforestation and mining activities threaten the vegetation around the caves, and sewage from a nearby town may be polluting their water sources.
Scientists have discovered the first entirely cave-dwelling armored catfish of the Callichthyidae family in South America. But big human pressures around its restricted habitat mean it may already be highly threatened with extinction.
In 2007, researchers at Brazilian institutions were surveying the Anésio-Russão cave system, which is part of the upper Tocantins River basin in the state of Goiás, Brazil, when they found a population of strange subterranean catfish.
The new catfish was "clearly different" than other Callichthyidae catfish in South America, the researchers write in a study describing their find published earlier this month in PLOS ONE. For instance, it has several adaptations that indicate it spends its life in caves, including a reduction in pigmentation and tiny eyes. Because of its differences, the researchers assigned the catfish to a new species: Aspidoras mephisto.
Aspidoras mephisto prefers slow, shallow water, and "forages calmly close to small submersed roots," the study states. These roots, the authors explain, may be a source of food and shelter for the fish. They note that the species' breeding period did not seem to coincide with the rainy season, which is different than other cave-dwelling animals that tend to breed when rains wash more food into their underground ecosystems.
When the researchers visited the region again to look for more A. mephisto individuals, they made another discovery – this entire species is likely found in just two caves comprising around six square kilometers (2.3 square miles).
While the new catfish appears to be relatively abundant in these caves compared with other cave-dependent fish, danger awaits above. The researchers noticed forest loss from deforestation and mining around the cave openings, as well as water pollution due to sewer discharge from a nearby town. Satellite data from the University of Maryland also show tree cover has been lost in the area in recent years, including around eight hectares of loss very close to one of the catfish's caves.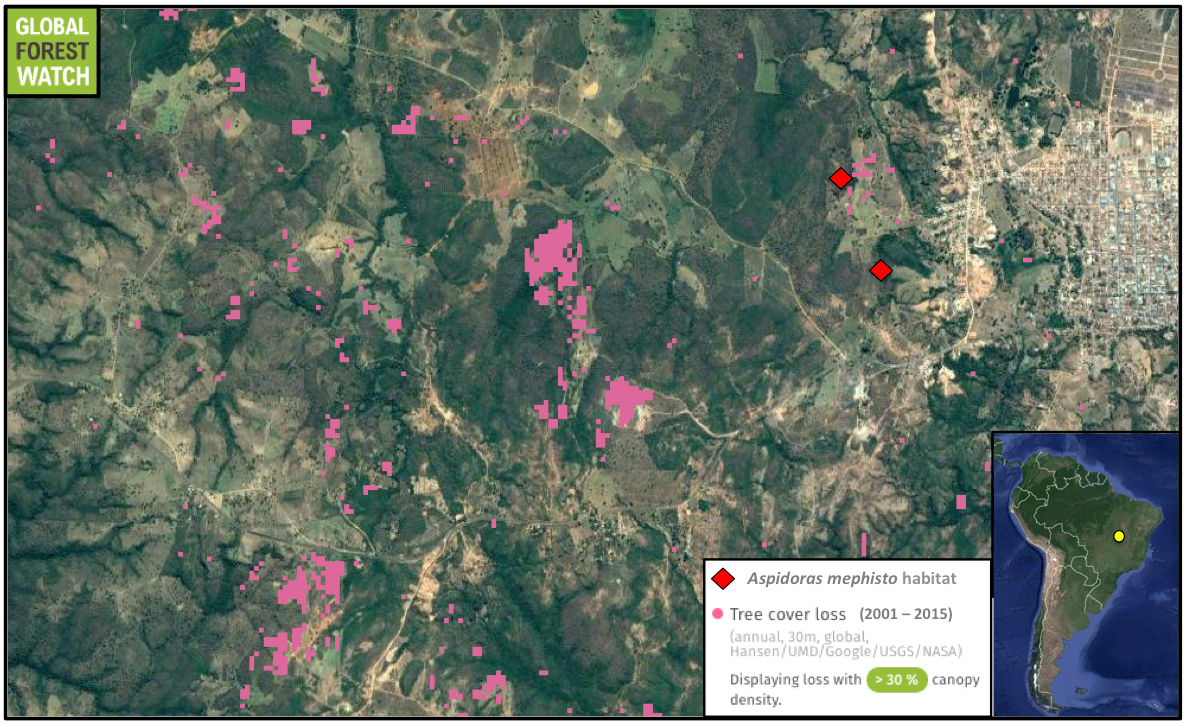 Because it's found in such a small area that is facing human pressure, the researchers recommend A. mephisto be listed as Endangered by the IUCN. They also urge increased conservation attention, particularly since the entire species exists in an area with no official protections.
"Aspidoras mephisto has an occupation area of approximately 6 [square kilometers], the surroundings of the cave-system (two localities) is deforested for pastures and urban growth, the drainages are suffering discharge of domestic sewage, and the Anésio-Russão cave system currently has no legal protection by Brazilian environmental laws," the researchers write.
"Therefore, the combination of these facts could lead the new species to a worst threatened status in the near future, and it must be strongly considered to propose conservation actions for the species itself (e.g. long term population studies), for the cave system as [a] whole and for the vegetation in the caves' surroundings."
Citations:
Hansen, M. C., P. V. Potapov, R. Moore, M. Hancher, S. A. Turubanova, A. Tyukavina, D. Thau, S. V. Stehman, S. J. Goetz, T. R. Loveland, A. Kommareddy, A. Egorov, L. Chini, C. O. Justice, and J. R. G. Townshend. 2013. "High-Resolution Global Maps of 21st-Century Forest Cover Change." Science 342 (15 November): 850–53. Data available on-line from:http://earthenginepartners.appspot.com/science-2013-global-forest. Accessed through Global Forest Watch on March 23, 2017. www.globalforestwatch.org
Tencatt, L. F. C., & Bichuette, M. E. (2017). Aspidoras mephisto, new species: The first troglobitic Callichthyidae (Teleostei: Siluriformes) from South America. PloS one, 12(3), e0171309.
Banner image: Aspidoras mephisto from Tencatt and Bichuette, 2017
FEEDBACK: Use this form to send a message to the author of this post. If you want to post a public comment, you can do that at the bottom of the page.