Everyone knows the tiger, the panda, the blue whale, but what about the other five to thirty million species estimated to inhabit our Earth? Many of these marvelous, stunning, and rare species have received little attention from the media, conservation groups, and the public. This series is an attempt to give these 'forgotten species' some well-deserved attention.

Rare photo of Niger Delta red colobus lounging in a tree. Photo by: Rachel Ashegbofe Ikemeh.
The attention paid to charismatic popular primates—such as gorillas, chimps, orangutans, lion tamarins, and even some lemurs—could make one suppose that conservationists have the protection of our closest relatives well in hand; the astounding fact that no primate species is known to have gone extinct in the last hundred years (despite large-scale destruction of their habitats) seems to confirm this statement. However, looking more closely at the data, one finds that not only are many of the world's primates slipping toward extinction, but a number of them have received little conservation attention. According to the IUCN Red List, a staggering 48 percent of the world's primates are threatened with extinction: that's a worse percentage than amphibians which have been ravaged by a global epidemic. And although a handful of the world's 600-plus primates have garnered conservation adoration, many remain obscure. None more so than the Niger Delta red colobus (Procolobus epieni), which, according to ongoing surveys by biologists in Nigeria, may be down to less than 500 individuals—and still isn't protected under Nigerian law.
"This rare primate is one of the most awe-inspiring wildlife within their range. My first experience of directly sighting this species in the wild is certainly unforgettable and even subsequent sightings are worthy of note. Being social animals [they] are mostly seen in large groups and […] multi-species groups made up of other primates such as the Nigerian putty-nosed monkey, the Nigerian white-throated monkey, the Mona monkey and olive colobus monkey," Nigerian biologist Rachel Ashegbofe Ikemeh told mongabay.com. "There is really nothing that can be compared to observing a large group of monkey in the wild, feeding, playing and scurrying off from human view. There is an indescribable feeling of seeing something magnificent and much more it seems almost like observing vulnerable kids, making the most of life after their innocence has being taken away from them."
| | |
| --- | --- |
| | One of the clearest photos in the world of the Niger Delta red colobus. This is a female. Photo by: Noel Rowe. |
Found only in a small section of the wetland's marsh and swamp forests, the Niger Delta red colobus remained wholly unknown to scientists until 1993. When it was first uncovered, scientists thought it a subspecies of Pennant's colobus, but genetic research in 2007 upgraded the monkey to a full species in its own right. The new colobus is one of a slew of primates that have been uncovered in recent years; over 60 new primate species have been described since 1990, most of them—like the Niger Delta red colobus—endangered and little-known. In fact, the Niger Delta red colobus stands out even among new species in that few clear images or video exist of the species and prior to on-going research, only one scientist had conducted longterm field studies of its behavior. It is arguably, one of the world's most mysterious primates.
"The Niger Delta red colobus is not very well-known [locally] not to mention in amongst Nigerians or in the globe. Many [locals] we have talked with […] know the species well but are clueless to its importance. Younger persons within the red colobus range are even more ignorant about the species and some do not even know what the animal looks like," says Ikemeh, adding that "this monkey is listed as one of the top 25 most endangered primates in the world, yet there is very little or no awareness on [its] conservation significance."
Ikemeh didn't set out to research the Niger Delta red colobus. She was surveying a population of Nigerian-Cameroon chimpanzee (Pan troglodytes ellioti)—the world's most imperiled chimp subspecies—when her and her team realized the import of also working with the red colobus.
"There was no active conservation efforts to preserve the remnant population of the species" she says. "All other groups seemed to have relented and given up efforts in this somewhat difficult environmental, economic and social terrain."
But preliminary surveys by Ikemeh and her team appear to show that the Niger Delta red colobus is in even more dire straits than initially feared. Ikemeh says there is good reason to believe there may be no more than 500 Niger Delta red colobus left and even this is a "very generous guess-estimate."
"The species is already extinct from much of its reported areas of distribution and its range is getting smaller and smaller every passing day," she says. "We made no observations of the species in Gbanraun where the species had been once intensively studied suggesting that even in this area of its 'prime' occurrence, the species is disappearing."

Spilled crude oil on the forest floor in the Niger Delta. Photo by: Rachel Ashegbofe Ikemeh.
Despite this—and the fact that the species has been listed by the IUCN Red List as Critically Endangered since 2008—there are no laws on the books protecting the monkey. Currently, it's perfectly legal for a hunter to shoot a Niger Delta red colobus on sight.
"Our group believed we could try to build on these past efforts and draw from available resources […] to make a significant difference," Ikemeh says, who hopes to better protect the monkey by pushing policy-makers to pass protecting laws, working with the local communities, and conducting research.
However, the challenges are huge. The Niger Delta has become synonymous with environmental ruin as the region has suffered from decades of poorly-managed oil exploitation, including massive oil spills. The industry has also transformed local waterways with canals and pipelines, possibly impacting the species. Finally, battles over oil have hampered efforts to set aside parts of the delta as protected areas.
Meanwhile, Nigeria has undergone rampant deforestation: between 2000 and 2010, the country lost nearly a third of its forests. In the first half of the decade Nigeria, had the highest lost of primary forests worldwide. Not surprisingly habitat loss is the largest threat to the Niger Delta red colobus.
"The Hallea ledermannii—commonly called 'Abura'—is known to be one of the most important food tree of the Niger Delta red colobus monkey, yet this is a valuable timber tree for many loggers and it is one of the first trees felled when loggers invade a forest area in the region," notes Ikemeh.
The invasion of oil companies, and their employees, has also led to changes in local diets, including turning from a primarily fish-centered diet to more wild meat.
"Although many local people claim the species is not a favored meat source, some hunters say it is one of the easiest monkey to kill in the forest because it is somewhat sluggish especially when compared to other monkey species, so they will hunt them when available," says Ikemeh.
| | |
| --- | --- |
| | Niger Delta red colobus. Illustration by: Stephen Nash. |
With only a few hundred left it wouldn't take many hunting trips to kill off the species. It's possible that the Niger Delta red colobus could become the first primate species to go extinct in a hundred years. But Ikemeh says there's still time to keep the species from vanishing for good, but only if Nigerian policymakers outlaw hunting of the species and in addition protect abura trees.
In addition, she says, "at least 500 square kilometers of the species current and previous distribution must be demarcated as strict conservation areas where all forms of logging and other human activities is legally and actively prohibited."
Ikemeh says the international community can help by appealing to the government to take action to save the Niger Delta red colobus.
"These are certainly very severe conservation steps but they are crucial," she says. 'Severe conservation' will be necessary not only to prevent Niger Delta's red colobus from sliding into extinction, but many of the world's primates. Our closest relatives—apes, monkeys, lemurs, tarsiers, lorises, and galagos alike—are facing down a gauntlet of human impacts, from deforestation to the bushmeat trade to booming human populations that outcompete them for resources. If we can get through another century without losing a single primate species, it will be due to a willingness of leaders to tackle global environmental challenges and the determination of conservationists like Rachel Ashegbofe Ikemeh to champion forgotten primates.
Rachel Ashegbofe Ikemeh's project is funded by Primate Conservation Inc., Explorers Club and Eddie Bauer Grants for Expeditions, Margot Marsh Biodiversity Foundation, and the African Wildlife Foundation. The work is also supported by Nigeria's Federal Department of Forestry and the Bayelsa State Department of Forestry.
Warning: last two photos are very graphic

Logging in the Niger Delta. Photo by: Rachel Ashegbofe Ikemeh.

Another illustration of the Niger Delta red colobus. Illustration by: Stephen Nash.

Niger Delta red colobus group. Few photos exist of this largely unknown, Critically Endangered species. Photo by: Rachel Ashegbofe Ikemeh.

Butchering a Niger Delta red colobus for the cooking pot. Under current law hunting the species is still legal despite its Critically Endangered status. Local people in the region suffer from devastating poverty and environmental destruction. Photo by: Photo by: Noel Rowe.

Olive colobus, another species found in the Niger Delta, killed by bushmeat hunters. Photo by: Rachel Ashegbofe Ikemeh.
Related articles
Forgotten species: the arapaima or 'dinosaur fish'
(07/15/2013) Let's go back some 14,000 years (or up to 50,000 depending on who you talk to), since this is the first time humans encountered the meandering, seemingly endless river system of the Amazon. Certainly, the world's first Amazonians would have been astounded by the giant beasts of the region, including ground sloths and mastodons (both now extinct), as well as giant anteaters, armadillos, and tapirs, currently the biggest land animal on the continent. But these first explorers might have been even more surprised by what dwelled in the rivers: anaconda, caiman, and the arapaima. Wait, the what?
Forgotten species: the overlooked Sumatran striped rabbit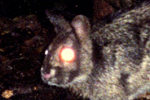 (06/28/2012) When you read the words 'Sumatra' and 'Endangered Species' in the same sentence there is a 99 percent chance that you will be reading about one of four animals: orangutans, tigers, elephants, or rhinos. These big four of Sumatra have become the rallying cry to save the island's ever-dwindling forests. This is not surprising, given that these species include some of the world's most publicly beloved animals and, in addition, they are all considered Critically Endangered by the IUCN Red List. But by dominating the headlines in Sumatra's deforestation crisis, these four species often overshadow the thousands of other species found on the island, many of which also face extinction. In fact when you read the words 'Sumatra' and 'Endangered Species' you will almost certainly not be reading about the Sumatran striped rabbit.
Forgotten Species: the wonder-inducing giant clam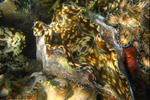 (06/11/2012) The first time I ever saw a giant clam was at a ride in Walt Disney World's Magic Kingdom. My family and I piled into the Nautilus submersible at the 20,000 Leagues Under the Sea: Submarine Voyage and descended into the playtime depths. While we saw sea turtles, sharks, lobsters, mermaids, and even a sea monster, the creature that lingered in my mind most was the giant clam, raising and closing its pearly shell in the weedy abyss. Of course, none of these aquatic wonders were real—they were animatronics—but to a child with a vivid imagination they stirred within me the deep mystery of the boundless ocean, and none more so than that monstrous clam with its gaping maw.
Forgotten species: the wild jungle cattle called banteng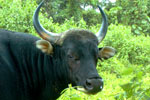 (01/31/2012) The word "cattle," for most of us, is the antithesis of exotic; it's familiar like a family member one's happy enough to ignore, but doesn't really mind having around. Think for a moment of the names: cattle, cow, bovine…likely they make many of us think more of the animals' byproducts than the creatures themselves—i.e. milk, butter, ice cream or steak—as if they were an automated food factory and not living beings. But if we expand our minds a bit further, "cattle" may bring up thoughts of cowboys, Texas, herds pounding the dust, or merely grazing dully in the pasture. But none of these titles, no matter how far we pursue them, conjure up images of steamy tropical rainforest or gravely imperiled species. A cow may be beautiful in its own domesticated sort-of-way, but there is nothing wild in it, nothing enchanting. However like most generalizations, this idea of cattle falls to pieces when one encounters, whether in literature or life, the banteng.
Forgotten species: the rebellious spotted handfish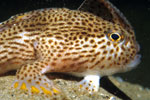 (07/12/2011) Evolution is a bizarre mistress. In her adaptation workshop she has crafted parrots that don't fly, amphibians with lifelong gills, poison-injecting rodents, and tusked whales. In an evolutionary hodge-podge that is reminiscent of such mythical beasts as chimeras and griffins, she has from time-to-time given some species' attributes of others, such as the marine iguana who is as happy underwater as a seal, the duck-billed platypus that lays eggs like a reptile, and the purple frog that has a lifestyle reminiscent of a mole. Then there's one of her least-known hodge-podges: the fish who 'walks' with hands instead of swimming.
Forgotten species: the endearing Tenkile tree kangaroo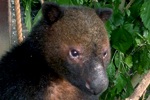 (05/03/2011) With their long snout, furry body, soft eyes, and, at times, upright stance, tree kangaroos often remind me of the muppets. Of course, if there were any fairness in the world, the muppets would remind me of tree kangaroos, since kangaroos, or macropods, have inhabited the Earth for at least 5 million years longer than Jim Henson's muppets. But as a child of the 1980s, I knew about muppets well before tree kangaroos, which play second fiddle in the public imagination to their bigger, boxing cousins. This is perhaps surprising, as tree kangaroos possess three characteristics that should make them immensely popular: they are mammals, they are monkey-like (and who doesn't like monkeys?), and they are desperately 'cute'.
Forgotten species: the plummeting cycad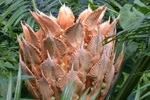 (12/06/2010) I have a declarative statement to make: cycads are mind-blowing. You may ask, what is a cycad? And your questions wouldn't be a silly one. I doubt Animal Planet will ever replace its Shark Week with Cycad Week (perhaps the fact that it's 'animal' planet and not 'plant' planet gave that away); nor do I expect school children to run to see a cycad first thing when they arrive at the zoo, rushing past the polar bear and the chimpanzee; nor do I await a new children's book about a lonely little anthropomorphized cycad just looking for a friend. In the world of species-popularity, the cycad ranks pretty low. For one thing, it's a plant. For another thing, it doesn't produce lovely flowers. And for a final fact, it looks so much like a palm tree that most people probably wouldn't know it wasn't. Still, I declare the cycad to be mind-blowing.