The bushmeat markets of Lao PDR (Laos) are filled with racks of wild game harvested both legally and illegally from the surrounding landscapes. While these meat markets certainly provide local protein to patrons, for wildlife biologists they offer something more. These bizarre zoological exhibits are a rich source of information about wildlife populations and wildlife consumption in remote areas.
In September 2012, a team from the National University of Laos surveyed markets in central Lao PDR for squirrels. In one of the many small markets, Master's student Daosavanh Sanamxay found something remarkable, a single specimen of a flying squirrel previously undescribed to science. The researchers described this newly discovered species in a 2013 Zootaxa publication, giving it the English name: the Laotian giant flying squirrel (Biswamoyopterus laoensis).
The Laotian giant flying squirrel is only the second record of the genus, Biswamoyopterus, the first being the Critically Endangered Namdapha flying squirrel (Biswamoyopterus biswasi), known only from a single physical example collected in 1981 in Arunachal Pradesh, India. The new Laotian giant flying squirrel is also the first record of the genus from Southeast Asia.

Underside view of the newly discovered Laotian giant flying squirrel. Photo courtesy of Sanamxay, Daosavanh; et al. Zootaxa 3686 (4): 471–481.
Though the new species does show close affinities to the Namdapha flying squirrel, it is certainly distinct, differing substantially in color of the body, patagia (membrane between limbs of flying mammals), tail membrane, and tail pelage, as well as size.
"We don't know how endangered this species is… during my second survey in the market, I found approximately 10 dead body of this species in the [freezers] of the sellers," Daosavanh Sanamxay, lead author and current master's student at the National University of Laos, told mongabay.com.
The exact habitat of this new mammal is not known, but the researchers speculate that the habitat is not far from the market where the specimen was found, 5 km Southwest of Nam Kading National Biodiversity Conservation Area (NBCA), a heavily hunted area consisting mostly of pristine dry evergreen forest or semi-evergreen forest and limestone karst formations. Central Lao PDR is characterized by these limestone cliffs and rock formations and is home to other rare endemic rodents including the Kha-nyou (Laonastes aenigmamus), the only member of a rodent group thought to have died out 11 million years ago that was incidently also discovered in a bushmeat market, and the Lao limestone rat (Saxatilomys paulinae).
| | |
| --- | --- |
| | Portrait of the Namdapha flying squirrel. Found in India, this species is Critically Endangered and has not been seen since 2002. Photo by: Zoological Survey of India/Creative Commons 3.0. |
Lao PDR and the Greater Mekong region have experienced unprecedented development over the past decades, driving the construction of major roads and dams and attracting foreign investments in Lao's oil, natural gas, coal, hydroelectric potential, and mineral deposits. Rural communities in Laos earn nearly half of their income from harvesting and selling non-timber forest products, meaning that expansion into forests and unplanned development poses a considerable threat to rural Laotian communities.
The major threats for the wildlife in Lao PDR are habitat loss and harvesting for food. Squirrels in particular face serious threats. According to the Zootaxa paper "they rank as the most commonly traded mammalian 'bush-meat' in local markets."
To address the conservation of these seemingly rare flying squirrels Sanamxay poses that, "First we must put more effort into surveying not only flying squirrels but also other wildlife in order to estimate the population in nature and compare it with the consumption rate. Moreover, we need to revise the law for wildlife in the country. Most squirrels, especially flying squirrels, are not included in the law."

Other squirrel species in the market. Photo by: Daosavanh Sanamxay.

Birds and mammals in Laos PDR market. The bushmeat trade, combined with the traditional medicine trade, has been blamed for creating 'empty forests' across parts of Asia where, even though forest still stands, most mammals and birds have been wiped out. Photo by: Daosavanh Sanamxay.

Wild mammals, birds, and butchered meat in a Laos market. Photo by: Daosavanh Sanamxay.
CITATION: Sanamxay, Daosavanh; et al. 15 Jul. 2013 Rediscovery of Biswamoyopterus (Mammalia: Rodentia: Sciuridae: Pteromyini) in Asia, with the description of a new species from Lao PDR. Zootaxa 3686 (4): 471–481.
Related articles
Mekong region has lost a third of its forests in 30 years, may lose another third by 2030
(05/03/2013) The Greater Mekong region of Cambodia, Laos, Myanmar (Burma), Thailand and Vietnam will lose a third of its remaining forest cover by 2030 unless regional governments improve management of natural resources and transition toward a greener growth model, warns a new report issued by WWF.
Pictures: 126 new species discovered in Greater Mekong region last year
(12/18/2012) Some 126 new species were described in Asia'a Mekong region last year, notes a new report published by the World Wildlife Fund (WWF).
Vampire and bird frogs: discovering new amphibians in Southeast Asia's threatened forests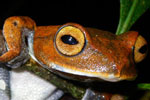 (02/06/2012) In 2009 researchers discovered 19,232 species new to science, most of these were plants and insects, but 148 were amphibians. Even as amphibians face unprecedented challenges—habitat loss, pollution, overharvesting, climate change, and a lethal disease called chytridiomycosis that has pushed a number of species to extinction—new amphibians are still being uncovered at surprising rates. One of the major hotspots for finding new amphibians is the dwindling tropical forests of Southeast Asia.
New bird species discovered in Peruvian cloud forest
(08/02/2013) A new bird species has been discovered in the montane forests of Peru.
Meet Thor's shrew: scientists discover new mammal with a superior spine
(07/30/2013) In 1917, Joel Asaph Allen examined an innocuous species of shrew from the Congo Basin and made a remarkable discovery: the shrew's spine was unlike any seen before. Interlocking lumbar vertebrae made the species' spine four times strong than any other vertebrate on Earth adjusted for its size. The small mammal had been discovered only seven years before and was dubbed the hero shrew (Scutisorex somereni), after the name give to it by the local Mangbetu people, who had long known of the shrew's remarkable abilities.
Population of newly discovered lemur in Madagascar down to last 50 individuals (photo)
(07/30/2013) Researchers have discovered a new — and critically endangered — species of lemur on the island of Madagascar. The primate is formally described in the journal Molecular Phylogenetics and Evolution.
New poison dart frog discovered in 'Lost World'
(07/19/2013) Scientists have described a new species of poison dart frog after discovering it during a study to determine the impact of tourism on biodiversity in a tract of rainforest known as 'The Lost World' in Guyana.