Jose Rodrigues Moreira, a Brazilian landowner who allegedly ordered the killings of Amazon activists Jose Claudio Ribeiro da Silva and his wife Maria, was acquitted this week due to lack of evidence. But, the two men who carried out the assassinations, Lindonjonson Silva Rocha and Alberto Lopes do Nascimento, were found guilty and sent to 42 and 45 years of jail respectively.
In 2011, Moreira allegedly hired Silva Rocha and Nascimento to kill the husband-and-wife activists after the pair opposed Moreira's efforts to evict three families from his land. Land conflict has become rife in parts of Brazil, often leading to violence and murder. In fact, the case of the da Silvas is more notable because it made international news and actually made it to trial than for occurring in the first place.
Jose Claudio Ribeiro da Silva, who was known as 'Ze Claudio,' was a longtime critic of illegal logging and deforestation in the Brazilian state of Pará, which is considered one of the most lawless in the country. His wife and he were shot down on the night of May 23rd, 2011.
Several months before his death, da Silva told an audience at a TED Talks, "I will protect the forest at all costs. That is why I could get a bullet in my head at any moment…because I denounce the loggers and charcoal producers, and that is why they think I cannot exist, but my fear does not silence me. As long as I have the strength to walk I will denounce all of those who damage the forest."
The Pastoral Land Commission recently announced that 32 land activists were killed in 2012, a 10 percent increase from 2011 when the da Silvas.
Related articles
Killings over land continues in the Amazon
(04/04/2013) On Wednesday, in the Brazilian state of Pará, the trial begins of three men accused of murdering José Cláudio Ribeiro da Silva and his wife Maria do Espirito Santo, who had campaigned against loggers and ranchers for years. Their assassinations in May 2011 generated international outrage, just like that of Chico Mendes, 25 years ago, and that of the American-born nun Dorothy Stang in 2005.
Infamous elephant poacher turns cannibal in the Congo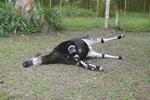 (04/03/2013) Early on a Sunday morning last summer, the villagers of Epulu awoke to the sounds of shots and screaming. In the eastern reaches of the Democratic Republic of the Congo, that can often mean another round of violence and ethnic murder is under way. In this case, however, something even more horrific was afoot.
Indigenous protester killed by masked assailants in Panama over UN-condemned dam
(03/25/2013) A Ngäbe indigenous Panamanian, Onesimo Rodriguez, opposing the Barro Blanco hydroelectric dam project was killed last Friday evening by four masked men. His body was then thrown into a nearby stream where it was discovered the following day. Onesimo Rodriguez was attacked with a companion in Las Nubes, after they had attended a demonstration in Cerro Punta, Bugaba, against the dam. His companion, whose identity is being withheld for security reasons, received serious injuries but managed to escape and is having his injuries tended to by the local indigenous community.
Cambodia drops case of murdered forest activist, Chut Wutty
(10/08/2012) An investigation into the mysterious death of Cambodian forest activist, Chut Wutty, has been dismissed by the courts, which critics allege is apart of an ongoing cover up. The court decided that since the suspect in Wutty's death, In Rattana, was also dead there was no need to proceed. Chut Witty was shot to death while escorting two journalists to a logging site run by Timbergreen. Wutty, whose death made international news, was a prominent activist against illegal logging in Cambodia.
Another journalist attacked in Cambodia for covering illegal logging
(09/27/2012) Two weeks after an environmental journalist was found murdered in the trunk of his car, another journalist has been brutally attacked in Cambodia. Ek Sokunthy with the local paper Ta Prum says he was beaten in his home by three assailants by a pistol and a stick. The attack follows swiftly after the high-profile murder of 44-year-old forest journalist Hang Serei Oudom.
Environmental journalist investigating illegal logging murdered in Cambodia
(09/13/2012) Less than five months after high-profile forest activist, Chut Wutty, was killed in Cambodia, an environmental journalist, Hang Serei Oudom, has been found slain in the trunk of his car, possibly murdered with an ax, reports the AFP. Oudum, who worked at the local paper Vorakchun Khmer Daily, was known for writing stories on epidemic of illegal logging in Cambodia, often linking the crime to business people and politicians. The car and body were found in a cashew nut plantation in Ratanakiri province, an area rife with logging.