Juvenile orangutan in the Kulamba Wildlife Reserve, which, along with adjacent forests, supports an estimated 480 orangutans. Photo by: HUTAN/Dzulirwan bin Takasi @ Jolirwan.
Three conservation groups warn that a proposed palm oil plantation puts a significant Bornean orangutan (Pongo pygmaeus) population at risk in the Malaysian state of Sabah. The plantation, which would cover 400 hectares of private forest land, lies adjacent to Kulamba Wildlife Reserve, home to 480 orangutans.
"The extent of land area involved is quite small, yet keeping it as forest would add to the significance of the Kulamba Wildlife Reserve by retaining a dry land habitat adjacent to the 20,000 hectares of swamp forest protected in the Reserve," WWF-Malaysia Executive Director Dionysius Sharma said.
WWF-Malaysia along with local NGOs, HUTAN and Land Empowerment Animals People (LEAP), call on the state government to follow its Orangutan Action Plan, which states that all forests with "significant orangutan populations […] must not be converted to industrial trees or agricultural plantations."
Orangutan expert and co-founder of HUTAN, Marc Ancrenaz says that the dry forest is important for the orangutans in Kulamba since its trees have different fruiting seasons than those found in the protected area.
"Loss of forest in this area would inevitably push down the carrying capacity for orangutans," says Ancrenaz. The forest in question has been logged, but the conservation groups say that a replanting initiative could help it recover. In addition, past research on orangutans has shown that the great apes can still thrive in secondary forest. The forest is also notable as one of the last standing dry forests in the region.
Cynthia Ong, the head of LEAP, notes that if the forest clearing goes ahead it could undercut positive efforts made by some in the palm oil industry.
"Malaysia is gradually strengthening its reputation as a responsible producer of palm oil, through various transparent processes such as the Roundtable on Sustainable Palm Oil (RSPO)," she says. "It would be a shame if known orangutan habitats continue to be cleared to plant oil palm, now that we see some resolution of the previously acrimonious debate between NGOs and the palm oil industry."
Bornean orangutans are currently listed as Endangered by the IUCN Red List. The total population is believed to have been cut in half in the last 60 years, largely due to vast deforestation across the island of Borneo; but poaching, fires, and the illegal pet trade have also taken their toll. Their close-cousin, the Sumatran orangutan (Pongo abelii), is in even more dire straits. Listed as Critically Endangered, their population has fallen by 80 percent in 75 years.
The palm oil industry has long been a target of environmental activists for its role in record forest loss across Malaysia and Indonesia. Between 1990 and 2000, 86 percent of deforestation in Malaysia was for oil palm plantations. Research has shown that between 80-90 percent of tropical forest species do not survive in the plantations that now cover portions of Southeast Asia. The Roundtable on Sustainable Palm Oil (RSPO) was created in 2004 to address both environmental and social issues connected to oil palm plantations.
Related articles
Complaint filed with palm oil body over orangutan rescue case
(11/29/2012) Conservationists have filed a complaint against an Indonesian palm oil company for allegedly clearing an area of forest that contained orangutans. Earlier this month, the Sumatran Orangutan Society (SOS) filed a complaint against PT Sisirau for allegedly breaching the Roundtable on Sustainable Palm Oil's rules on sparing high conservation value forest. PT Sisirau is a member of the Roundtable on Sustainable Palm Oil (RSPO), a multistakeholder body that sets criteria for more environmentally responsible palm oil production.
Borneo may lose half its orangutans to deforestation, hunting, and plantations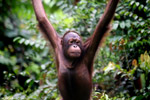 (11/13/2012) Borneo will likely lose half of its orangutans if current deforestation and forest conversion trends continue, warns a comprehensive new assessment by an international team of researchers. The study, published in the journal PLoS ONE, overlays orangutan distribution with land use regulations in Malaysian and Indonesian Borneo. Borneo has suffered high rates of deforestation, logging, and forest conversion for industrial plantations in recent decades, endangering the world's largest surviving populations of orangutans.
Rehabilitated orangutans in danger if industrial project proceeds in Borneo
(10/22/2012) The proposed extension of an industrial area in East Kalimantan, Indonesia will likely mean the end of a population of rehabilitated orangutans who reside there, according to the Indonesian environmental group Peduli Teluk Balikpapan. The Kariangau Industrial Area (KIK) will comprise 5,130 hectares of land currently covered by hardwood forests and mangroves when completed, including one third of orangutan habitat in Sungai Wain forest—a crucial portion that is not within the boundaries of the Sungai Wain Protection Forest and therefore not under any governmental protection.
Scientists propose a new way forward on orangutan conservation
(07/16/2012) Orangutans are in dire need of a revised conservation approach, according to a new study in the Annals of the New York Academy of Sciences. While the plight of the species is widely recognized within the conservation community—receiving international attention in the form of scientific research, funding, and NGO efforts—the authors argue that "there has been frustratingly little progress."
Pictures: mama and baby orangutan saved from palm oil developers
(05/19/2012) A mother orangutan and its baby were rescued from an area of forest that was being bulldozed for an oil palm plantation in Sumatra, reports the Orangutan Information Centre (OIC), which participated in the translocation of the red apes.