Loita hills forest in Kenya. Photo by: Rhett A. Butler.
Kenya's forests provide greater services and wealth to the nation when they are left standing. A landmark report by The Kenyan Government and the United Nations Environment Programme (UNEP) addresses the importance of forests to the well-being of the nation, putting Kenya among a pioneering group of countries that aim to center development plans around nature-based assets.
"The study by UNEP on valuing Kenya's montane forests is an enormous breath of fresh air that is welcomed by conservationists across the country," Paula Kahumbu, executive director of the Kenya Land Conservation Trust and WildlifeDirect, told mongabay.com. "For the first time in history, the real value of just one element of Kenya's natural capital has been captured in economic terms and in the language that the engineers of Kenya's economic recovery can understand."
The report states that forests provides value "not only from the production of various timber- and non-timber forest products, but also from a range of regulating ecosystem services that provide an insurance value to several key economic sectors."
The forests produce "direct economic value for citizens," says the report. "The negative effect of deforestation to the economy through reduction in regulating services was more than 2.8 times the cash revenue of deforestation."
Arguably, the most important of these regulating services is water storage. During the rainy seasons, the forests store water and then release it slowly throughout the dry seasons, giving them their nickname of "The Water Towers."
Water regulation affects many sectors of the economy including: energy resources, agriculture, health and industry. In 2010, reduced river flows in Kenya, attributable to deforestation, diminished agricultural water supply and thus agricultural output.
"Reduction in water quality due to siltation and elevated nutrient levels running off degraded land into fresh water systems reduced inland fish catches and increased the cost of water treatment for potable use," reads the report.
Well-managed montane forest coverage has also been linked to a reduction in the prevalence of malarial disease, saving the government millions in health care costs.
"Not only has the real and enormous value of forests been revealed", says Kahumbu, who was not involved in drafting the report, "but the report also reveals that Kenya's water towers play a life saving role in securing the countries economic resilience. Until UNEP conducted this study, the natural capital in Kenya has never before been quantified and recognized for it's real contribution to the economy. By mainstreaming forests as a significant contributor to the economic recovery of Kenya, the Ministry of Forestry and Wildlife has been able to capture the attention of the President and Prime Minister of Kenya to justify enormous investment in the protection of Kenyan forests"
True to point, the UN report concludes with a list of recommendations for decision makers including: incorporating economics for sustainable forest management, stronger regulation of forest use, encouraging investment in the forestry sector in order to increase efficiency in production, and allowing for adequate regeneration after timber harvests.
"The report," says Kahumbu, "proves that forest protection is a win-win for environmentalists and economists. Its relevance cuts across all environmental issues as it introduces the concept of externalities and dependencies, and gives Kenya the means to genuinely deliver on her commitments to climate change and green economy targets. This is a great moment not only for forests, but for all natural resources in Kenya, and the lessons from the study are relevant across ecosystems and Africa."
Related articles
Forest cover falls 9% in East Africa in 9 years
(07/31/2012) Forest cover in East Africa has dropped by 9.3 percent from 2001-2009, according to a new paper published in the open-access journal PLoS ONE. Looking at 12 countries in the region, the scientists found that, worryingly, forests were particularly hard hit near protected areas. Usually thought of as a region of vast savannas, such as the Serengeti, East Africa is also home to incredibly biodiverse tropical forests, including coastal forests, rich montane forests, and the eastern portion of the Congo Rainforest.
Ten African nations pledge to transform their economies to take nature into account
(06/11/2012) Last month ten African nations, led by Botswana, pledged to incorporate "natural capital" into their economies. Natural capital, which seeks to measure the economic worth of the services provided by ecosystems and biodiversity—for example pollination, clean water, and carbon—is a nascent, but growing, method to curtail environmental damage and ensure more sustainable development. Dubbed the Gaborone Declaration, the pledge was signed by Botswana, Liberia, Namibia, Mozambique, Rwanda, Gabon, Ghana, Kenya, South Africa, and Tanzania following a two day summit.
Featured video: Honoring Wangari Maathai, who would have been 72 yesterday
(04/02/2012) The indomitable Wangari Maathai would have turned 72 yesterday, April 1st, 2012. Maathai, who was the first African woman and the first environmentalist to win a Nobel Peace Prize (in 2004), passed away last September.
Kenya should embrace living with nature as the model for a healthier, wealthier nation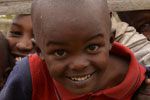 (09/27/2011) Hundreds of thousands of Kenyans are supporting government efforts to enact progressive new policies through its Vision 2030 initiative as it promises to lift us out of a depressed economy and to take us onto a path to becoming a prosperous developed nation. For this to occur, development must be sustainable —but for now what the people want and need most is for the basic necessities for life to be assured like adequate water, sanitation, energy, health, education, homes, and jobs. It is unfortunate that some of our leaders are mistaken in believing that this means Kenya should look like USA or Europe with concrete cities and mega highways, speed trains, and artificial gardens—it will all be at the cost of our spectacular natural environment and wildlife heritage. Kenya hardly has any natural resources, what we have is wilderness and wildlife. For Kenya to stand apart, she must aspire to safeguard the environment and protect forests and wildlife as a central means of to attaining this sustainable development goal.
Nobel laureate and Green Belt Movement founder Wangari Maathai dead at 71
(09/26/2011) Kenyan environmentalist and Nobel laureate Wangari Maathai died Sunday after a battle with ovarian cancer. She was 71.
Famine in Africa: Can Reforestation Improve Food Security?
(09/14/2011) Millions of people across the Horn of Africa are suffering under a crippling regional drought and tens of thousands have died during the accompanying famine. Refuge camps in Somalia, Kenya, and Ethiopia are swelling with the hungry.