Stream in the Tongass National Forest. Photo by: Ian Majszak.
The Parnell administration's Timber Task Force recently unveiled a proposal to carve out two million acres of the Tongass National Forest for clear-cut logging under a state-managed "logging trust." The stated goal is to revive Southeast Alaska's timber industry that collapsed two decades ago amid changing market conditions, logging cutbacks and evolving public opinion about timber harvesting on national forests.
Trout Unlimited supports sustainable resource development. But any attempt to turn back the clock, roll back important protections for salmon streams, and return to the days of industrial-scale logging in the Tongass—home to one of the country's healthiest and most productive salmon fisheries — is a complete non-starter.
Rather than seeking a return to the days when timber and subsidies were king on the Tongass, with hundreds of millions of board feet logged annually at huge losses to taxpayers, the state should promote the existing fishing and tourism industries in Southeast Alaska that create huge economic returns for the region and require a healthy forest to sustain. One way to do that is to support the Tongass 77 campaign, an effort led by fishermen and supported by scientists that would require the Forest Service to manage the Tongass' top 77 salmon-producing watersheds currently open to development for fish first. The Tongass 77 is about protecting fishing industry jobs and keeping watersheds intact for the visitor industry and local residents.
| | |
| --- | --- |
| | Commercial fishing boat. Photo by: Kenneth Gill. |
Salmon and trout are a billion dollar industry in Southeast Alaska and employ more than 7,200 people—about one in 10 residents. According to a recent McDowell Group report, the visitor industry also contributes nearly $1 billion to the Southeast Alaska economy and provides about 20 percent of overall employment.
This is not a question of pitting one industry against another. We can have a sustainable wood-products industry in the Tongass without sacrificing salmon-producing watersheds. We can do this without handing over 2 million acres of the Tongass to the state and supplanting important federal protections for salmon such as stream buffers with the inadequate state standards. The Forest Service should support Southeast Alaska's small businesses and create a favorable climate for new wood products entrepreneurs to invest in the region by offering innovative stewardship contracts and small timber sales tailored to strike a careful balance between habitat conservation, forest restoration and some logging. As the Tongass moves into the 21st century, we should promote existing and emerging industries such as fishing and ocean products, visitor services, and renewable energy instead of sacrificing the region's economic drivers to an ill-conceived 2 million acre give away.
If one ever doubts the economic contribution of fishing in the Tongass, one needs to look no further than at figures produced by the Alaska Seafood Marketing Institute (ASMI). Gross earnings from commercial fishing in Southeast in 2009 totaled $173 million, according to ASMI. The seafood industry workforce in Southeast topped 10,150 that year. Southeast had more seafood-industry jobs in 2009 than any other area of the state, surpassing the Aleutians and Pribilofs which had a seafood work force of 5,309 in 2009. Even Bristol Bay, Southcentral and Kodiak trailed Southeast as far as seafood jobs.
Instead of futilely trying to re-create one industry at an unsustainable scale, state officials should regard the Tongass for what it really is—a salmon forest that employs thousands of fishermen and seafood processors, as well as provides jobs to guides, tourism operators, loggers and miners.
The Tongass 77 is a balanced approach to moving forward and giving Tongass wild salmon the status they deserve. This initiative would place 1.9 million acres of the Tongass—77 of the highest-value salmon and trout watersheds currently open to development—into a fish-focused conservation status. This isn't an environmental issue—it's a jobs campaign. It's about protecting an existing wild resource that contributes billions of dollars to the regional economy and sustains thousands of good-paying jobs. To learn more about this proposal and how you can support the Tongass 77, visit www.americansalmonforest.org.
Related articles
Featured video: restoring rivers in the Tongass Rainforest
(08/08/2012) A new video highlights recent efforts to restore rivers in the Tongass Forest, the world's largest intact temperate rainforest. Industrial logging in vital watersheds have hurt salmon populations and other wildlife in the region, an issue the government, along with several partners, are now trying to rectify.
Alaskan fishermen tell government to focus on salmon, not logging
(03/12/2012) Alaskan fishermen and tour operators visited Washington D.C. last week to urge the federal government to shift the focus from logging to conservation in the Tongass rainforest. Local Alaskans along with NGOs Trout Unlimited, Alaska Program, and Sitka Conservation Society, made the case that conservation, including the restoration of fish habitat, was a far better strategy for the local economy and jobs than logging. The Tongass rainforest is currently the subject of a controversial logging proposal by the government for the indigenous-owned company, Sealaska.
U.S. legislation threatens oldest, tallest trees in Tongass rainforest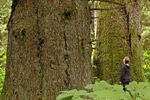 (02/27/2012) Up to 17 percent of the tallest old-growth trees in the Tongass temperate rainforest could be cut under new U.S. legislation, according to a report by Audubon Alaska. The report argues that the legislation under consideration (S 730 and HR 1408) would resurrect the banned practice of "high-grading," which allows loggers to select the largest, most-ancient trees across the forest for cutting despite their ecological importance. The legislation is a part of a controversial 65,000 acre logging concession in Tongass to Sealaska Corporation, which is owned by 20,000 members of Native communities, from the Tlingit, Haida and Tsimshian tribes.
Conservation photography: on shooting and saving the world's largest temperate rainforest, an interview with Amy Gulick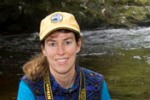 (07/11/2010) Most of the US's large ecosystems are but shadows of their former selves. The old-growth deciduous forests that once covered nearly all of the east and mid-west continental US are gone, reduced to a few fragmented patches that are still being lost. The tall grassy plains that once stretched further than any eye could see have been almost wholly replaced by agriculture and increasing suburbs. Habitats, from deserts to western forests, are largely carved by roads and under heavy impact from resource exploitation to invasive species. Coastal marine systems, once super abundant, have partially collapsed in many places due to overfishing, as well as pollution and development. Despite this, there are still places in the US where the 'wild' in wilderness remains largely true, and one of those is the Tongass temperate rainforest of Southeast Alaska.
Local voices: frustration growing over Senate plan on Tongass logging
(06/17/2010) Recently local Alaskan communities were leaked a new draft of a plan to log 80,000 acres of the Tongass forest making its way through the US Senate Energy and Natural Resources committee. According to locals who wrote to mongabay.com, the draft reinforced their belief that the selection of which forests to get the axe has nothing to do with community or environmental concerns.
Photos: Tongass logging proposal 'fatally flawed' according to Alaskan biologist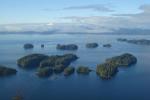 (06/15/2010) A state biologist has labeled a logging proposal to hand over 80,000 acres of the Tongass temperate rainforest to Sealaska, a company with a poor environmental record, 'fatally flawed'. In a letter obtained by mongabay.com, Jack Gustafson, who worked for over 17 years as a biologist with the Alaska Department of Fish and Game, argues that the bill will be destructive both to the environment and local economy.
Locals plead for Tongass rainforest to be spared from Native-owned logging corporation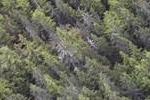 (04/29/2010) The Tongass temperate rainforest in Alaska is a record-holder: while the oldest and largest National Forest in the United States (spanning nearly 17 million acres), it is even more notably the world's largest temperate rainforest. Yet since the 1960s this unique ecosystem has suffered large-scale clearcutting through US government grants to logging corporations. While the clearcutting has slowed to a trickle since its heyday, a new bill put forward by Senator Lisa Murkowski (Rep.) gives 85,000 acres to Native-owned corporation Sealaska, raising hackles among environmentalists and locals who are dependent on the forests for resources and tourism.