UPDATE: An investigation by the Venezuelan government has found no evidence of the purported massacre. In addition, Survival International, an indigenous rights group, which was one of the first to announce the 'massacre' has now backtracked from their initial statements: "Having received its own testimony from confidential sources, Survival now believes there was no attack by miners on the Yanomami community of Irotatheri. Yanomami from the area – in which many illegal gold miners are currently operating – had heard stories of a killing in July, and this was reported, by some, as having occurred in this community. We currently do not know whether or not these stories were sparked by a violent incident, which is the most likely explanation, but tension remains high in the area."

Peruvian Amazon scarred by open pit gold mining. Photo by: Rhett A. Butler.
Up to 80 people have been massacred by gold miners in the remote Venezuelan Amazon, according to reports received by the indigenous-rights group, Survival International. According to Reuters, the reports have prompted the Venezuelan government to investigate the alleged murders of the Yanomami isolated community.
According to three indigenous survivors, sometime in July a helicopter and what-are-believed to be illegal goldminers massacred the Yanomami community of Irotatheri.
"They reported seeing charred bodies and bones, and the burnt remains of the shabono (communal house),"a Yanomami man, who spoke to the three known survivors, told Survival International. The three survivors were hunting in the forest when the attack occurred, but heard the helicopter and gunfire.
Although the attack occurred in July, reports are only coming in now as the region is a five-day walk to the nearest settlement.
Numerous Amazonian peoples are imperiled by illegal miners, loggers, and ranchers. Conflict between settlers and indigenous groups in not uncommon with indigenous people almost always the victims. Still, Amazonian governments have not made riding the vast region of illegal exploiters a priority.
"All Amazonian governments must stop the rampant illegal mining, logging and settlement in indigenous territories. It inevitably leads to massacres of Indian men, women and children," Stephen Cory, director of Survival International said in a statement. "The Venezuelan authorities must now bring the killers to swift justice, and send a signal throughout the region that Indians can no longer be killed with impunity."
With record gold prices, illegal gold mining in the Amazon has become an epidemic. The practice not only leads to conflict with indigenous people, but destroys forests, contaminates rivers with mercury, and fuels social problems such as forced labor and child prostitution. For their part, the Yanomami have been especially plagued by miners in their territory. Just last month, Brazil arrested 26 linked to the underground trade operating in its Yanomami Indigenous Reserve.
Despite the massacre a Venezuelan source, who asked to remain anonymous, told mongabay.com that they expected little action by the government.
"There is no will to stop these guys, which is relatively straight-forward to do. Governments have to do [the stopping], and militaries have to constantly soak up the investment by allowing expensive equipment, including helicopters, to reach remote sites, and then confiscating [illegal mining equipment]."
Related articles
Brazil cripples illegal gold mining operations in indigenous territory
(07/18/2012) Brazilian police have arrested 26 people and confiscated gold and aircraft in a coordinated effort to tackle illegal gold-mining in the Yanomami Indigenous Reserve, reports the BBC. Along with illegal miners the year-long investigation also arrested complicit airplane pilots, engineers, and business people in a bid to undercut the trade's funders and infrastructure.
Gold mining in the Peruvian Amazon: a view from the ground
(03/15/2012) On the back of a partially functioning motorcycle I fly down miles of winding footpath at high-speed through the dense Amazon rainforest, the driver never able to see more than several feet ahead. Myriads of bizarre creatures lie camouflaged amongst the dense vines and lush foliage; flocks of parrots fly overhead in rainbows of color; a moss-covered three-toed sloth dangles from an overhanging branch; a troop of red howler monkeys rumble continuously in the background; leafcutter ants form miles of crawling highways across the forest floor. Even the hot, wet air feels alive.
Thousands protest giant gold mine in Peru's mountains
(11/29/2011) Fearing water contamination and pollution, over ten thousand people in Cajamarca, Peru are taking part in protests against mining plans by US-company Newmont Mining Corporation. In its sixth day, the growing protests have caused flights in and out of Cajamarca to be cancelled. According to Reuters, police also clashed with protestors today, injuring two dozen.
Peruvian authorities raid illegal gold mining operations
(11/07/2011) Peru's Defense Ministry destroyed at least 75 illegal dredges and seized 15 vehicles from gold miners operating illegally in one of the most biodiverse parts of the Amazon rainforest.
High gold price triggers rainforest devastation in Peru
(10/11/2011) As the price of gold inches upward on international markets, a dead zone is spreading across the southern Peruvian rain forest. Tourists flying to Manu or Tambopata, the crown jewels of the country's Amazonian parks, get a jarring view of a muddy, cratered moonscape … and then another … and another in what the country boasts is its capital of biodiversity. While alluvial gold mining in the Amazon is probably older than the Incas, miners using motorized suction equipment, huge floating dredges and backhoes are plowing through the landscape on an unprecedented scale, leaving treeless scars visible from outer space. Sources close to the Peruvian Environment Ministry say the government is considering declaring an environmental emergency in the region, but emergency measures passed two years ago were not enough to contain the destruction, and some observers doubt that a new decree would have any more impact.
Picture of the day: the high price of gold for the Amazon rainforest
(08/11/2011) The surging price of gold is impacting some of the world's most important ecosystems: tropical forests.
Demand for gold pushing deforestation in Peruvian Amazon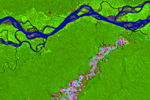 (04/19/2011) Deforestation is on the rise in Peru's Madre de Dios region from illegal, small-scale, and dangerous gold mining. In some areas forest loss has increased up to six times. But the loss of forest is only the beginning; the unregulated mining is likely leaching mercury into the air, soil, and water, contaminating the region and imperiling its people. Using satellite imagery from NASA, researchers were able to follow rising deforestation due to artisanal gold mining in Peru. According the study, published in PLoS ONE, Two large mining sites saw the loss of 7,000 hectares of forest (15,200 acres)—an area larger than Bermuda—between 2003 and 2009.
First strike against illegal gold mining in Peru: military destroys miners' boats
(02/21/2011) Around a thousand Peruvian soldiers and police officers destroyed seven and seized thirteen boats used by illegal gold miners in the Peruvian Amazon, reports the AFP. The move is seen as a first strike against the environmentally destructive mining. Used to pump silt up from the river-bed, the boats are essential tools of the illegal gold mining trade which is booming in parts of the Amazon.