A fisherman on the Mekong River in Laos. Photo by: Rhett A. Butler.
Fish are a hugely important protein source for many people around the world. This is no more evident than along the lower Mekong River delta where an estimated 48 million people depend directly on the river for food and livelihoods. But now a new study in Global Environmental Change cautions that 11 planned hydroelectric dams in the region could cut vital fish populations by 16 percent while putting more strain on water and land resources.
"The Mekong countries are striving for economic growth, and they see hydropower as a driver of that growth. But they must first fully understand and take into account the true economic and social value of a free-flowing Mekong," says co-author Stuart Orr, freshwater manager with the World Wide Fund for Nature (WWF), in a press release.
Economically, the 11 planned dams could cost the Mekong countries—Thailand, Vietnam, Laos, and Cambodia—nearly half a billion US dollars annually in lost fish catch. Replacing the lost fish protein with protein from livestock—such as cattle, pigs and poultry—would also require an additional 4,863 square kilometers (3,021 square miles) of land, according to the study. Water requirements would also need to boosted to irrigate crops for the livestock. For example, the 11 dams would require Cambodia to consume 29-64 percent more water for its agriculture, and Laos would need 12-24 percent more.
Controversy has already erupted over the massive $3.5 billion Xayaburi dam currently under construction in Laos, which would send 95 percent of its produced power to Thailand. Recently the Lao government's Foreign Minister announced the government was suspending the project for further study, however since then it was reported that construction continues since Laos never sent a formal letter of suspension. If completed the Xayaburi dam will be the first on the Mekong's main stream.
Hydro energy plans for the Mekong don't stop with the Xayaburi or the other planned ten dams. An additional 77 dams are planned for the river by 2030. The full impacts of all 88 projects, according to the study, would cut fish by nearly 40 percent. It could increase land needed for livestock to 24,188 square kilometers (15,029 miles), or an area the size of Vermont, to make up the protein lost by the dwindling fish supply. The full hydroelectric plans would force Cambodia to increase water supply by 42-150 percent and Laos by 18-56 percent in order to feed new livestock.
The researchers write that their "results suggest that basic food security is potentially at a high risk of disruption."
The Mekong river is home to around 850 species of freshwater fish, many of which are only found in the region.
CITATION: Orr, S., et al. Dams on the Mekong River: Lost fish protein and the implications for land and water resources. Global Environmental Change. 2012.
Related articles
Controversial Xayaburi dam in Laos officially suspended
(07/15/2012) Work on the controversial Xayaburi dam in the People's Democratic Republic of Lao has been suspended, reports Reuters.
Opposition rises against Mekong dam as governments ponder decision
(04/13/2011) As the governments of Laos, Thailand, Cambodia, and Vietnam ready to meet on April 19th to decide whether or not to move forward on the Xayaburi Dam, critics of Mekong River hydroelectric project have warned that the dam will devastate freshwater biodiversity and impact the livelihoods of hundreds of thousands, if not more. Last month a coalition of 263 organizations from 51 countries released a letter in opposition of the dam's construction.
Chinook salmon return to Olympic National Park after dam demolished
(08/21/2012) In March of this year the Elwha Dam, which had stood for 99 years, was demolished in the U.S. state of Washington. Five months later, Chinook salmon (Oncorhynchus tshawytscha) made their way down 70 miles of long-blocked off habitat and entered Olympic National Park.
Tropical dams are a false solution to climate change
(05/27/2012) Tropical dams emit considerably more greenhouse gas emissions than their temperate counterparts yet are being treated as a solution to climate change, warns a report published in Nature Climate Change.
Over 30 Yangtze porpoises found dead in China as population nears extinction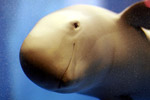 (05/01/2012) Six years after the Yangtze river dolphin (Lipotes vexillifer), or baiji, was declared "functionally extinct" by scientists, another marine mammal appears on the edge of extinction in China's hugely degraded Yangtze River. In less than two months, 32 Yangtze finless porpoises (Neophocaena asiaeorientalis asiaeorientalis), a subspecies of the finless porpoise, have been dead found in Dongting and Poyang Lakes in the Yangtze, reports the World Wide Fund for Nature (WWF).