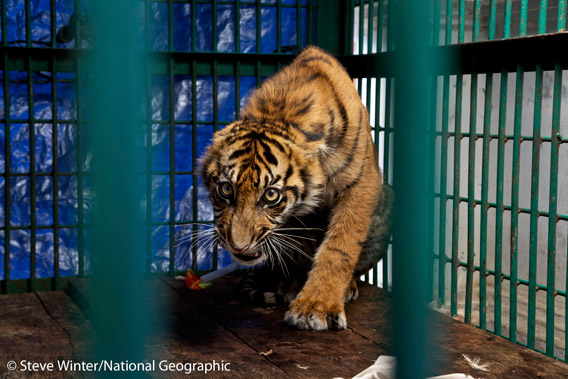 This six-month old Sumatran tiger cub was strung up in a snare for three days before it was rescued. However, it's paw had to be amputated. While the cub survived, its freedom has been lost. Unable to hunt and fend for itself, the cub now lives in captivity on the Indonesian island of Java. Photo by: Steve Winter/National Geographic.
Last summer, a wild Sumatran tiger—one of only a few hundred surviving on the island—made news in a story that did not have a happy ending. The cat had become entangled in a snare in a logging concession owned by Asia Pulp and Paper (APP). The tiger spent seven days without food or water before wildlife rangers found it, but its snared right paw was a bloody black mess. Although the rangers were able to sedate and free the cat, it died shortly thereafter from its wounds.
When one thinks of the hazards faced by the world's charismatic great cats—habitat loss, poaching, human-wildlife conflict—one doesn't usually think of snares. But countless felines are killed and injured by snares across Asia and Africa. Sometimes the snares are set purposefully to kill a big cat—either by poachers or in an attempt to eliminate predators that may prey on livestock—but most often the traps are set by locals seeking bushmeat and cats get caught accidentally, as terrestrial by-catch one might say. To bring more attention to this issue, wild cat NGO Panthera has begun a Remove a Snare campaign targeting the little-known but insidious snare.
"Snares are cheap to make, easy to set—anyone can get their hands on a piece of wire—and they capture anything walking through their path. They are extremely effective and essentially, last forever until something is caught in them. We've seen areas where guns have been banned, to control hunting, but snares are used in their place and occur in overwhelming densities," Andrea Heydlauff, Vice President at Panthera, told mongabay.com.
| | |
| --- | --- |
| | Two towers holding thousands of snares collected over nearly 5 years on Senuko Ranch, Savé Valley Conservancy, Zimbabwe. From August 2001 to July 2009, 84,396 wire snares were removed in this area and at least 6,454 wild animals killed. Photo by: Peter Lindsey/AWCF. |
For example, in Mozambique's Niassa National Reserve, research by the Niassa Carnivore Project has found that snares are the biggest threat to lions by far. The group, which is supported by Panthera, estimates that 40 lions are killed each year by snares in the Niassa National Reserve alone. Recently the organization was able to save a male lion who had a snare caught around its torso; the lion was released back into the wild. Leopards are also gravely endangered by snares set in their habitat.
Even snares that don't catch a big cat can still undercut already imperiled cat populations. How? Snares are often set to catch the same species big cats prefer, depleting the prey base in African and Asian ecosystems.
"Antelope, deer, wild boar and other prey species are often the prime target of wire snares. In some areas, snaring is so widespread that wild prey populations have been completely decimated, creating 'empty forests' and leaving cats, and humans, with nothing to eat," Heydlauff says.
Panthera says a hundred percent of donations to its Remove a Snare campaign will go directly to fieldwork across Asia and Africa.
"Contributions will support activities that mitigate key threats, like enforcement patrols—teams of well trained guards who protect key areas for big cats through active patrols—preventing illegal activities like poaching of wild cats and their prey, setting of snares, preventing forest fires, illegal wood cutting, and apprehending poachers," Heydlauff explains.
While Panthera focuses solely on the world's cat species, with special emphasis on the big cats, the organization says its work also aids overall biodiversity and people.
"The current ranges of wild cat species occupy more than a third of the terrestrial surface of the entire planet. By conserving cats, we are conserving the large, functioning ecosystems on which they depend, containing thousands of species of plants and animals," Heydlauff says, adding that, "Healthy ecosystems mean healthy humans."
As top predators, the world's big cats exert disproportionate pressure over their respective ecosystems, balancing prey numbers and regulating herd movements. Decades of research in the U.S. has shown that wolves, which are also top predators, keep forests healthy and biodiverse not just through keeping a check on elk populations, but through what's known as 'the ecology of fear', whereby the presence of wolves keep elk from grazing in certain areas, allowing forests to regenerate.
"The extinction of top predators can precipitate a cascade of unexpected effects that fundamentally alters the structure of the ecosystem," says Heydlauff.
Currently all of the world's nine big cat species (including two species of clouded leopard) are considered threatened with extinction, except the cougar.
WARNING: some images below are graphic or disturbing in nature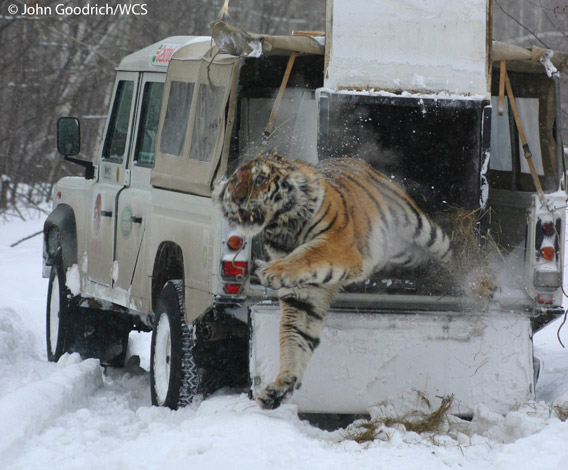 An incredible photo of a Siberian tiger leaping from a truck after being treated for a snare wound and released by Wildlife Conservation Society's (WCS) scientists. Photo by: John Goodrich/WCS.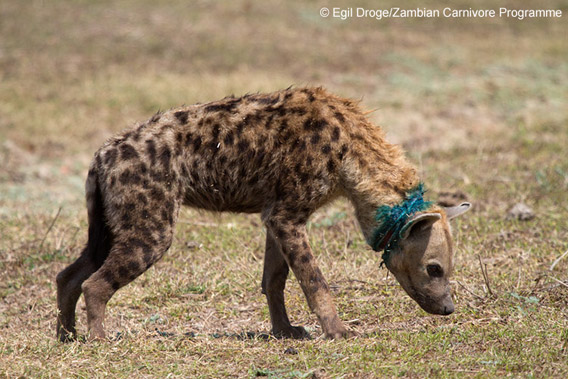 A photo of a hyena after a snare was removed from its neck and its wounds treated by staff from the South Luangwa Conservation Society. Zambia, July 2010. Photo by: Egil Droge/Zambian Carnivore Program.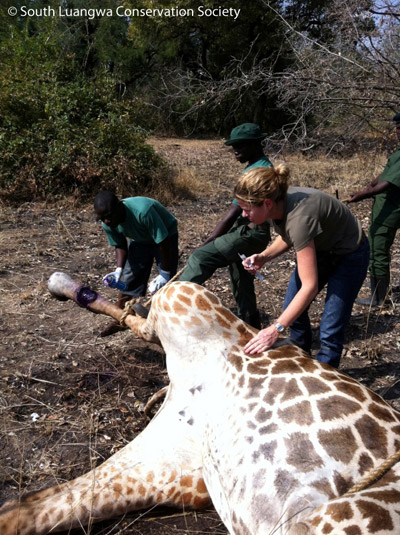 Snares kill and injure a vast multitude of species: here, a snared giraffe is treated by South Luangwa Conservation Society, Zambia, 2011.. Photo by: South Luangwa Conservation Society.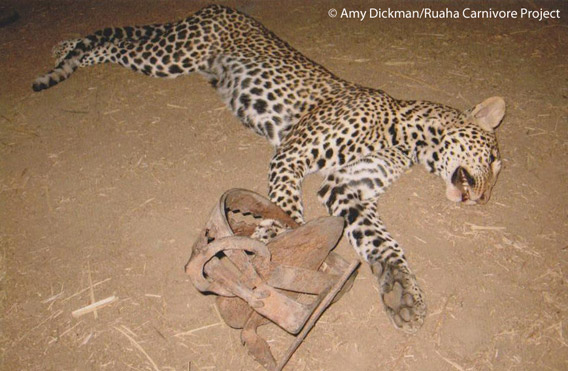 A young male leopard that was killed in a gin trap. This trap was set by a local villager who was losing livestock to local predators. Ruaha landscape, Tanzania. Photo by: Amy Dickman/Ruaha Carnivore Project.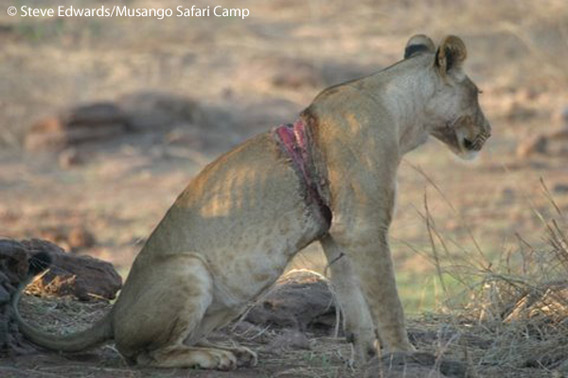 After a snared lioness was spotted on Musango Island in Lake Kariba, Zimbabwe, the team from Wild Horizons Wildlife Trust were called in to remove the snare. The lioness was saved. Photo by: Steve Edwards/Musango Safari Camp.
Related articles
Rangers now allowed to shoot tiger poachers on sight in Indian state
(05/25/2012) In the wake of a surge in tiger poaching, the state government of Maharashtra, India will no longer consider the shooting of wildlife poachers by forest rangers a crime, reports the Associated Press.
Over half of world's tiger reserves lack minimum protection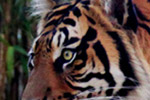 (05/21/2012) A year-and-a-half after a landmark summit that pledged to double the world's number of tigers by 2022, and still 65 percent of tiger reserves lack minimum standards of protection for the world's largest cat, according to the World Wide Fund for Nature (WWF). Reporting at the first meeting of all 13 tiger-range countries since the 2010 summit, WWF said that 41 tiger reserves of 63 did not have enough boots on the ground to combat tiger poaching.
Jaguar v. sea turtle: when land and marine conservation icons collide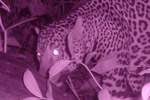 (05/16/2012) At first, an encounter between a jaguar (Panthera onca) and a green sea turtle (Chelonia mydas) seems improbable, even ridiculous, but the two species do come into fatal contact when a female turtle, every two to four years, crawls up a jungle beach to lay her eggs. A hungry jaguar will attack the nesting turtle, killing it with a bite to the neck, and dragging the massive animal—sometime all the way into the jungle—to eat the muscles around the neck and flippers. Despite the surprising nature of such encounters, this behavior, and its impact on populations, has been little studied. Now, a new study in Costa Rica's Tortuguero National Park has documented five years of jaguar attacks on marine turtles—and finds these encounters are not only more common than expected, but on the rise.
Tiger spotted in China (Pictures)
(04/25/2012) Camera traps have captured rare images of Amur or Siberian tigers in China.
Rare leopard photographed in China
(04/25/2012) Camera traps in China's Hunchun Amur Tiger National Nature Reserve have captured an image of the critically endangered Amur leopard, reports the Wildlife Conservation Society. The photograph, coupled with a recent study that suggests the presence of 8-11 leopard in Jilin Province, suggests that Amur leopards may be rebounding in China.
Camera traps discover tigers, elephants in "empty" forest park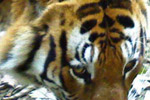 (04/16/2012) Although it's named Namdapha Tiger Reserve, conservationists had long feared that tigers, along with most other big mammals, were gone from the park in northeast India. However, an extensive camera trap survey has photographed not only Bengal tigers (Panthera tigris tigris), but also Asian elephants (Elephas maximus), which were also thought extirpated from the park. Once dubbed an "empty forest" due to poaching, the new survey shows that Namdapha still has massive conservation potential.
Russia creates massive park for rare cats
(04/13/2012) Russia has created a massive national park to protect some of the world's rarest big cats, the critically endangered Amur tigers and leopards, reports the Wildlife Conservation Society (WCS).
Wildlife corridor key to conserving tigers, rhinos in Nepal
(03/19/2012) A single forest corridor links two of Nepal's great wildlife areas: Chitwan National Park and the Mahabharat mountain range, also known as the "little Himalayas." The Barandabhar Forest Corridor (BFC) has become essential for the long term survival Nepal's Indian rhinos (Rhinoceros unicornis) and Bengal tigers (Panthera tigris tigris). Yet, according to a new paper published in mongabay.com's open access journal Tropical Conservation Society (TCS), the corridor is imperiled by deforestation, a highway, and inconsistent management policies.
Javan officials employ camera traps to find extinct tiger
(03/13/2012) Although officially declared extinct in 2003, some people believe the Javan tiger (panthera tigris sondaica) is still alive in the island's Meru Betiri National Park. To prove the big cat has not vanished for good, wildlife officials have installed five camera traps in the park, reports Antara News.